Posted on
Sat, Jun 9, 2012 : 1:45 p.m.
A Picasso in the making: Habitat for Humanity house taking shape with help of Toyota volunteers
By Janet Miller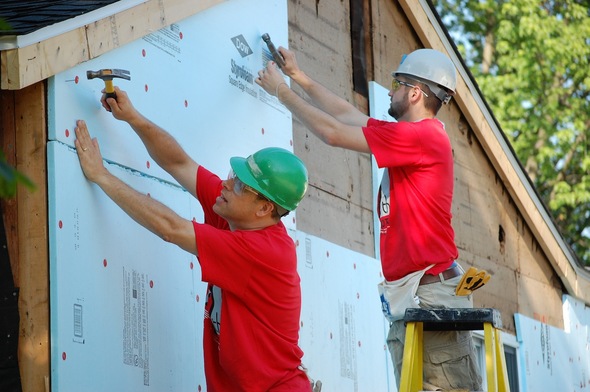 Janet Miller | For AnnArbor.com
Monday through Friday, engineers and other staff at the Toyota Technical Center focus on building cars.
But on Saturdays, they turn their attention to building houses. Habitat for Humanity of Huron Valley and the Toyota Technical Center">Toyota Technical Center in Ann Arbor kicked off the renovation of the fifth Toyota-sponsored Habitat house early Saturday morning, this one on South Miami Avenue, south of Textile Road in Ypsilanti Township.
For the Toyota volunteers, going from working on small design details to swinging hammers on a large project requires a shift in thinking, said Dave Benedict, Toyota executive program manager. "When you're engineering a car, you're dealing with millimeters," he said. "With a house, it's inches or feet. It's a different mindset. It's a challenge not to be so focused on the details."
Habitat named the Toyota Center 2012 Sponsor of the Year for its volunteer efforts and financial donations that have totaled close to $100,000.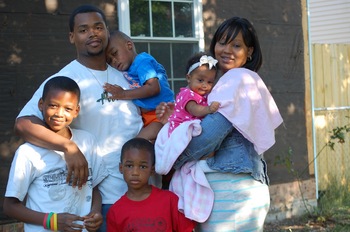 Janet Miller | For AnnArbor.com
For Demetrius and Allana Traylor, the project that kicked off Saturday will mean first-time home ownership. When they moved into their two-bedroom Ann Arbor townhouse a few years ago with their young son, they had plenty of space. But they now have four children and it's become a squeeze, they said.
"It's a new start," Demetrius said, "and it's something you can take more pride in." He said he's even looking forward to cutting the grass and shoveling the snow. "It's about being responsible, but also it gives you a sense of freedom. You're depending on yourself to get things done."
As for the house? "It's a work in progress," Demetrius said of the home with its exterior wrapped in black paper and a dusty interior that looks like a war zone. "It's like a piece of art. You start off and you wonder what in the world are they doing. But then a picture starts to emerge and then you have a Mona Lisa or a Picasso." The Traylors will each put 100 hours of sweat equity into the house.
The four-bedroom foreclosed house had sat vacant, its walls damaged by water from a leaking roof. The house was gutted by another Habitat crew, with 85 percent of the drywall removed, said Paul Tamoshunas, Habitat employee and house leader on the renovation.
A new roof has been installed along with electrical wiring, plumbing and a new furnace. Toyota volunteers, working for 12 Saturdays, will install insulation and siding on the exterior and move on to the interior. There will be new interior doors; the hardwood floors will be refinished, and a new bathroom will be installed. It will be Energy Star rated. "That's really significant," said Sarah Stanton, Habitat executive director. "We don't just want to put a pretty face on. It adds to the affordability of the home."
The Traylor house continues a shift in the work Habitat has been doing since the housing market crashed in 2008. The organization has been remodeling existing, foreclosed houses instead of building new ones. The shift has seen the local Habitat office nearly triple the number of houses completed each year: Fifteen houses will be completed during the 2011-12 fiscal year with another 15 planned for the new fiscal year, which begins July 1.
In addition, Habitat for Humanity of Huron Valley has recently added a new program to its roster, helping low-income owners of non-Habitat homes with crtical home repair such as replacing aging roofs. This Neighborhood Revitalization Initiative is expected to help 10 homeowners with roof repair this coming fiscal year, Stanton said. As it does with home mortgages, Habitat will make no-interest loans to homeowners who need repairs and establish an affordable repayment plan. The home repair program, like the home ownership program, will use volunteers to do much of the work.
Families moving into a Habitat home make a down payment, attend classes, put in sweat equity and pay a no-interest mortgage (including taxes and insurance) that generally does not exceed 30 percent of a family's income. Some of the owners of the area's first Habitat homes, built on the south side of Ypsilanti, have paid off their mortgages, Stanton said.
Janet Miller is a freelance reporter for AnnArbor.com. To reach the news desk, email news@annarbor.com or call 734-623-2530.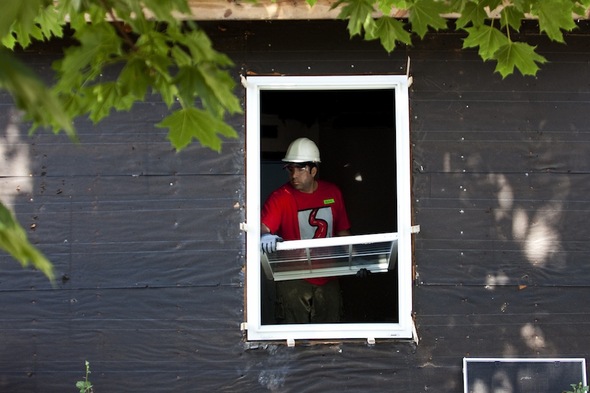 Jeffrey Smith | AnnArbor.com