with video:

A pigeon's tale: Can you help find the possible owner of this injured bird?

Posted on Thu, May 3, 2012 : 2:58 p.m.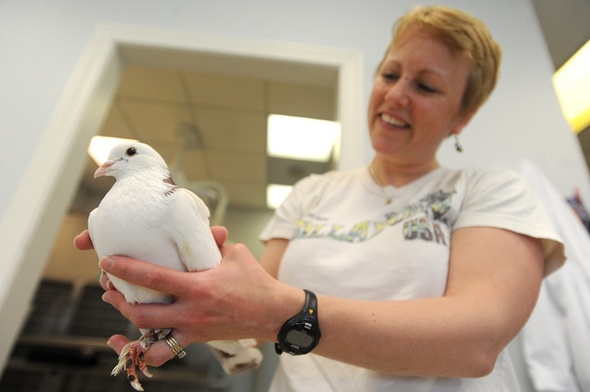 Angela J. Cesere | AnnArbor.com

Injured, homeless and abandoned, Veno sat helpless outside of a 7-Eleven on the corner of Main Street and West Mosley Street in downtown Ann Arbor a little more than a week ago.

But something about Veno caught the eye of a passerby, and that's what saved him. It helps that the passerby happened to be the husband of a veterinarian.

Stacey Weinrick, a veterinarian at City Pets Veterinary Clinic on Plymouth Road, rescued Veno two Sundays ago after her husband brought it to her attention. She has been nursing the pigeon back to health ever since.

Veno appeared to have been hit by a car and had an injured right foot that prevented him from standing. He now uses it occasionally, but still favors the left.

Weinrick suspects Veno is someone's pet and is hoping to find the owner. Veno's comfort level around humans and his appearance is what led Weinrick to believe he's domesticated. Veno is all white except for a small patch of burgundy on the back of his neck.

"It's awful pretty. It doesn't just look like your average grey dove you'd see on the sidewalk. He seems special," Weinrick said. "He just seems awful comfortable with people."

So in the lowly world of pigeons, being good looking, of a privileged upbringing and white is an advantage?

Typical.

Weinrick said Veno may be a white homing pigeon, also known as a release dove, commonly used in wedding ceremonies and bred to find its way home over long distances.

If that's the case, once Veno is healthy, couldn't he just be released and put his expertise to work to find his own way home?

"But if it's not (a homing pigeon), it might end up on the street and might get hit by a car again," Weinrick said.

And we wouldn't want to have another fall victim to the mean streets.

If you or anyone you know has lost a pet pigeon, please contact City Pets Veterinary Clinic at 734-929-4071.

Contact Pete Cunningham at petercunningham@annarbor.com or by phone at 734-623-2561. Follow him on Twitter @petcunningham.