Posted on
Sun, Aug 18, 2013 : 5:30 a.m.
A retrospective on the University of Michigan's East Quadrangle residence hall
By Kellie Woodhouse
The University of Michigan recently unveiled a fully upgraded East Quadrangle residence hall— the product of a yearlong $116 million renovation.
Seventy-three years ago, U-M opened East Quad as a male-only residence hall to expand the school's then limited housing options. The cost to construct the original dorm was less than one-third of East Quad's $3.3 million furniture budget in the recent renovation.
In this edition of Michigan Memories, AnnArbor.com chronicled the history of East Quad by going all the way back to the early 1940s, when East Quad was used to house the U.S. military during World War II.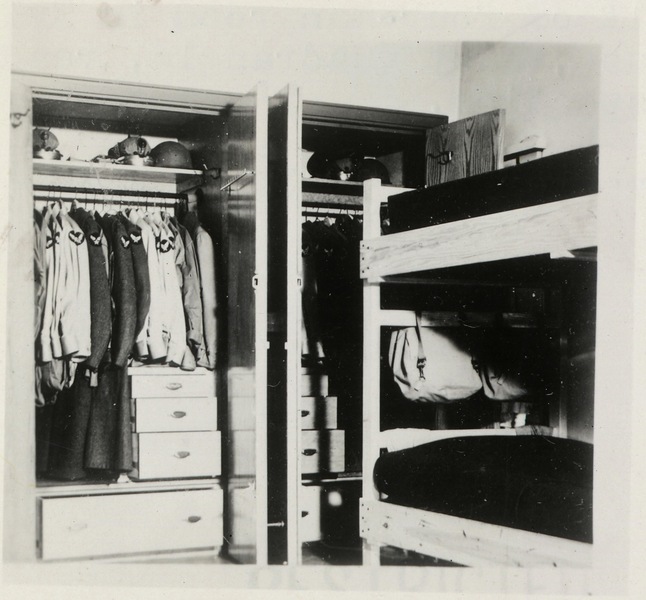 U-M Bentley Historical Library
Construction on East Quad began in 1939. The building cost $1 million to erect, according to records from the U-M Bentley Historical Library. The federal government's Public Works Program provided a federal grant for 45 percent of the cost, according to the Bentley archive.
East Quad was originally opened as a men's dormitory. During World War II, the dorm was used to house military and ROTC students.
The above print, taken in the early 1940s, shows half of a four-man room in East Quadrangle. The room belonged to students who were also in the military. It's clean because it was ready for inspection. In 1946, East Quad began housing civilians again, according to the Bentley archive.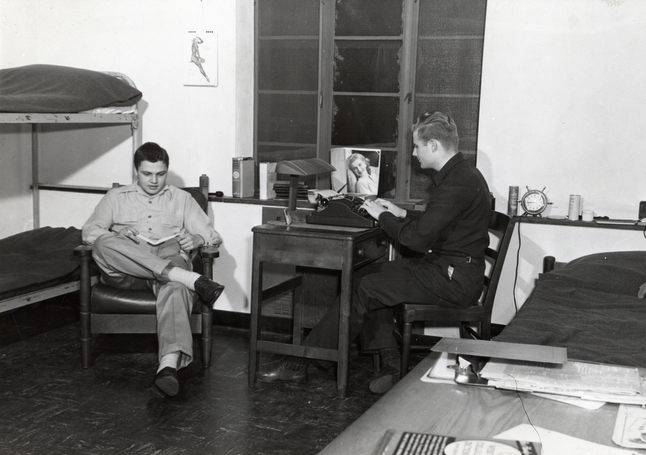 Photo courtesy of U-M Alumni Association
When first built, East Quad had a capacity for about 410 students. Today it has 329 double rooms and 192 single rooms, providing housing to 856 students.
Notice how the dorm room above — pictured in the 1940s — boasts a typewriter in lieu of a Macbook Pro.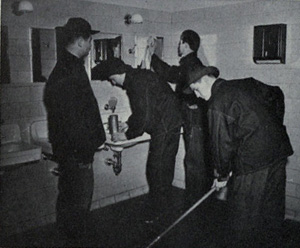 Photo courtesy of U-M housing
After the renovation, East Quad's bathrooms have intricate tile work and spacious showers with changing areas. Clearly, the East Quad bathroom pictured above in a 1943 photo shows the dorm's amenities were not always so nice. In fact, housing staff said that as recently as last year students complained about how oddly low the shower heads were.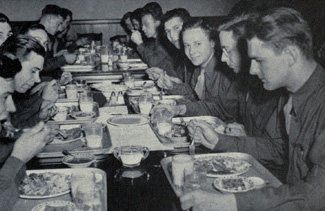 Photo courtesy of U-M Housing
East Quad's cafeteria is pictured in this 1943 photo. Instead of long tables, diners in East Quad now eat in a restaurant-style setting. The dining hall has also gone trayless.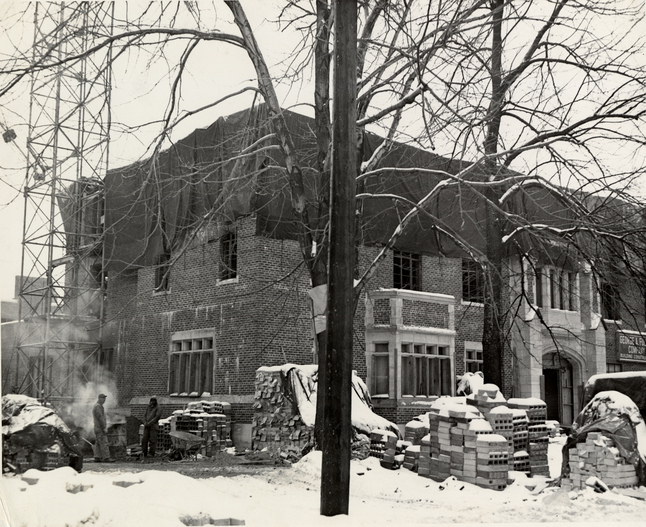 Courtesy of the U-M Alumni Association
Seven years after East Quad's initial construction the U-shaped south section was built to meet a growing demand for student housing. The addition cost $2.3 million, according to U-M records.
Bentley Historical Library
The finished south entrance of East Quad is pictured above in this 1950 photo. The addition increased the dormitory's capacity to 924, although the actual number of students living in East Quad at that time was 1,480, according to a U-M archive.
Photo courtesy of U-M Alumni Association
An East Quad study lounge is pictured in this 1950s photo. In 1952, East Quad became a co-ed residence hall.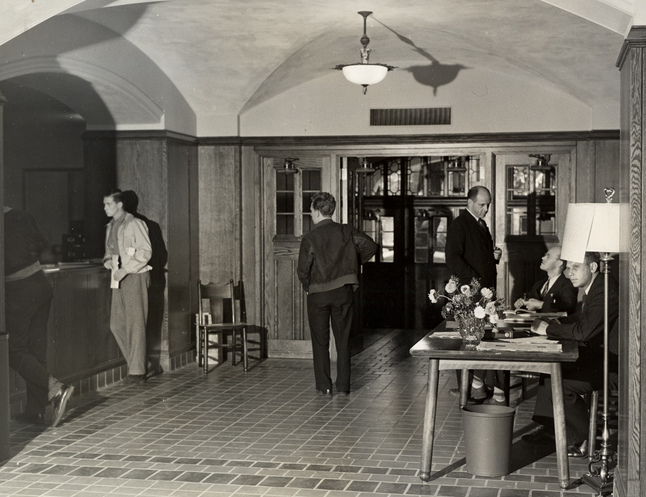 Photo courtesy of U-M Alumni Association
The entryway of East Quad is pictured in this photo, taken during the 1950s.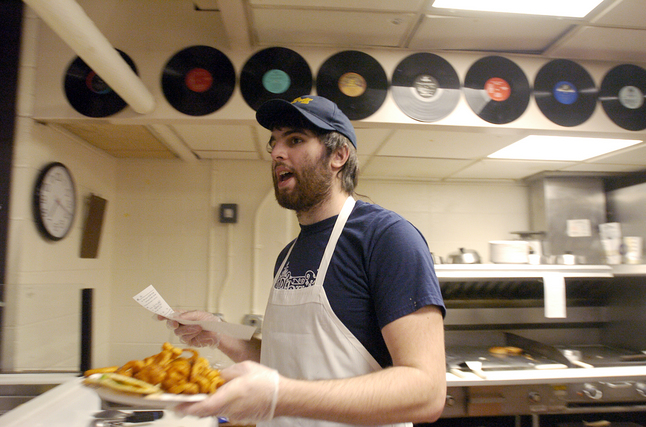 Ann Arbor News
In this April 2009 Ann Arbor News photo, former U-M student Bobby Stapleton calls the name of a customer as he works at the Halfway Inn in East Quad.
The Halfway Inn was a diner — U-M's very own greasy spoon of sorts — that operated in the basement of East Quad until it closed in 2010.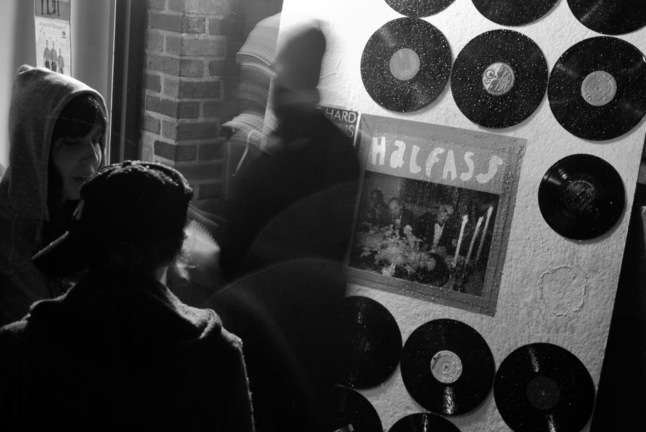 Ann Arbor News
The Halfway Inn transformed into the Halfass music club on weekend nights and was a popular music scene on campus. The venue is captured above in February 2006 by an Ann Arbor News photographer.
Kellie Woodhouse covers higher education for AnnArbor.com. Reach her at kelliewoodhouse@annarbor.com or 734-623-4602 and follow her on twitter.