Posted on
Thu, Mar 29, 2012 : 2:59 p.m.
Is it a cougar? Ann Arbor residents still reporting 'suspicious' animal
By Kellie Woodhouse

View Mysterious animal sightings in Ann Arbor in a larger map
A week after police reported a possible cougar sighting near theUniversity of Michigan's North Campus, reports of suspicious animal sightings in Ann Arbor are still trickling in.
Photo courtesy of Michigan Department of Natural Resources
Retired dentist
Mary Such
says she spotted a 100-pound brown animal running past her as she walked her dog on Tuesday at about 5 p.m. near the
Leslie Woods Nature Area
at the intersection of Traverwood Drive and Plymouth Road in Ann Arbor.
"It was not anything I've ever seen before," Such said, adding that the animal "was moving really fast" and "was low to the ground." She said it's too big to a bobcat or deer and too cat-like and fast to be a dog.
Such called 911 immediately.
"You would hate to see somebody's child harmed," she said.
Five days earlier, on March 22, Ann Arborite Karl Grosh was also walking through the woods of the Leslie Nature Area when he spotted a similar looking animal.
"My dog is around 60 to 70 pounds and tore after the thing, so I saw my dog and the animal side by side. The animal I saw moved like a cat... and I estimate it at least one and a half times bigger than my dog," Grosh told AnnArbor.com. "The cougar-like animal was quick and left the scene... my first impression was that this was a cat: cougar (or) bobcat."
U-M police spokesperson Diane Brown said that in the hours and days after the initial suspicious animal sighting near the intersection of Green and Stone roads, several reports of other sightings began to surface. AnnArbor.com reported suspicious animal sightings on Green Road near the Plymouth Green Crossings and in the backyard of a home in Arrowwood Hills on Pontiac Trail.
"Once I put out the security bulletin to alert the community, that's when we got a few people calling or writing about their variety of observation," Brown said.
Police even received a mailed picture of a suspicious-looking paw print, but did not analyze it or send it to the Michigan Department of Natural Resources.
"I gave it to my officer," Brown said of the print photograph. "I don't know that the (officer) went any further."
Since Monday U-M hasn't received additional email reports of suspicious animal sightings. Brown said she did not know if police received phone reports because those are not tracked.
Photo courtesy of the Wisconsin Department of Natural Resources.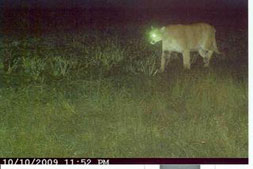 Photo courtesy of Michigan Department of Natural Resources.
"I am not aware that we've heard anything since (the weekend)," Brown said.
Brown said police do not believe the suspicious animal is a cougar.
"The DNR specialist whose work this is said it's very highly unlikely that there would be a cougar involved," she said.
Adam Bump, the bear and furbearer specialist with the DNR that Brown referenced, told AnnArbor.com that while a cougar sighting in Ann Arbor is unlikely, it's not out of the realm of possibility.
"They're capable of traveling long distances and ending up in places you wouldn't normally think," Bump said.
In the past four years, at least 10 cougar sightings have been verified in Michigan's Upper Peninsula. None, however, have been verified in Ann Arbor, despite "hundreds of submissions of potential sightings" each year, Bump said.
The more likely explanation for the sightings, Bump says, is confusion and a lack of wildlife knowledge that leads people to misreport.
"You would be amazed at the kind of things that have been submitted as cougars or even cat-like that I wouldn't consider cat-like," Bump said.
Often large cats, light colored dogs, bobcats and even coyotes are misreported as cougars; and after media reports about a cougar sighting begin to surface, a flurry of additional sightings usually follow, Bump said.
"Either it puts an idea in their head or they remember a sighting that was strange," Bump explained.
Bob and Judy Wolff, who live near Pontiac Trail, told AnnArbor.com the suspicious animal sightings probably have more to do with coyotes than cougars.
"We have several coyotes who live nearby. Many of us have seen and heard them. In fact, one just walked through our backyard yesterday morning," they said in an email. "The coyotes are fairly large, about the size of a German Shepherd dog and have been in our area for quite a few years... added to that, the dogs are yellow, much the same color as a cougar."
Holly Hadac, a coyote expert with the the Southeastern Michigan Coyote Research Project, said coyotes in the Lower Peninsula are usually between 25 and 40 pounds, smaller than most cougars.
"Cougars look like cats because they are felines and coyotes are canines because they are dogs," Hadac said. "You should be able to tell the difference by the prints, the cougar prints would be much larger."
Kellie Woodhouse covers higher education for AnnArbor.com. Reach her at kelliewoodhouse@annarbor.com or 734-623-4602 and follow her on twitter.