Posted on
Wed, Sep 11, 2013 : 2:11 p.m.
AAATA to propose expanded bus service, longer contract to Pittsfield Township
By Tom Perkins
Pittsfield Township and the Ann Arbor Area Transportation Authority will begin discussions on a possible expansion of service and extended contract term.
At the Pittsfield Township Board of Trustees meeting Wednesday night, AAATA officials will present a plan for a five-year purchase of service agreement and an increase in the number of routes in the township and extended hours of operation.
AAATA officials declined to release any details of the proposed plans ahead of the meeting.
Pittsfield Township currently pays $152,000 annually for service and renews its agreement at the beginning of each calendar year.
Supervisor Mandy Grewal noted that Pittsfield Township opted out of joining a proposed countywide busing authority last year because the township was unclear on service levels it would receive and didn't have a clear cost-benefit analysis.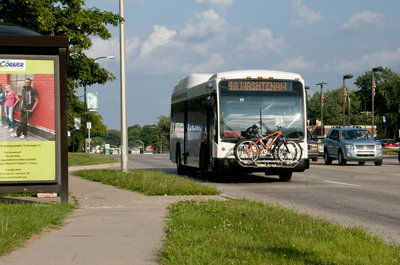 Tom Perkins | For AnnArbor.com
But she said she has remained part of a group of local leaders who have pushed for a stronger "urban core" of municipalities where service can be expanded and improved.
Ann Arbor and the City of Ypsilanti already joined what is now the AAATA as members, and Ypsilanti Township requested membership on Monday. The AAATA is also in talks with Saline about whether or not officials would like to increase service there.
Pittsfield Township, however, is currently only discussing the possibility of expanding its agreement from one year to five years and not seeking AAATA membership.
Grewal said a five-year agreement would provide flexibility and allow the township to continually evaluate usage patterns, which she said is especially important, given that the township is suburban and has urban and rural components with different needs.
"We want to make sure the routes are effective, sustainable and cost effective," she said. "This allows us to make changes, and we will be continually to working with AAATA … to evaluate how bus services are being used within the township.
"That's something that's front and center — using our taxpayers dollars most effectively."
Grewal said she is interested to hear about the proposed new routes, their cost determination and the board's thoughts, and added that public transportation is a priority for Pittsfield Township, especially to attract younger residents and provide transportation for older residents. She also noted that improving public transit is a goal of the township's master plan.
"We have been working with AAATA to have good transit service, and it's just a natural step in a lot of communities — starting to provide more alternative modes of transportation," Grewal said.
Mary Stasiak, community relations manager for the AAATA, said the extended agreement would help riders as well as the authority itself to make plans.
"People make major life decisions about where to live, work, or where to have kids go to school based around transit access, and having a year-to-year contract makes it difficult to make sure services stay in place," she said.
She said Pittsfield and the entire region would benefit from increased service in the township because so many lines cut through multiple jurisdictions that the system is more effective if all the main municipalities are a part of the urban core.
For example, routes 3,4,5 and 6 all stop in four different communities, Stasiak said.
"For any particular route there's a major benefit to the system as a whole with greater availability and access to transit. There's not one community that benefits ... more than another. All benefit together," she said.