Posted on
Fri, Aug 16, 2013 : 5:57 a.m.
Ann Arbor elementary schools to see fewer lunchtime supervisors
By Amy Biolchini
Fewer supervisors will be watching over lunchtime activities in elementary schools in Ann Arbor this year as a result of budget cuts.
About $71,000 was cut from the district's allocation for lunchtime supervisors during the Ann Arbor Public School's budget deliberations. The Board of Education was tasked with eliminating $8.7 million from the district's operations by this June for the 2013-14 school year.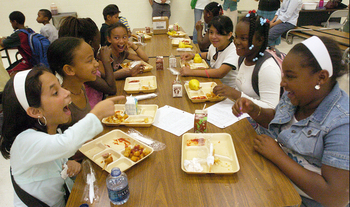 AnnArbor.com file photo
The budget cut will mean a change in the ratio of lunch supervisors to students from one to 45 to one to 50, according to
Dawn Linden
, AAPS assistant superintendent for elementary education.
"We are confident that this level of lunchroom supervision is safe and adequate for our schools," said district spokeswoman Liz Margolis in a statement. "The lunchroom supervisors will continue to be vigilant on the playgrounds and lunchrooms to ensure student safety during the lunch hours."
About 250 to 300 noon hour supervisors are employed by AAPS. They're responsible for supervising students at playtime and lunchtime, peacefully resolving conflicts, organizing games and activities, moving children to and from the playground, lunchroom and classrooms and helping students to clean up after lunch.
Noon hour supervisors are non-union, hourly workers and are paid through the budget of each of the district's 20 elementary schools. Pay ranges from $8.60 and $11.67 per hour as a supervisor and between $8.86 and $14.16 per hour as a coordinator.
Typically, the supervisors work one to two hours during the school day and most of them don't qualify for retirement or health insurance benefits.
AAPS has not yet cut any lunchroom supervisors, officials said.
However, adjusting staffing levels to fit the new one-to-50 ratio has been left up to each of the elementary schools to decide, Margolis said.
Adjustments could mean a reduction in hours for some of the workers — which could result in some workers declining to take those positions, Margolis said.
Additionally, several schools may decide that they need less noon hour staff, Margolis said, noting those decisions have not yet been made.
AAPS has attempted previously to find savings through the noon hour supervisor program.
The district's 2012-13 budget assumed $75,000 in savings through a future switch of the noon hour supervisor employees to a private contract—a move that never happened.
By privatizing those employees, the district would no longer have to pay into their pension plans.
After a September request-for-proposals process, the district considered signing a contract with Professional Contract Management, Inc. at the cost of 24.83 percent of gross wages of the employees.
During the deliberation of the contract Oct. 10, school board members stated that the savings from privatizing would be more in the range of $61,000, according to meeting minutes.
The switch to privatize was voted down in a 3-4 vote, in which board President Deb Mexicotte, Vice President Christine Stead and trustees Susan Baskett and Simone Lightfoot voted against the measure.
In previous discussions of the contract, school board members took issue with the nearly 25 percent markup the company would charge.
Amy Biolchini covers Washtenaw County, health and environmental issues for AnnArbor.com. Reach her at (734) 623-2552, amybiolchini@annarbor.com or on Twitter.