Posted on
Wed, Feb 20, 2013 : 6 p.m.
Are Michigan communities ready for an aging population? Conference in Ann Arbor raises questions
By Ryan J. Stanton
A statewide conference being held Feb. 28 in Ann Arbor will explore the questions surrounding whether Michigan is ready to meet the needs of a rapidly aging population.
Are city planners and public officials prepared for a demographic revolution? What will be the consequences if they fail to plan?
AARP Michigan says communities need to start planning now, as the growing number of people age 65 and older is demanding change in the way we look at our environment — from how we spend our time, to the homes we live in, to how we travel and provide health care and social services.
Mark Hornbeck, a spokesman for AARP Michigan, said Ann Arbor was chosen for the Age-Friendly Communities Conference partly because it's seen as a progressive, age-friendly community.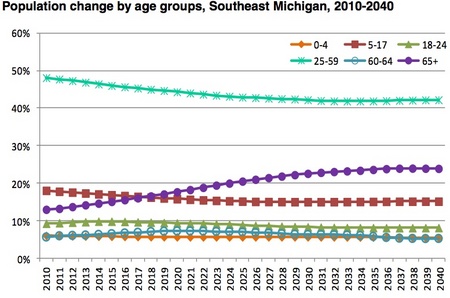 SEMCOG 2040 Forecast
In 2008,
AARP Magazine
named Ann Arbor the
No. 1 healthiest city in which to live and retire
— one of many age-friendly honors the city has received over the years.
In 2012, the Milken Institute ranked Ann Arbor No. 7 among small metro areas across the nation on its "Best Cities for Successful Aging" list.
The conference will be held at the University of Michigan Palmer Commons, 100 E. Washtenaw Ave., from 8 a.m. to 4:30 p.m. The day-long event will feature experts on aging, housing, transportation, demographics, economics, health care and community planning and design.
Local mayors, city managers, city planners, public health officials, policy makers and others from across the state are expected to attend the summit, which is open to the general public.
Attendees will hear from officials in cities throughout the country that have started planning for an aging population.
Tony Derezinski and Kirk Westphal, two of Ann Arbor's city planning commissioners, took a lead role in helping to organize the symposium.
"The public as a whole is definitely invited, but the focus is on people who are going to be making some decisions," Derezinski said. "It starts off with a big heavy dose of statistics on aging."
The share of the U.S. population age 65 and older is projected to increase from 13 percent in 2010 to 19.6 percent in 2040. The Southeast Michigan Council of Governments predicts in its 2040 forecast the 65-and-over population will grow even more dramatically in Southeast Michigan.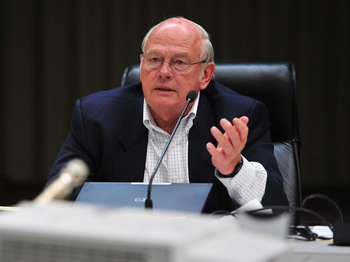 Ryan J. Stanton | AnnArbor.com
In Ann Arbor, the 65-and-over share of the population is
projected to grow
from 9.3 percent to 22.6 percent from 2010 to 2040. And
throughout Washtenaw County
, from 10.1 percent to 23 percent.
In raw numbers, a total of 88,797 residents 65 and older are expected to be living in Washtenaw County by 2040 — up 53,846 from 2010. That's a 154 percent increase.
About 28,036 people 65 and older are expected to call Ann Arbor home by 2040 —up 17,424 from 2010. That's a 164 percent increase.
Derezinski said those are pretty substantial increases, and they carry implications with regard to transportation, housing and health care.
He said Ann Arbor community leaders will be looking to learn from the conference as well as show attendees from other cities what Ann Arbor is doing to be age-friendly.
"We've done a lot here and yet there's more to do," he said.
A $30 registration fee includes a continental breakfast and lunch. Registration is being handled online at http://aarp.cvent.com/MIAgeFriendlyConf until Feb. 21. Anyone having problems with registration is asked to contact Andrea Palmer at apalmer@aarp.org.
Conference partners include AARP Michigan, the city of Ann Arbor, American Planning Association Michigan Chapter, Michigan Municipal League, Presbyterian Villages of Michigan, University of Michigan, Office of Services to the Aging and Michigan State Housing Development Authority.
Milken Institute
Ryan J. Stanton covers government and politics for AnnArbor.com. Reach him at ryanstanton@annarbor.com or 734-623-2529. You also can follow him on Twitter or subscribe to AnnArbor.com's email newsletters.