AATA says AirRide shuttle service to Detroit airport saw strong ridership in first 2 weeks
Posted on Fri, Apr 20, 2012 : 5:59 a.m.
Ryan J. Stanton | AnnArbor.com

The new AirRide shuttle service between Ann Arbor and Detroit Metropolitan Airport already is seeing relatively strong ridership after launching April 2, officials say.

It welcomed 490 riders in its first six days and made 271 eastbound trips to the airport and 219 westbound trips to Ann Arbor, said Michael Ford, CEO of the Ann Arbor Transportation Authority. That's about 82 trips per day.

There were another 678 riders in the next seven days through April 14, including 336 eastbound and 342 westbound, Ford reported to the AATA governing board Thursday.

That's about 97 trips per day.

"We're continuing to see increases in the service," Ford said. "We're working with our community partners — the Convention and Visitors Bureau, the University of Michigan and others — to help continue to promote it. We think we have a good start. There's more work to do, but we're confident we're going to see even more increased ridership."
The AATA's new
public-private partnership with Michigan Flyer
was celebrated at a press conference on March 30.
Tickets have been offered at an introductory rate of $10 for a one-way trip. The regular adult fare will be $12 with a reservation or $15 without a reservation. The standard price for roundtrips will be $22.
With 12 daily roundtrips being offered, the numbers average out to 3.9 people on board for each eastbound trip to the airport and 3.6 people on board for each westbound trip back to Ann Arbor.
Ford said he's tried out the service himself and talked to others who have and the reaction has been positive.
"Everything's been smooth," he said. "People seem to be very pleased with the service."
Ford also gave an update on the AATA's countywide expansion initiative Thursday. He said a draft copy of a five-year transit plan is under review and should be available for board consideration at a special meeting on April 26.
He said the board will meet again on May 16 for a special retreat to talk about next year's budget.
As for a four-party agreement that lays the framework for creation of a new countywide transit authority, Ford said the AATA is working with legal counsel to navigate proposed modifications in preparation for presenting to the Ypsilanti City Council and county board for approval.
Ford also reported the expansion of the AATA's headquarters on South Industrial Highway continues to move along and concrete for the garage floor is being poured. Following that, painting and lighting will follow with a May completion date targeted.
As for the upcoming project to demolish and rebuild the Blake Transit Center, Ford said the agency is continuing to work on lowering the cost of the new facility by evaluating different materials and systems, while not compromising on the design or quality of the building. He said the agency hopes to break ground on the project in August.
Construction drawings have been submitted to the Ann Arbor Design Review Board. A public comment meeting is scheduled for April 26 at the Ann Arbor District Library.
In a written report, Ford gave an update on talks happening at the city level about building a new train station on Fuller Road to replace the Amtrak station on Depot Street.
Michael Benham, the AATA's special assistant for strategic planning, represented the agency on a recent tour of the Amtrak site. City Council Member Sabra Briere organized the tour for a group of residents concerned about moving Amtrak operations to Fuller Road.
"We and the city were there to explain the many difficulties that would be presented if the existing Amtrak site were used to try to accommodate future activity envisioned around rail service," Ford said in his report, raising concerns about traffic impacts.
"The combination of expanded Amtrak service and eventual commuter rail and high-speed rail presents a level of activity that would be extremely difficult to handle at the existing site."
The AATA's board also received an operations report Thursday showing the agency's unaudited financial statements for the first six months of the fiscal year through March 31.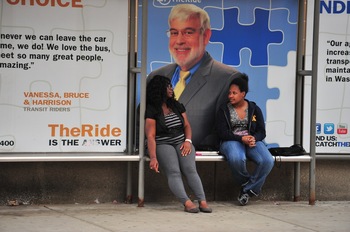 Ryan J. Stanton | AnnArbor.com
Passenger revenues have come in 3.5 percent under budget at $1.17 million, while state operating assistance is 5.1 percent under budget at $4 million and federal operating assistance is 15.5 percent under budget at $1.48 million.
Overall revenues are 3.6 percent under budget at $13.7 million. That matches up with expenses, which are 4 percent under budget at $13.7 million. But that's still nearly $1 million more than the agency spent by this time last year.
The agency is averaging a $105 cost per service hour on its fixed-route bus service for the first six months of the year with 22.9 percent of those expenses paid by fares.
The AATA recently released a year-end audit for the fiscal year that ended Sept. 30. The agency ran a deficit budget last year and is doing so again this year.
The agency saw a $2 million drop in total net assets last year, dropping down to $45.7 million, with depreciation of capital assets being a major factor.
Unrestricted net assets dropped by about $263,000 to $15.6 million.
"That's more the deficit for the year," AATA controller Phil Webb said of the $263,000. "Because total net assets is a combination of capital assets, so that gets more complicated."
Operating revenues increased by $777,000 (16.9 percent) primarily due to fare increases, while total operating expenses increased by 3 percent.
Passenger fare revenues made up 21 percent of total revenues, up from 18.5 percent in the previous year.
The AATA's non-passenger fare revenues come from the Michigan Department of Transportation (27.8 percent), Federal Transit Administration (12.5 percent) and local sources (38.6 percent).
Local sources of revenue include transit millages levied by the cities of Ann Arbor and Ypsilanti and purchase-of-service agreements with Pittsfield, Superior and Ypsilanti townships. The AATA also makes money from bus advertising and interest on investments.
The AATA's expenses last year totaled $29.5 million, which was up from $28.7 million the year before and $27.6 million the year before that.
Broken down, last year's expenses included $19.4 million for operations, $3.3 million for vehicle and facility maintenance and $6.8 million for general administration.
The largest portion of all expenses — about $15 million — went to employee wages and fringe benefits, which account for more than 50 percent of all spending.