Posted on
Sun, Aug 18, 2013 : 10 a.m.
AATA changes legal name after adding Ypsilanti as a member municipality
By Chelsea Hoedl
The Ann Arbor Transportation Authority formally changed its legal name to the Ann Arbor Area Transportation Authority last week after officially adding the City of Ypsilanti as a member municipality.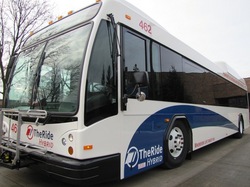 The amendment to the Ann Arbor Transportation Authority Articles of Incorporation was unanimously approved by the Ann Arbor and Ypsilanti City Councils and approved by the AATA board Thursday.
Following the amendment, the Ann Arbor Area Transportation Board of Directors will now consist of eight members appointed by the City of Ann Arbor and one appointed by the City of Ypsilanti.
Communications and Development Coordinator of the Ypsilanti District Library Gillian Ream will represent Ypsilanti on TheRide Board of Directors, according to a press release.
Ream was nominated by Ypsilanti Mayor Paul Schreiber. She is involved with a variety of local organizations, including Bike Ypsi and previously worked at the Michigan Suburbs Alliance doing marketing and communications work.
Eric Mahler and Susan Baskett were also recently appointed to the Board of Directors. Mahler and Baskett replaced David Nacht and Jesse Bernstein in May.
Chelsea Hoedl is an intern reporter for AnnArbor.com. She can be reached at choedl@mlive.com.