Posted on
Wed, Feb 29, 2012 : 1:42 p.m.
AATA financial task force: Countywide transit plan could be funded with 0.5-mill tax
By Ryan J. Stanton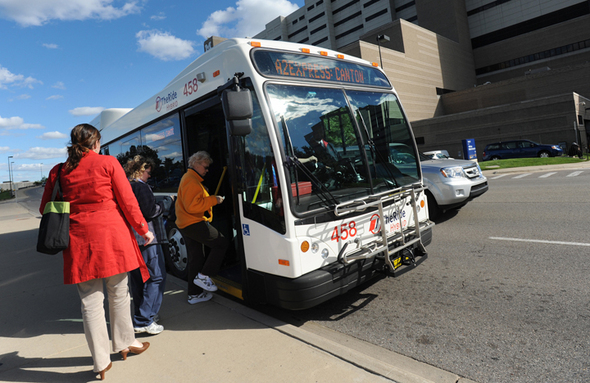 File photo | AnnArbor.com
A financial task force helping the
Ann Arbor Transportation Authority
with its plans for a countywide transit expansion released a long-awaited funding report Wednesday.
The report contemplates — without recommending — a 0.5-mill countywide transit millage to help fund the AATA's vision for expanding transit services throughout the county.
The task force, formed last fall, is co-chaired by former Washtenaw County Administrator Bob Guenzel and Albert Berriz, CEO of McKinley Inc., an Ann Arbor-based real estate firm.
While the task force has found a five-year transit program can be realistically funded with a 0.5-mill levy, Guenzel said, it's prudent to wait to make a final recommendation until it's known if recently introduced state legislation offers a better alternative.
Big talks are happening around transit at the state level and Gov. Rick Snyder is calling for creation of a regional transit authority for Southeast Michigan. The task force is recommending the AATA wait and see how some of that plays out in the coming months.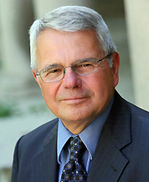 Guenzel and Berriz said they hope the task force remains active and will reconvene at the appropriate time to evaluate whether to move forward with a millage recommendation.
"I would prefer that we call this not final, but just on hold for now," Berriz said at Wednesday's meeting of the task force. "I don't think we can arrive at any conclusions today."
For the past few years, the discussions about expanding transit services in Washtenaw County contemplated layering a 1-mill countywide tax on top of Ann Arbor's existing 2 mills, so the 0.5-mill levy mentioned in today's report is half the tax that's been discussed. Both Ann Arbor and Ypsilanti would continue to levy their current transit millages in addition to the new half-mill tax.
The reduced millage rate came from work done by a subgroup of the task force that worked out a refined budget scenario and service plan.
The new five-year budget model endorsed by the financial task force Wednesday estimates $161.5 million in operating expenses and $141.4 million in operating revenues, in addition to $56.1 million in capital costs and $41.3 million in operating revenues.
The task force report is worded as such that it "endorses the findings and recommendations of the services review subgroup as a guide for further development of the five-year transit program," but it recommends a final funding recommendation be deferred.
When the subgroup began working on a five-year transit program budget, there was a $60.8 million gap between estimated funding and capital and operating costs.
The budget now shows a total gap of $32.9 million, which the task force report suggests could be made up with the 0.5-mill countywide tax. That would equal $50 a year for a property with a taxable value of $100,000 or a market value of $200,000.
Norman Herbert, retired treasurer for the University of Michigan and a member of the financial task force, gave a report on the subgroup's recommendations Wednesday.
Herbert said the millage is included as simply a "placeholder or proxy" to measure the impacts of altering services, reducing costs and increasing revenues as talks continue.
"It is by no means the suggested model for funding going forward," he said. "There are too many unanswered questions that the subgroup couldn't address in full. And so we don't want this millage to be viewed as the solution. It's not the solution necessarily."
The task force recognized the subgroup's recommendations for a five-year service program, including ongoing bus replacements, urban bus network enhancements, countywide door-to-door and flex services, express bus services, local community circulators and local transit hubs, park-and-ride lots, car and vanpool services, creation of so-called "superstops" along Washtenaw Avenue and bus-related support facilities.
The subgroup also recommended an average fare increase of 50 cents for fixed-route bus service to reduce the level of local subsidy, as well as fare increases for door-to-door paratransit services. It recommends higher fares for express services, including distance-based zone fares with a surcharge for services that cross county lines.
The subgroup recommended removing several capital-intensive projects from the five-year service plan, including a north-south high-capacity connector service, Washtenaw Avenue high-capacity service, and east-west and north-south commuter rail projects. The group says those should be considered separately from the five-year service plan since they're longer range in nature and likely will rely heavily on federal and possibly private funding.
Another recommendation is that the Ann Arbor downtown circulator be a discretionary project funded only if private dollars can be identified.
The analysis of the subgroup assumed that all governmental entities in the county would be a part of the tax base for purposes of calculating millage revenues. But communities will have the chance to opt out and a handful of townships already have declined to be involved.
Berriz said there are two choices to close the current funding gap: Either a countywide millage or funding via the methodology that arises as a result of the governor's transit plan.
"As the facts gel in the next coming months and weeks, and whatever the case may be, we can come back and make some better assumptions and fit them into the model and decide what that really means," Berriz said.
"Speaking on behalf of the business community, we all got involved because we think that transportation is a critical factor in serving this community and serving the work force that works in the hospitals, that works in the office buildings, that works in all of the places that we have."
Task force member Conan Smith, chairman of the Washtenaw County Board of Commissioners, said he was worried what recommendations might come back from the subgroup, but he applauded the plan released Wednesday.
"I think you've really identified, in terms of service reductions, really key things that can be picked up by other entities," he told members of the subgroup. "We ought to have some regional transit priorities that can be sent to that group if it passes so that we can say, 'Use Washtenaw's portion of the funding do this.' I was very pleased with the prioritization."
Added Smith: "I'd still love to see it all come out, and maybe if we're rich we'll be able to do it all, but the core services are captured in here."
Smith expressed some concern about the possibility of fare increases, saying the AATA should make sure it keeps fares low and access to services high.
"We're talking about a not-insignificant increase in their individual costs if they are dependent upon transit," Smith said.
AATA CEO Michael Ford said the task force recommendations will go to the AATA board for consideration, as well as an unincorporated countywide transit authority board.
Jim Kosteva, director of community relations for the University of Michigan and a member of the task force, said he hopes to see the task force reconvene later this year.
"Yes, we can be somewhat patient, but in that interest that we all share as businesses and employers across the community, we want to move ahead with expanded opportunities for providing greater transit in the community," he said.
"So I hope we would reconvene no later than next January, and obviously sooner if we get some greater clarity regarding the opportunities and options that might be afforded us."
AATA Chairman Jesse Bernstein called the task force's report "the bedrock of how we move forward" on the countywide expansion plan.
"We're going to be dealing with all of those intricacies of setting fares, determining routes, but this has been an incredibly helpful product," he said.
Bernstein said the actual method of funding won't be determined until AATA officials know what the state is doing.
AATA officials remain hopeful the Ann Arbor City Council will approve a four-party agreement that lays the framework for creation of a new countywide transit authority on March 5.
"Hopefully the city will approve the agreement, and then that's the framework to figure out how we fund it and when we go about doing that," Bernstein said.
While talks play out at the state level, Bernstein said, the AATA will do what it can within its resources to move toward the countywide vision. Asked when a new countywide authority realistically might be incorporated, he replied: "When we're ready."
Bernstein said it's highly unlikely that county voters will see a countywide transit millage proposal appear on the ballot anytime in 2012.
"As far as I'm concerned, I don't see it happening this year," he said. "The politics are such that you want this millage in a four-year election cycle, but that to me is not the determinant. If this doesn't pass because it's the right thing to do, then it doesn't matter when the election is."
Ryan J. Stanton covers government and politics for AnnArbor.com. Reach him at ryanstanton@annarbor.com or 734-623-2529. You also can follow him on Twitter or subscribe to AnnArbor.com's email newsletters.