Ann Arbor Transportation Authority introduces online fare purchasing
Posted on Tue, Nov 16, 2010 : 7:10 p.m.
Area residents can now purchase Ann Arbor Transportation Authority passes, tickets and scrip coupons online.
"People are now able to buy 30-day passes, one-day passes, scrip coupons, A2Express tickets and passes, and Football Ride tickets on our web site using their Visa, Mastercard or Discover credit cards," Mary Stasiak, community relations manager for TheRide, said in an AATA news release.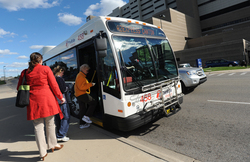 Orders will be processed during regular business hours and mailed to customers within the continental United States within five to seven business days. There is no additional charge for postage, according to the release.
The receipt from an order cannot be used in place of the pass or ticket, according to the release.
Order AATA fares here.
Questions regarding orders may be sent to AATAsales@TheRide.org.