Posted on
Tue, May 28, 2013 : 1:30 p.m.
AATA launches new ridesharing website for Ann Arbor area commuters
By Amy Biolchini
A new website that will help Ann Arbor area commuters create carpools and find ways to publicly share rides launched today.
The site — iShareaRide.org — is hosted by the Ann Arbor Transportation Authority and was developed in a partnership with the University of Michigan.
The concept is simple: Users create their own password-protected profile to list their employer, home address and details of their commute.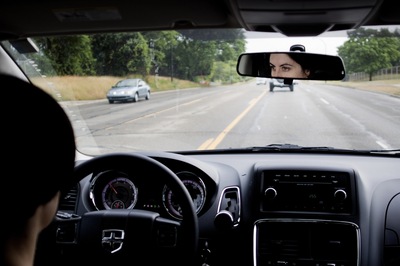 Jeffrey Smith | AnnArbor.com file photo
They can then connect with other site users to coordinate a carpool or a
vanpool
. The site is free to users, and is intended for people looking to share a ride to a Washtenaw County destination.
The average rideshare participant saves about $3,000 each year, according to a 2011 report from the Southeast Michigan Council of Governments.
The users determine their own rules for the carpool and set their own schedule. One-time trips can be requested through the site, like arranging a ride to a U-M football game, said Justin Fenwick, business transportation coordinator for AATA
The website was developed with input from U-M, which was previously subscribing to a web-hosted system -- GreenRide-- to arrange carpools between its employees, according to U-M officials. U-M donated its GreenRide database of users to AATA to initiate the creation of iShareaRide.org, Fenwick said.
U-M users are only seen by other U-M employees on iShareaRide.org, though they have the capability to make their profiles visible to the entire system.
Users can choose to carpool with people at their workplace or with anyone from the community, though an employer is not required for participation in the system.
"The site is 100 percent open to the community user," Fenwick said.
Before the public launch, the site was opened to three select organizations: U-M, the VA Ann Arbor Healthcare System and the Zingerman's Community of Businesses to build the user base on the site.
About 6,200 commuters already are registered — the majority of which work at U-M, Fenwick said.
"The whole value of the database comes with the number of people registered in the system," Fenwick said.
According to AATA, about 60,000 people commute to Washtenaw County every day from Southeast Michigan in addition to the tens of thousands that commute to work within the county.
TheRide already had been working with Zingerman's and the VA Ann Arbor Healthcare System to help them develop transportation programs for their employees, Fenwick said.
In addition to facilitating carpool connections, the new website also will help AATA expand its vanpool program.
AATA launched its VanRide system last year, which has been mainly in use by U-M, Fenwick said. Participation is tax-deductible.
The vanpool allows groups of five or more to rent a van from TheRide on a monthly basis. Riders pay a monthly fee ranging from $79 to $139 per person, while the driver of the van is not required to pay a fee.
One of the 35 vans in the pool have been in use by the VA Healthcare System -- which will soon be adding two more vans, Fenwick said.
Vanpools created by an employer are paid for by special monthly rates negotiated on a case-by-case basis, Fenwick said.
"We're looking at how (iShareaRide.org) can grow our VanRide program," Fenwick said. "In addition to the amount of time it takes to get a full group and get people approved to drive, we've been developing relationships over the past year to get more organizations … We're hoping the website will make it a lot easier."
Though there are no long-term goals for the number of users they're aiming for in the system, Fenwick said the main objective is to keep the VanRide program in use and to gain more participating employers.
The website also offers a special portal for businesses and organizations to be able to track the data of their employees participating in alternative commutes.
Employers with a special portal also have the capability of messaging all their employees who have registered on the website.
To gain an employer portal, a business must pay an annual fee ranging from $500 to $2,000 based on the size of the company, Fenwick said.
U-M is the only organization to have such a portal, which was given to them in exchange for the database of its carpool users U-M transferred to AATA to develop iShareaRide.org, Fenwick said.
The public launch of iShareaRide.org is timed with the final week of getDowntown's Commuter Challenge, which boasts record-breaking participation this year with more than 2,300 participants from 300 organizations logging alternative commutes to work this month.
Amy Biolchini covers Washtenaw County, health and environmental issues for AnnArbor.com. Reach her at (734) 623-2552, amybiolchini@annarbor.com or on Twitter.