Posted on
Fri, Jun 17, 2011 : 5:59 a.m.
AATA looks to add airport shuttle service, expand bus service between Ann Arbor and Ypsilanti
By Ryan J. Stanton
The Ann Arbor Transportation Authority's governing board voted Thursday night to endorse a comprehensive 30-year transit master plan and authorize the agency's staff to forward it to a preliminary regional board expected to oversee its implementation.
AATA officials said the resolution approved by the board marks an important step in turning the agency's countywide transit master plan into a reality.
The master plan documents are available at www.MovingYouForward.org.
"It basically says to everybody in the county, 'This is where we want to be in 30 years,'" said Chairman Jesse Bernstein. "We've listened, we've evolved, we've changed, we've done what people want, and this is going to be the goal. Now we have to figure out how to get there."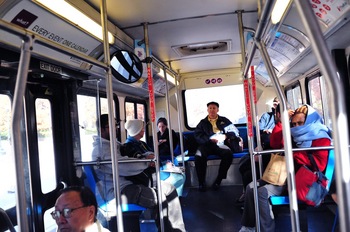 Ryan J. Stanton | AnnArbor.com
AATA board member
David Nacht
noted that, before the agency even takes that next step, it's already talking about ways it can implement pieces of the 30-year plan now. That includes increased transit service between Ann Arbor and Ypsilanti and a new shuttle service taking residents from Ann Arbor to the Detroit Metro Airport.
"We're making progress on actually moving forward with the early parts — some aspects of the transit master plan — even in the absence of any new funding," Nacht said. "So we currently still plan on having airport service beginning in October, even though our proposed federal funding source was denied. It may not be at the scope or level that we hope to eventually have, but we are working with partners and this is going to be a significant new service."
CEO Michael Ford said AATA officials have been in talks for several months with representatives from Michigan Flyer, a motor coach service providing frequent shuttle trips to and from East Lansing, Jackson, Ann Arbor and Detroit Metro Airport.
Ford said AATA officials are aggressively pursuing funding for an airport shuttle service with an Oct. 15 target start date. While the AATA wasn't able to obtain a federal grant for which it applied, it has received notice from the Michigan Department of Transportation that airport service will be eligible for state operating assistance. That would cover about 30 percent of the cost.
The idea, Ford said, is to provide a service to residents that's convenient and affordable. It currently costs about $10 a day to leave a car parked near the airport.
"Right now the proposal is 16 trips a day," Ford said. "Basically the concept is leaving from Blake Transit Center, probably no more than two stops from there, and being able to complete that service within 40 to 45 minutes. I'm trying to work on something that will allow parking at a minimal cost at Fourth and William or even potentially free. I'm also talking to other private and public sector folks to see what other funding we can come up with."
As far as service between Ann Arbor and Ypsilanti, the AATA extended its Night Ride service outside of Ann Arbor east to Golfside Road on April 4. Ford said staff is monitoring the service to assess what it would mean to expand it all the way to Ypsilanti.
The AATA also is working to obtain funding commitments from public and private partners to increase the frequency of service on the Washtenaw Avenue route between Ann Arbor and Ypsilanti. The earliest new service would begin is January 2012, primarily due to the need for additional buses, Ford said. An order of new buses is scheduled to arrive later this fall.
"We've got some different scenarios on how much it's going to cost," he said, adding it could be as much as $300,000. "Part of that will be getting some private sector dollars to make that happen. We're trying to work with good community partners that see the value in that. We'll continue to work on that and our hope is to have something solidified by August."
Carolyn Grawi, the director of advocacy and education for the Ann Arbor Center for Independent Living, told AATA officials she's excited about their expansion plans.
"I personally cannot wait for us to have transit that runs everywhere through this county so that we can all work, live and commute effectively," she said.
The 30-year master plan outlines a strategy that addresses various public transit needs in the county. It's expected to be implemented in incremental steps with continuous input from the communities, government entities and other local transit service providers.
Bernstein said endorsement of the 30-year plan is the first step in moving toward implementing the plan to create a regional body that will empower local communities in Washtenaw County to work together to determine transit services and funding levels.
What hasn't been determined is how to pay for the plan. Implementing it is estimated to require $465 million in capital costs over 30 years, and net operating expenses are estimated at $52 million annually. Not included is the current $27 million in base operating expenses.
"The question of funding is a question that needs a lot of discussion and study," Bernstein said. "As far as I'm concerned, we're nowhere near saying to the public, 'Here's what we're gonna do and when we're gonna do it.'"
AATA officials are working with local government officials from all of Washtenaw County's townships, cities and villages to develop a preliminary regional board that will refine the transit service plan, by-laws and funding sources.
The preliminary regional board will work toward implementing the transit master plan and will take steps to formally incorporate a countywide authority.
Each community will have a 30-day window to decide if it wants to continue participating in the countywide authority. Should a community choose not to participate as a member of the incorporated authority, it would not contribute funding or receive transit service.
Nacht said the AATA hopes it can rely on its reputation for providing efficient transit services when officials potentially go to voters with a millage request.
"We're making progress in a way that we're going to be able to show the community, 'look what we've done without any additional funding — look at how we're accomplishing turning ourselves into a regional organization already,'" Nacht said. "And we think that will help make the case that we deserve the community's trust for some funds to proceed with the TMP."
Ryan J. Stanton covers government and politics for AnnArbor.com. Reach him at ryanstanton@annarbor.com or 734-623-2529. You also can follow him on Twitter or subscribe to AnnArbor.com's e-mail newsletters.