Posted on
Fri, Sep 2, 2011 : 5:58 a.m.
AATA to offer football shuttles to and from Big House starting with Saturday's game against Western
By Ryan J. Stanton
The Ann Arbor Transportation Authority is offering an easy and convenient option for University of Michigan football fans hoping to avoid traffic congestion and parking chaos.
Starting with Saturday's home game against Western and continuing throughout the fall football season, the public transit agency will allow fans to hop aboard shuttle buses at 18 hotel and parking sites throughout the city and ride to and from the Big House.
Six additional hotels will be served indirectly at nearby pick-up sites, AATA officials said, noting the service will operate for all eight home games this fall.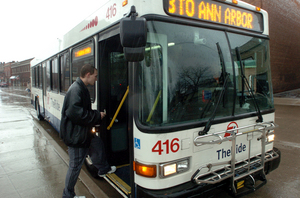 Hotel parking may be limited to hotel patrons. The shuttles run every 20 minutes starting two hours before game time, with the last shuttles leaving 30 minutes before game time. Return shuttles run for an hour after each game.
Tickets are $1.50 each way for adults and can be purchased at most of the hotel sites, as well as in advance by mail, online at www.TheRide.org, or in person at AATA's offices at 2700 South Industrial Highway.
Riders are encouraged to purchase round-trip tickets, as drivers do not carry change. Reduced fares are available for those who qualify.
Ann Arbor officials last week warned that a new traffic control plan negotiated between the city and U-M for the fall season may lead to more traffic congestion at major arteries and freeway ramps than residents and visitors are used to on football Saturdays.
The new traffic plan includes continuing the conversion of the two-way traffic on Ann Arbor Saline Road from East Stadium Boulevard to I-94 to one-way southbound for the post-game traffic.
The plan does not include any pre-game traffic control operations, or the manual operation of the traffic signals at other major intersections such as South State Street and Eisenhower Boulevard, or South State Street and Briarwood Drive.
The exception to that is the Sept. 10 night game against Notre Dame, during which the full historically provided services will be in effect.
That AATA today released this list of Football Ride boarding locations:
Free Park & Ride Lot Shuttle Locations:
Plymouth Road Park & Ride Lot (North Shuttle)
Miller Road Park & Ride Lot (West Shuttle)
Paid Parking Shuttle Locations (Downtown Shuttle):
Fletcher Street Parking Structure
Fourth & William Parking Structure
Pizza House (for Forest Street & Church Street Parking Structures)
Thompson Street Parking Structure
Hotel and Other Shuttle Locations:
North Shuttle
Holiday Inn near the University of Michigan (parking for Guy Hollerin's restaurant and hotel guests only)
South Shuttle
Sheraton Ann Arbor Hotel
Hampton Inn South
Kensington Court Ann Arbor
Red Roof Inn
Indirect service:
Comfort Inn & Suites - board at Red Roof Inn
Courtyard by Marriott - board at Sheraton
Fairfield Inn -- board at Sheraton
Holiday Inn Hotels & Suites - board at Sheraton
Holiday Inn Express (tickets available at Kensington Court)
Downtown Shuttle
Bell Tower Hotel
Campus Inn
Michigan Union
East Shuttle
Ann Arbor Regent Hotel & Suites
Days Inn
Indirect Service:
Comfort Inn (tickets available at Days Inn)
West Shuttle
Clarion Hotel and Conference Center
Weber's Inn (parking for Weber's patrons only)
During each home game, Routes 4, 6, 7, 8, 15 and 16 will be placed on detour.
Ryan J. Stanton covers government and politics for AnnArbor.com. Reach him at ryanstanton@annarbor.com or 734-623-2529. You also can follow him on Twitter or subscribe to AnnArbor.com's e-mail newsletters.