Posted on
Tue, Sep 27, 2011 : 1:22 p.m.
AATA secures federal funding for new Blake Transit Center
By Ryan J. Stanton
Plans to expand public transit services in Ann Arbor and build a new downtown bus station have garnered a showing of support from the federal government.
Ann Arbor Transportation Authority officials said today $2.7 million in expected grant funding from the Federal Transportation Administration is now officially obligated.
The funding includes $1 million to demolish and rebuild the Blake Transit Center and $1.7 million to add 10 more hybrid buses to the AATA's fleet.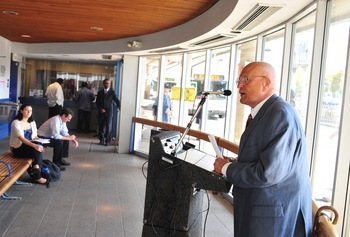 Ryan J. Stanton | AnnArbor.com
"This funding will play a critical role in expanding and enhancing transportation options for Ann Arbor to help us retain, create and attract jobs to Washtenaw County," U.S. Rep.
John Dingell
, D-Dearborn, said in a statement. "I am very happy to help Mayor
John Hieftje
and AATA's CEO
Michael Ford
continue their outstanding work."
The AATA is planning to undertake a $5.5 million project to build a new two-story Blake Transit Center starting in spring 2012 and finishing by spring 2013.
Plans include tripling the transit center space from 2,000 to 6,000 square feet to allow for more office space, increased public restroom space and a remote dispatch center.
AATA officials said the agency has received a total of $4.2 million in state and federal grants to support the project, and they've submitted a grant application for the remaining costs.
Engineering and architectural firm DLZ Michigan Inc. has been selected to design the new bus station to meet LEED certification. Another Michigan firm, Spence Brothers, will be providing construction management and oversight.
AATA officials said the purchase of 10 hybrid electric vehicles will increase the number of hybrid buses in the agency's fleet to 41 out of a total of 78 buses. The grant comes from the federal Clean Fuels/Bus and Bus Facilities Program.
Ford, head of the AATA, issued a statement today thanking Dingell for his assistance in securing the grant funding.
"You cannot have a growing economy without robust access to transportation," he said. "Fortunately, Congressman Dingell understands this connection very well."
When first proposed, the cost for the Blake Transit Center project was estimated at between $2.7 million and $3.7 million. That went up to $4 million in 2010, and now to $5.5 million.
Mary Stasiak, a spokeswoman for AATA, said there are a number of reasons for the increased price tag. She said the original estimate was before any design work took place.
She said the AATA held a number of stakeholder meetings to get feedback about what users would like to see in the facility, and that led to additional features.
"The original estimate did not include the addition of a basement," Stasiak said. "We are also adding more office spaces. The getDowntown folks will be in the building. We also added more public restroom space than was originally estimated. And we're going to be adding a remote dispatch center so that in the case of an emergency we have a backup."
Stasiak said final designs are expected to be finished around December. She said they'll have to be approved by the Planning Commission and City Council.
Stasiak also confirmed that the way the two-story building will be positioned on the site will allow for the possibility of future development above Blake Transit Center.
"We're talking about moving that building. It's not going to reside in the space it's in now," she said, noting it'll be moving to the southeast corner of the same lot. "And by doing that, it allows for any future development to use the original footprint of the northwest corner, and the southwest corner can be used for added footing for a larger building on top."
If somebody is interested in a development that makes use of both the AATA site and the city's Y Lot, located adjacent at the corner of Fifth and William, that could happen, she said.
Ryan J. Stanton covers government and politics for AnnArbor.com. Reach him at ryanstanton@annarbor.com or 734-623-2529. You also can follow him on Twitter or subscribe to AnnArbor.com's e-mail newsletters.