AATA will buy 6-foot strip of land from city of Ann Arbor for $90K
Posted on Fri, Apr 27, 2012 : 10:56 a.m.
The Ann Arbor Transportation Authority's governing board on Thursday approved the purchase of a small strip of land downtown from the city of Ann Arbor.
The parcel measures 6 feet by 132 feet and is part of the former YMCA site at the corner of William Street and Five Avenue, which is now a surface parking lot.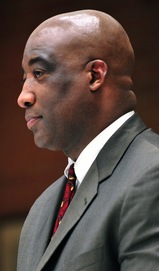 The land is immediately adjacent to the
Blake Transit Center
, which the AATA hopes to demolish and rebuild later this year, and would straighten out the southern property line.
"For us to move forward with the Blake Transit Center, we need this piece," AATA CEO Michael Ford told board members at Thursday's meeting.
The city hired the real estate appraisal firm Alcock & Williams LLC, which determined the market value of the property is about $90,000.
The AATA's governing board voted to purchase the land for $90,000 plus closing costs. Board member Eli Cooper, who works for the city, abstained.
The Ann Arbor City Council already approved the deal to sell the small portion of city-owned property at 350 S. Fifth Ave. to the AATA last September.
Ford said recently he hopes to break ground on the Blake Transit Center project in August. The AATA is working to submit plans to the city for site plan approval this month.