Posted on
Mon, May 16, 2011 : 5:59 a.m.
Owner says long-closed gas station on West Cross in Ypsilanti could reopen
By Tom Perkins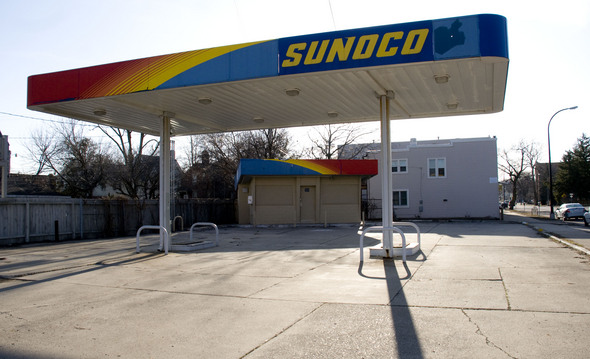 Tom Perkins | For AnnArbor.com
A long abandoned gas station at Cross and Washington Streets could reopen this year.
The former Sunoco gas station at 317 N. Washington St. has sat empty since 2001, but its owner received approval in March to reopen the service station after more than a decade of ownership issues and disagreements with the city over the definition of "abandoned."
Carroll Knight took ownership of the station in 2000. His company, Novi-based Knight Enterprises, is a gasoline distributor that made two deliveries worth $40,000 to the station's owner.
Knight sold the man the gasoline on credit but never received a payment. Because the payments weren't made, the two parties' contract allowed Knight to take over the station by paying off the bank's $65,000 loan on the property. Combined with what he was owed for the two loads of gas, Knight paid $105,000 for the station.
In 2001, Knight said he entered into a land contract with a buyer who failed to make city tax payments. Knight said he sent a $7,000 check to the city to pay off the debt, but the check was lost and the property foreclosed. In 2002, Knight purchased the station for a second time out of a tax foreclosure auction for $190,000.
Knight said one of the gas station's neighbors was also bidding on the building and he didn't expect to pay such a high price.
Since 2003, Knight contacted the city several times about reopening the station. He also had several potential buyers approach the city, but the city took the position that the station was abandoned.
The property is zoned residential-commercial and the station was considered a non-conforming land use while it was open. According to city documents, the building has been considered abandoned on September 10, 2001. Knight and other potential buyers were told that a special use permit and site plan review would be required to reopen the property.
Knight disputed that assessment, but never took any serious action until November 2010 when he sought a certificate of occupancy. The building and planning departments rejected that application on the grounds that it was improperly zoned for such a use and the building was abandoned.
Knight contended the station was technically never abandoned because he always intended to reopen it as a gas station. He and his attorney argued that the definition of abandoned means that the original use of the building has been abandoned or changed. Knight argued that he never intended to use the property for anything but a gas station.
The issue was taken before the city's Zoning Board of Appeals on March 23. Knight's attorney presented case law supporting their argument and the ZBA reversed the city's planning and building department's earlier rulings.
Knight can now reopen the station, though he offered no timeline on when that might happen. The station has a 441 square foot commercial building and one gasoline bay with a canopy. If Knight wanted to expand the building or add bays, he would need to seek a special use permit and receive approval to add extra storage tanks from the Michigan Department of Environmental Quality.
Knight expressed frustration over the process but said he is looking forward to opening the new station and "becoming a good neighbor to the community."
"I'm just tying to get on with my life, and salvage this station out of this tremendous mess," he said. "I'm anxious to open it and get it back to what it was supposed to be."
City Planner Teresa Gillotti said city staff had reached out to Knight to try to resolve the situation several times in recent years and she is pleased to see there is some progress.
"I'm happy that there's some clarification so that he knows how he can open as a gas station and see if it works...rather than it being underutilized as it has been for last few years," Gillotti said.