Posted on
Thu, Jul 26, 2012 : 5:58 a.m.
HIV on the rise among young, black gay men in Washtenaw County
By Amy Biolchini
Melanie Maxwell | AnnArbor.com
*Editor's note: The names of the 21-year-old man and 27-year-old man interviewed for this story have been changed to protect their identities. Also, the locations of ZIP codes 48103 and 48104 have been corrected. They are not in Ann Arbor Township.
It's been a long road to the point where 21-year-old Ypsilanti resident Jake Stanford is able to smile and say "it's not over" when talking about living with HIV.
Stanford found out he had HIV about a year ago - sending him into a spiral of confusion, then shame, and finally acceptance.
Stanford is among a growing demographic of new HIV cases in Washtenaw County and across the country: black, homosexual men age 15 to 29 years old.
The percentage of new HIV diagnoses in black individuals is about 48 percent in 2011, which is greater than the racial breakdown of Washtenaw County's population — about 12 percent to 13 percent black.
Black gay and bisexual men now account for one in four new HIV infections in America, according to a new report by the Black AIDS Institute.
"It's unfortunately been consistent among the HIV epidemic," said Laura Bauman, epidemiologist for Washtenaw County Public Health.
But analysts familiar with HIV data trends say it's not that young, black homosexual men engage in riskier sexual behaviors than their white counterparts.
Rather, experts say the demographic has more limited access to tests and educational materials, and there's also a negative social stigma amongst the community in which they live.
A young man's story
Stanford found out he had HIV in March 2011. After donating blood, he got a call from the Red Cross informing him he needed to speak with a doctor.
Though he knew the Red Cross was going to test his blood, Stanford was not prepared for what was going to come next: a diagnosis of HIV.
In the doctor's office, Stanford said he was numb. On the drive home he began calling his closest friends to break the news - and on the second call, the gravity of the situation began to sink in.
The second wave of emotion hit when Stanford told his father.
"My dad said, 'It's not over … you can still live your life,' " Stanford said.
The third and strongest wave hit when he was sitting in his apartment. A close friend came over - and she didn't have to say more than two words before Stanford said he broke down.
The initial depression hit Stanford hard - he stopped going to classes at Washtenaw Community College and dropped out of his favorite activity, a hip-hop dance group.
After being rejected several times by potential partners because he was open about having HIV, Stanford said he found a partner who accepted him for who he was.
Stanford met 27-year-old Cameron Harper, of Ypsilanti, while at work. The two had a strong emotional connection — so strong that Harper willingly contracted HIV from Stanford after the couple started dating.
"It's a gift that I know someone that will stick around," Stanford said.
By the numbers
Data from local, state and national agencies show the number of new HIV diagnoses is on an even keel. In Washtenaw County, that rate has even declined over the past three years.
However, the demographic of the new cases is shifting.
In the past six years, the portion of new HIV diagnoses in Washtenaw County among male individuals who seek sexual contact with men has been growing. In 2005, it was 70 percent. In 2011, it was 86 percent.
"What continues to jump out at me is the number of young men under the age of 30, and almost all of them are MSM," Bauman said.
MSM is a technical label to describe gay and bisexual men, as well as those that don't embrace those terms but exhibit the behavior.
Nationwide, the trend is one government agencies have noticed.
Young and adult men who seek male sexual contact appear to the sole transmission category in which the number of HIV diagnoses has increased from 2007 to 2010, according to the Centers for Disease Control and Prevention.
Of 544 individuals living with HIV in the county as of 2010, 62 percent are men who seek male sexual contact, according to the Michigan Department of Community Health 2010 state profile. In Michigan, that statistic is 53 percent.
The trend of new HIV cases also has been shifting younger.
Among males and females between the age of 15 to 19 years old, there has been a 10 percent increase in the number of new HIV diagnoses from 2007 to 2010.
In the same time period, there has been a 33 percent increase in the number of new HIV diagnoses among males and females 20 to 24 years old.
Washtenaw County has the fourth highest rate of HIV infection statewide, according to the most recent data from the Michigan Department of Community Health.
The portion of new HIV cases that are attributed to intravenous drug use in Washtenaw County are extremely low, a trend epidemiologists are happy to see.
"There's some good news in these numbers, but there's still a lot of work to be done," Bauman said.
Access and behavior
Though people phrase it in different ways, one of the major limiting factors that keeps black gay men behind closed doors when it comes to HIV is acceptance - both on behalf of the individual and the community.
There's a sort of shame and secrecy that goes with being homosexual, Stanford said.
Rather than being able to go out and talk and hold hands on a date in public, Stanford said many men his age simply skip the date because it's too stigmatized and go right to the bedroom.
For Stanford, he said it started with tensions in high school.
The pressure to conform makes many afraid to come out - something Stanford said he experienced himself while in high school in the Lincoln Consolidated School District in Ypsilanti.
Stanford said he was usually careful to use protection when he had sex most of the time, but he knew he was putting himself at risk.
The program Stanford said helped pull him out of his slump was "It's Not Over" - a program coordinated by the HIV/AIDS Resource Center (HARC) in Ypsilanti.
HARC provides HIV and AIDS related services to Washtenaw, Jackson, Lenawee and Livingston counties.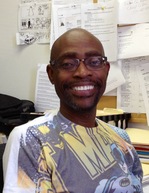 Leon Golson
, outreach coordinator for HARC, facilitates the program and has been a participant for the past 23 years since he was first diagnosed as HIV-positive.
The program was pulled together by gay and homosexual men, Golson said. "They felt there was no safe venue or tool to work through 'deep uglies.' "
There need to be more positive affirmations about being a gay male, Golson said.
"Michigan is not one of the states you think about when you think gay-friendly," Golson said. "When you feel good, it's easier to do what you do to keep yourself healthy."
There's a sort of internalized homophobia among gay black males, Golson said.
There's no protection in Michigan to keep from being fired for being gay. Same-sex couples also can't marry, share insurance benefits or tax deductions as heterosexual couples.
"We're struggling with what the world says about us," Golson said.
Men often deal with the resulting low self-esteem by over- or under-compensating by engaging in riskier sexual behaviors, Golson said.
The lack of self-esteem and fear of being judged for being gay means many young men keep quiet about their status, Golson said.
Ernest Hopkins, chairman of the National Black Gay Men's Advocacy Coalition, wrote in a 2012 report compiled by the Black AIDS Institute on the state of AIDS among black men in America.
"While black men are at the front of the line when it comes to need, they remain at the back of the line when it comes to services ... The AIDS crisis among black gay men is a problem for black America as a whole."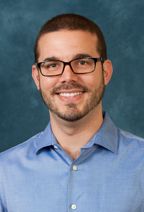 Jose Bauermeister
, Ph.D., is an assistant professor at health behavior and health education for the
University of Michigan
and the director of the SexLab at U-M.
Although black and Latino young men are engaging in the same activities as their white counterparts, Bauermeister said more resources have been invested in reaching the white part of the community than the black or Latino side.
"They're not doing anything different than their white social counterparts, it's that their social condition (i.e. racism and homophobia) may put them more at risk," Bauermeister said.
Black and Latino young men are more likely to live in an urban environment, Bauermeister said, and black men are more likely to be subject to racial discrimination and homophobia.
"That can create problems with how people seek medical care and how open they are about treatment," Bauermeister said. "It's hard for people to be asked to use condoms when their social environment doesn't make it friendly to do that. HIV is stigmatized, so having a conversation becomes much more difficult."
Most recently, Bauermeister and his team are surveying black and Latino young men that have sex with men in the greater Detroit area, including Washtenaw County.
The intent of the study is to look at HIV prevention in a broader way beyond individual decision-making - from sex education, church programs, Internet relationships and HIV testing availability to homelessness and homophobia issues in the community.
"It became very clear that there were bigger issues like transportation and access to care," Bauermeister said.
Place matters
Though there are certain ZIP codes in Washtenaw County where the majority of individuals with newly reported cases of HIV live, analysts state the location is less of a contributing factor and more of a social description.
There are four ZIP codes in Washtenaw County from which the majority of new HIV cases are reported - 48108 and 48103, which lie mainly to the south and west of the Ann Arbor city limits; as well as 48197 and 48197, mainly in Ypsilanti Township - analysts stress that they're not causal attributions but markers of socioeconomic standing.
Rent is cheaper for a single young person in those parts of the community, though living here may mean there's less access to a bus system that would transport the person to resources like HARC.
Those areas tend to be lower-income, Bauermeister said. People also tend to seek out sexual partners that are closer in proximity.
University students who are tested use their local ZIP code address - and the central Ann Arbor ZIP codes are not among the parts of the county where new cases are concentrated. People who move to Washtenaw County who have HIV aren't counted in the number of new cases and go fairly unreported.
Access to resources like HARC and the health department are often a major deterrent for some, as business hours and transportation availability make the process difficult when a person has to juggle their work schedule, Bauermeister said.
A person also may be consumed with securing their social well-being - like finding a job and a place to live - and aren't necessarily worried about their health, Bauermeister said.
"There are bigger social realities that are tied to our sexual behaviors," he said.
Tightened belts
The importance of the continued work of agencies like HARC can't be quantified until it stops working.
"Public health is the silent success," Bauermeister said. "Unless we're not doing our job, no one praises public health."
And that job could be hampered sooner rather than later.
The CDC has recently changed its funding formula for HIV and AIDS programming, Bauermeister said. As there are more new HIV cases being reported in the southern U.S., that's where more of the money is going.
"Some of the money used in Michigan to keep people safe will soon be lost," Bauermeister said. "So some of these strategies will be scaled down. The question remains, what happens then?"
HARC's funding comes from the federal level and is administered by the state.
In order to reach areas of the county where people may not have access to effective transportation to testing services, the van provides on-site tests for HIV and other sexually transmitted diseases.
HARC's outreach van recently reached the end of its lifespan -- and so the organization had to start scrounging for donations.
The organization recently was able to raise enough funds to buy a new van. In terms of the total effectiveness of the organization, Golson said he'd love to see more.
The current main location of HARC is a small suite inside a building in an office park at 3075 Clark Road in Ypsilanti. Though the organization has an office in Jackson, the two locations serve four counties.
HARC has a staff of 15 people and relies on volunteers for many of its services and events.
Golson said he'd love a more accessible building, the funds to have counselors and therapists on site, as well as offering a full range of STD services and a physician to help people with their T-cell count.
Currently, their outreach occurs at university clubs, pride events and at two bars, specifically Necto on Liberty Street in Ann Arbor where HARC organizers said they see the most new faces.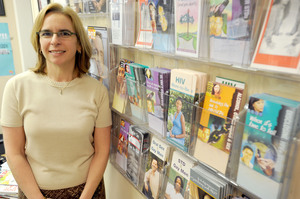 Angela J. Cesere | AnnArbor.com
"We try to be as creative as possible but have a consistent presence," said
Jimena Loveluck
, president, CEO and executive director of HARC.
Loveluck said HARC targets its funding to areas where they're likely to have men who have sex with men. HARC also does special testing initiatives in conjunction with national HIV awareness events, and uses the StatusSexy campaign to encourage men to get themselves tested.
The office also does events in conjunction with Spectrum groups at University of Michigan and Eastern Michigan University, Loveluck said.
Washtenaw County public health authorities state the number of new HIV cases will likely continue to surface.
Bauman, epidemiologist for the health department, said the younger generation of gay men now view HIV as a manageable disease.
"They didn't see all of their friends die," Bauman said.
The number of new cases that continue to surface each year "would probably only come down if we get a good vaccine" even with good sex habits, Bauman said.
There are numerous drugs available on the market available for HIV patients - ones strong enough that individuals don't have to check in with their doctor every month. For Stanford, he said his medication has reduced his doctor's visits down to every six months.
Bauman said the cocktail of medicines needed to live with HIV and AIDS come with the added expense of side effects and cost.
Stigma goes on
Stanford and Harper, who have now been dating for 10 months, said they've been very selective with whom they've shared their HIV-positive statuses.
Harper said most of his family and friends are in the dark.
"I don't know how people are going to react," Stanford said. "I don't want things to change ... and I don't want to be treated as diseased."
For now, they have each other.
"It's not a death sentence like it used to be," Stanford said of HIV. "I'm an 'everything happens for a reason' kind of person."
Amy Biolchini covers Washtenaw County, health and environmental issues for AnnArbor.com. Reach her at (734) 623-2552, amybiolchini@annarbor.com or on Twitter.