Posted on
Sat, Nov 24, 2012 : 5:58 a.m.
U-M fans predict Wolverine victory in match against Ohio State
By bob horning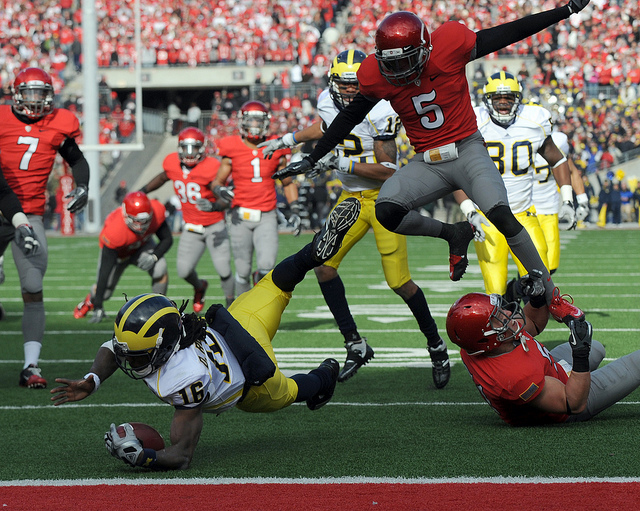 According to my impromptu and unbiased poll among fans at Michigan Stadium last week, Ohio State will lose its first, and last, game of the year Saturday. The polling base did come from an overwhelmingly 'blue' state, but the questions were straightforward — neither leading nor misleading.
"Who do you think will win? What do you think the score will be?"
Male, female, young, old, — the results were unanimous. Michigan will win, most said in a close, not high scoring game.
Before many fans were in their seats, I talked to Stephen Esckilsen of Saginaw, an usher in the south end. He picked Michigan by a field goal.
Across the field, Jessica Stephens, a sophomore at U-M from Macomb, said it would be low scoring because "they are both good teams. If we don't have Denard, it will make a difference because he is a senior and a captain, but Michigan will pull it out."
Everyone I talked to respected the Buckeyes even if they dislike them, and acknowledged that they are a good team. Their 11-0 record proves as much, though this obviously is a down year for the Big Ten.
Meghan Fiebelkorn of Pinckney made it clear she doesn't care much for Ohio State. She mentioned the T-shirt she hopes to get for Christmas. It pictures all of the states except Ohio, with the caption "We the people of the United States, in order to form a more perfect union." She predicted a Michigan win, 24-13, and said "I think we should play (Devin) Gardner at quarterback and Denard in the backfield, as against Iowa. Without Denard we will still win, but not by as much. It would be sad if he didn't play his last game."
Stephanie Wydick of Livonia said "this is the game that Ohio State plays for all year; they will be undefeated, then lose to us." Her friend, Jared Josephson of Pinckney, said, "this is their bowl game, but I have to go with Michigan; I go into every game looking for a W, but we have to get Denard on the field somehow."
I wanted to get the opinion of someone impartial, so stopped a man in a number 11 Iowa jersey. Turns out he - Cisco McKinney from Pontiac - is really a Michigan fan except for the Iowa game. His nephew Kevonte Martin-Manley is a wide receiver for the Hawkeyes and played high school ball at Brother Rice. Cisco said, "I hate Ohio State and I am picking the Wolverines in an upset, 31-28. That Ohio can't go to a bowl game doesn't mean anything. It's the tradition of the game that is the biggest factor."
Don Peters from Jackson is 84 years old. He has been going to home games since the late 50's, and has been a season ticket holder since 1970.
He said that "if we can hold onto (quarterback Braxton) Miller, we will win. He isn't that great of a passer. I would like to see Jake Ryan key on him all day since he's fast enough to hang with Miller."
Peters said that he has been to one game in Columbus but the worst thing he experienced was a lot of snide remarks.
I finally found someone from Ann Arbor, John Bertz. He thinks Michigan will win 26-24, though he warns that his predictions are usually wrong. "Not having a bowl game will give OSU more motivation," he said. "It will be there whole season. I want them to be undefeated so we can ruin their year."
Bertz also has been to one game in Columbus, in 1974 when a missed field goal by Mike Lantry gave the Buckeyes the win. He said that Urban Meyer is an excellent coach, and with him and Brady Hoke it could be like Bo vs. Woody again.
Meyer, 48, told the press the OSU-Michigan game was "the only thing he knew growing up. There was Bo, Woody, Archie Griffin, Pete Johnson..."
Ohio State's first year coach, was born in Toledo, grew up in Ashtabula (east of Cleveland), and played football at the University of Cincinnati. His University of Florida team won national championships in 2006 and 2008. Against Michigan in the Capital One Bowl on New Years Day, 2008, Meyer and Tim Tebow lost to the Wolverines with Chad Henne, Mike Hart, and Jake Long, 41-35.
There are a lot of question marks for this game. Who will win the coaching/strategy battle? Will Thomas Rawls fill in suitably for the injured Fitz Toussaint? Will Devin Gardner get flustered in Ohio Stadium? How healthy and how effective will Denard be?
When I asked my wife, Linda, that last question, she said... No, I better not tell you what she said. You will think I'm making it up, and then you will think that I have been making up this whole story.
She said, "Who is Denard?"
I checked to see if she was putting me on. She definitely wasn't. She said it again. I will always remember exactly where we were driving on Miller Road when she said it.
Don't take it personally, Denard.
It did bring me back to reality, though. Outside of Michigan and Ohio, this is just another interesting football game, kind of like we view USC-UCLA or Alabama-Auburn. And even in Ann Arbor, there are some who don't even know there is a game, let alone a Denard Robinson.
I didn't ask her for a prediction.
But here is mine. Before playing Iowa, I would have said we wouldn't be able to score enough points. But with our new double D lineup at quarterback and halfback, we will be tough to stop.
Bob Horning, a lifelong Ann Arbor resident, is writing U-M gameday stories for AnnArbor.com. If you have ideas for future columns, please email news@annarbor.com.