Posted on
Thu, Aug 15, 2013 : 1:31 p.m.
ACLU considers dropping suit against Ann Arbor schools after board revokes 7th-hour fee
By Amy Biolchini
The American Civil Liberties Union of Michigan is considering voluntarily dropping a lawsuit it filed a week ago against the Ann Arbor Public Schools as a result of a unanimous decision by the Board of Education Wednesday night.
The board voted to revoke a $100 per-semester fee that it was planning to charge students at Huron, Pioneer and Community high schools for taking a seventh class period.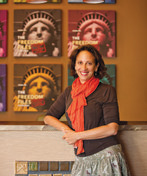 Courtesy ACLU
"We are very pleased the school board has rescinded its decision," said
Kary Moss
, executive director of the ACLU of Michigan.
The ACLU filed a lawsuit a week ago in Washtenaw County Circuit Court against AAPS on behalf of two Pioneer High School Students, Paloma Paez-Coombe, a 16-year-old junior, and Elliot Polot, a 17-year-old senior, as well as the students' parents.
The suit claimed the fee was illegal, as the Michigan Constitution states public education should be free and equal for students.
"There was really the potential to exacerbate the achievement gap by having it be possible that at certain schools, you could get ... more classes, more credits," Moss said.
The $100 per-semester fee for a seventh class at Huron, Pioneer and Community high schools was approved by the Board of Education as it was anticipated to save the district about $100,000. The school board had to cut $8.7 million from its operations for the 2013-14 school year.
AAPS was planning to offer scholarships to students who could not afford the $100 per-semester fee. District officials have stated that the law firm representing them on the matter, Collins & Blaha of Farmington Hills, advised the board that a fee for a seventh-hour class would be legal.
Students at Huron, Pioneer and Community would have still received those six credit hours under the district's plan, but would have had to pay a $100 per-semester fee for a seventh credit hour.
At the meeting Wednesday, school board President Deb Mexicotte said that she still believes the district could implement a fee for a seventh class, but that the district needs to conduct a review of its options first.
"We believe we can do this, and we believe we can do this legally under the constraints of the law and the Constitution. But we may have to just take a breath and get a couple of other pieces in place before we really can implement it," Mexicotte said Wednesday night during the meeting.
The issue has been referred to the district's planning committee as it develops a recommendation for the school board on a tuition-based program proposal.
"I have a hard time understanding what possible steps they could take that involve any kind of fee for instruction under the Constitution," Moss said.
The ACLU will now consider what is appropriate legally when the school board has resolved the issue that the ACLU was targeting, Moss said.
Moss said the ACLU's decision about whether to drop the lawsuit against AAPS will depend on future plans the district is considering, and whether they in any way involve fees for instruction.
It's not uncommon for governmental bodies to change their policies once the ACLU sends a letter informing them of an unfair or unconstitutional practice, Moss said. However, AAPS officials took no action following a letter the ACLU sent them in June on the seventh class fee issue.
Amy Biolchini covers Washtenaw County, health and environmental issues for AnnArbor.com. Reach her at (734) 623-2552, amybiolchini@annarbor.com or on Twitter.