Posted on
Fri, Feb 11, 2011 : 2:07 p.m.
ACLU asks court to side with EMU in case of former student who declined to counsel gay client
By David Jesse
The American Civil Liberties Union this morning became the latest organization to weigh in on the ongoing legal dispute between former Eastern Michigan University student Julea Ward and the university.
The ACLU, and its Michigan chapter, filed a brief with federal appeals court supporting EMU.
Ward sued the university after it kicked her out of the counseling program over her refusal to affirm a gay client's relationship during a practicum. She said she believes homosexuality is immoral and being gay is a choice and therefore could not in good conscience counsel the client.
Despite losses in the lower courts, Ward and her attorneys, the Alliance Defense Fund, a legal organization that works to uphold the rights of religious college students and faculty, have asked the U.S. Court of Appeals for the Sixth District to step in.
The ACLU believes EMU should win this round as well.
"While counselors are certainly entitled to their own religious beliefs, EMU correctly took steps to prevent Ms. Ward from imposing those beliefs on her clients in the university's training program," said Daniel Mach, director of the ACLU Program on Freedom of Religion and Belief, in a press release. "EMU would be remiss if it allowed counseling students to discriminate against clients for any reason, including sexual orientation."
But Ward said the university has violated her rights to hold beliefs.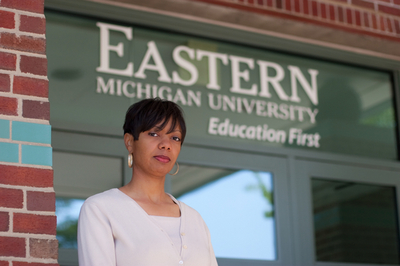 Photo courtesy of ADF
"EMU officials expelled her for insufficient tolerance, for 'condoning discrimination' and for 'imposing [her] values' because she refused to promise to verbally affirm homosexual behavior in hypothetical future counseling sessions and because she had expressed moral disagreement with homosexual behavior in classroom discussions," Ward's attorneys wrote in their court filing. "EMU's disciplinary process featured state officials explicitly impugning Ms. Ward's religious beliefs, even going so far as to engage her in a self-described 'theological bout' where they directly challenged her interpretations and understandings of scripture. ...
"Ms. Ward filed this civil rights action to challenge EMU's unconstitutional policies and actions both facially and as-applied."
EMU argued that it had the right to set the curriculum and dismiss Ward.
"This case challenges Eastern Michigan University's firmly- established right to determine, implement and enforce a pedagogically-grounded curriculum of its choosing, even over an individual student's religious objections," EMU's attorneys wrote in their response, which was filed last week. "Appellant's arguments against that right are founded upon two mistaken premises: (1) that the pedagogically-based curricular requirements in question (i.e., those prohibiting student counselors from imposing their own values on a client, and from discriminating against a client on the basis of his sexual orientation) constitute a "speech code" that supposedly is applicable "at all times," and (2) that she was disciplined for holding certain religious beliefs.
"The district court properly ruled against Appellant on both issues. First, it held that the learned and scientifically-based professional standards that governed Appellant's conduct as a student counselor do not constitute a "speech code" because they do "not apply to non-academic student behaviors." Second, it held that Appellant's "dismissal was entirely due to [her] refusal to change her behavior, not her beliefs.
"Under settled U.S. Supreme Court and Sixth Circuit law, EMU had the right not only to determine the contours of its graduate counseling program curriculum, but also to dismiss a student who, after voluntarily applying to that program, and regardless of her beliefs, refused to adhere her behavior to that curriculum."
The case is being closely watched across the nation. About a dozen organizations outside the main parties have filed various appearances, affirmations and/or briefs.
One of those is the Becket Fund for Religious Liberty, which is supporting Ward's positions.
"(The fund) is concerned that the lower court's ruling in this case, if upheld, will greatly reduce protections for conscience within the Sixth Circuit," the group's attorneys wrote in their fling. "In particular, the district court's decision would allow government entities to systematically disfavor exemptions for religious reasons while allowing exemptions for secular reasons, even values-based secular reasons. Under the facts of this case, such a wide-ranging ruling is not just wrong, it is entirely unnecessary.
"Indeed, refusing to allow students to refer clients for religious reasons could have the effect of excluding entire classes of people from the counseling profession solely because of their religious beliefs and practices."
David Jesse covers higher education for AnnArbor.com. He can be reached at davidjesse@annarbor.com or at 734-623-2534.