Posted on
Mon, Nov 28, 2011 : 5:46 p.m.
ACLU sues AATA over refusal of anti-Israel bus advertisement
By Cindy Heflin
The American Civil Liberties Union has sued the Ann Arbor Transportation Authority and CEO Michael Ford over the agency's refusal to accept an advertisement calling for a boycott of Israel from pro-Palestinian activist Blaine Coleman of Ann Arbor.
The lawsuit filed Monday in federal court in Detroit alleges AATA violated Coleman's First Amendment right to free speech and 14th Amendment right to due process. It argues AATA's policy is vague and overly broad. It asks the court to order AATA to display the advertisement under the same terms offered to other advertisers and to award Coleman damages, court costs and reasonable attorney fees.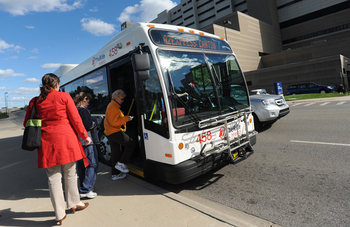 Ford, in an email reply to phone calls placed to AATA seeking comment on the lawsuit, wrote, "We do not comment on pending litigation."
Coleman sent AATA an email in December 2010 requesting information about how much it would cost to purchase an ad on the side or back of the bus that runs along State Street, South University, and North University on and near the University of Michigan campus, the lawsuit alleges. No one responded immediately, the lawsuit said, and Coleman sent several more emails in January and included a copy of the proposed ad with the words "Boycott Israel, Boycott Apartheid," and a cartoonish black-and-white image that depicts a skeleton-like figure holding a skull in its right hand and a bone in its left.
In February, Randy Oram, president of the company that handles advertising for AATA, emailed Coleman telling him AATA's advertising policy prohibited Coleman's ad. Oram and the advertising company, Transit Advertising Group AA, are also named as defendants in the case.
The lawsuit alleges that AATA "almost never rejects advertisements for failing to comply with its advertising policy" and offers several examples to support that claim. As evidence, it notes that advertising policy prohibits ads supporting or opposing any candidate for political office or any ballot proposal, but the lawsuit alleges AATA ran political campaign advertisements supporting Joan Lowenstein and Margaret Conners for district court judge in 2008.
The suit also notes that AATA has accepted ads from religious organizations and run ads with messages such as "Breastfeeding makes babies smarter," and "Two-Faced Landlords Can Be Stopped. Housing Discrimination Is Against the Law."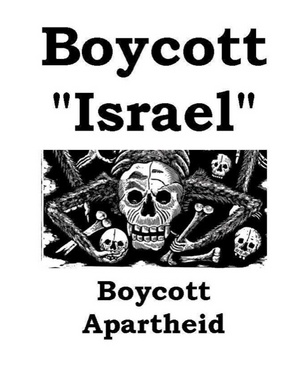 "Once a public agency decides to allow some people to speak, it can't pick and choose between the speech that it likes and the speech that it doesn't," said ACLU lawyer Dan Korobkin. "By allowing some messages, yet censoring Mr. Coleman, AATA is doing exactly what the First Amendment is designed to prohibit."
The lawsuit goes on to state that ACLU lawyers wrote AATA's board of directors in August telling them the advertising policy is unconstitutional and the refusal to run Coleman's ad violated his rights to free speech and due process. The board on Nov. 17 then reaffirmed the decision to reject Coleman's ad and stated that the ad violated AATA's policy prohibiting any advertisement that "defames or is likely to hold up to scorn or ridicule a person or group of persons."
The board also cited the wording in its policy that states AATA does not "intend to create a public forum," that AATA reserves the right to approve all advertising and "all advertising must be considered in good taste and shall uphold the aesthetic standards as determined by AATA."
The lawsuit alleges Coleman has suffered and continues to suffer mental anguish and distress as a result of AATA's decision.
"For generations, boycotts have been an effective tool to raise awareness and effect change, and I personally believe that a call to boycott Israel is the best way to empower the Palestinian people," Coleman said in a news release from the ACLU. "However, you can't have a boycott if the government won't allow you to speak like everyone else."