Adam Hollier resigns from Ann Arbor school board; new applicants sought
Posted on Thu, Feb 4, 2010 : 10:56 a.m.
Adam Hollier's short tenure on the Ann Arbor school board is over.
He withdrew from the race last year, but was elected anyway. In the end, he agreed to serve and was sworn in last July.
But on Wednesday evening, Hollier resigned his seat effective Feb. 12.
The Ann Arbor school district is now seeking applicants to fill the remainder of Hollier's two-year term.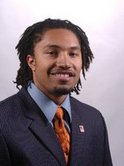 Hollier first unsuccessfully ran for the board in 2008. He filed to run again last year but said in April he was withdrawing from  the May school election for family reasons.
It was after the deadline to officially withdraw from the race, so his name remained on the ballot, and he won the seat.
Hollier couldn't be reached this morning to discuss the reasons for his resignation.
The district is asking any interested candidates to apply by 4 p.m. Feb. 19 to serve out the term, which expires on Dec. 31, 2010.
Applicants must be U.S. citizens, at least 18 years old, a school district resident for at least 30 days and a registered voter. Apply in writing to: Amy Osinski, Ann Arbor Board of Education, 2555 S. State St., Ann Arbor, MI 48104; by fax to 734-994-2414; or e-mail to osinski@aaps.k12.mi.us.
Applications must contain a resume with the applicant's home address, telephone, and (if applicable) e-mail address, a letter of intent (no more than two pages) detailing experiences and qualifications, three references and two letters of recommendation addressed to the Board of Education.
Applicants will be interviewed by school board members on March 8 and then make brief public statement at the March 10 meeting. The board expects to choose the new member at the same meeting.
Hollier's resignation is the second on the board in recent months. Longtime Ann Arbor school board member Helen Gates-Bryant resigned last November and was replaced by Simone Lightfoot in December. During that replacement process, seven people applied for the seat.