Posted on
Sun, May 2, 2010 : 9 a.m.
Adapting to smoking ban's rules isn't crystal clear for Ann Arbor bars, restaurants
By Ronald Ahrens
Downtown Ann Arbor restaurants and bars found themselves under a cloud of uncertainty in the first hours of the statewide smoking ban on Saturday.
Michigan's Smoke-Free Air Law went into effect at 6 a.m. At least 300 bars and restaurants in Washtenaw County are switching to smoke-free environments. The smoking ban also extends to other public spaces such as government buildings.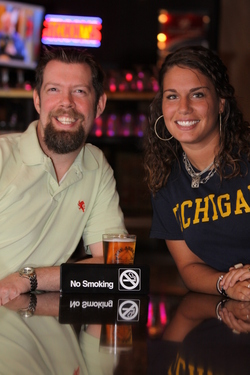 At the Arena Sports Bar & Grill on Washington Street, a lone patron was just paying for his drink and leaving with a guitar case as President Barack Obama's commencement address ended at 12.13 p.m.
Meanwhile, co-owner Gordon Loll said he was waiting for the first patron who tried to light up.
A leftover sign outside the Arena advertised Friday night's "Smokefest," featuring $1 pints of beer.
"It was nice, it was fine," Loll said of the previous evening's big sendoff to smoking. "The fire alarm didn't go off, so that was good."
He said most of the approximately 200 guests cleared out well before the 2 a.m. closing time in order to be ready for this morning's commencement exercises.
Admitting his throat hurt when he woke up Saturday morning, Loll said he sees the smoking ban as a way of leveling the playing field for area establishments.
"I welcome it for my personal health."
At the Fleetwood Diner, employee Tami Simpson was just seating three patrons at a sidewalk table as Marine One lifted the President Obama from the University of Michigan's field hockey field, making an impressive if brief appearance on the horizon.
Simpson said uncertainty about the new law's requirements was leading patrons across Ashley Street to smoke. The law isn't specific about distance requirements.
Simpson took the brunch order from Wes Chin, Cristin McArdle and Joel Segal, all graduate students in the U-M School of Public Health. They had just come from Michigan Stadium.
Chin and McArdle said they were accustomed to smoke-free environments before arriving in Ann Arbor for their studies. Becoming regulars at the Fleetwood had required them to adapt to cigarette smoke, but the quality of the diner's food made it worth the trouble.
"It's great that I don't have to Febreze my clothes now," said Segal, referring to the household odor elimination product.
Segal noted that had done his undergraduate study in Chapel Hill, N.C., before that city went smoke-free.
A few blocks away on Liberty Street, Kirk Crowner was just finishing a Marlboro while holding a takeout box from Afternoon Delight, which had been smoke-free prior to the ban.
"I really don't care for the ban at all," said Crowner, a Grand Ledge resident who was in town to visit a friend.
He thought the previous divide between smoking and nonsmoking places created a niche market.
"It's not the best for the economy," he said.
Moments later he was joined by Carrie Louise Mather, who had recently kicked the habit.
"Now that I've quit, it's very convenient for me," Mather said. "It's nice to go to a bar that's non-smoking."
Ronald Ahrens is a freelance writer for AnnArbor.com. Reach the news desk at news@annarbor.com or 734-623-2530.