Posted on
Mon, Apr 11, 2011 : 2:48 p.m.
More cocker spaniels dumped in Salem Township; cockapoos also found
By Lisa Allmendinger
Four more dogs were found abandoned in Salem Township this weekend near the spot where seven cocker spaniels were found last week, the Humane Society of Huron Valley said today.
Tanya Hilgendorf, executive director of the humane society, said two cocker spaniels and two cockapoos were found near the intersection of Five Mile and Salem roads.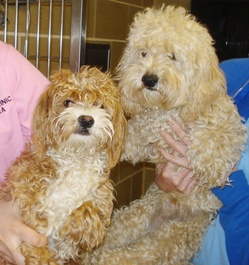 Humane Society of Huron Valley photo
Cockapoos, a cocker spaniel-poodle cross, rarely end up in humane society custody, said Deb Kern, marketing director.
"Someone's definitely dumping them and it looks like a breeder," Hilgendorf said of the dogs.
The dogs have all been neglected, Humane Society officials said. They believe the cocker spaniels may have come from what is known as a "puppy mill," where breeders put profits above animal welfare. Once dogs no longer add to a puppy mill's profit margin, they become disposable, Hilgendorf said.
A family helped the Humane Society live trap one dog Sunday night and another one was found under someone's deck on Saturday night, she said.
The dog found under the deck is a brown male cocker spaniel about 5 years old that the Human Society named Willow, Kern said in an email.
Humane Society officials are letting the black dog captured Sunday settle in, Kern said, so they don't know the dog's sex or approximate age.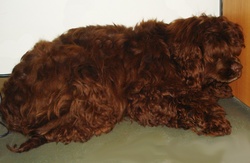 Humane Society photo
The cockapoos are believed to be about 9 months old. One is a male and one is a female.
Three of the original seven dumped cocker spaniels, which Humane Society officials believe were all used for breeding, have been adopted, including the oldest, a blind dog that is estimated to be about 12 years old.
"A women drove an hour and a half to adopt that dog, to give it a chance for a happy home," Hilgendorf said.
People have applied to adopt the other dogs as well, she said.
The recently captured dogs are being assessed medically and behaviorally and officials plan to place them up for adoption as well.
Humane society photo
The Humane Society is still seeking information about who might have dumped these dogs and offering a $500 reward for the arrest and conviction of the person or persons involved.
Anyone with any information about who might have dumped the dogs or where they came from should call the humane society anonymous tip line at 734-661-3551.
Hilgendorf also urged anyone who has a pet he or she can no longer care for to contact the humane society.
"In general, if you are a loving pet owner and run into hard times, come talk to us," she said.
The Humane Society offers a veterinary hardship program as well as a food program for pet owners who want to keep an animal but are having financial difficulty.
The shelter, 734-662-5585 is open daily from noon to 6 p.m.
Lisa Allmendinger is a regional reporter for AnnArbor.com and can be reached at lisaallmendinger@annarbor.com.