Posted on
Thu, Jun 28, 2012 : 7:50 a.m.
Affordable Care Act: Before Supreme Court ruling, Ann Arbor's hospitals and insurers made adjustments
By Amy Biolchini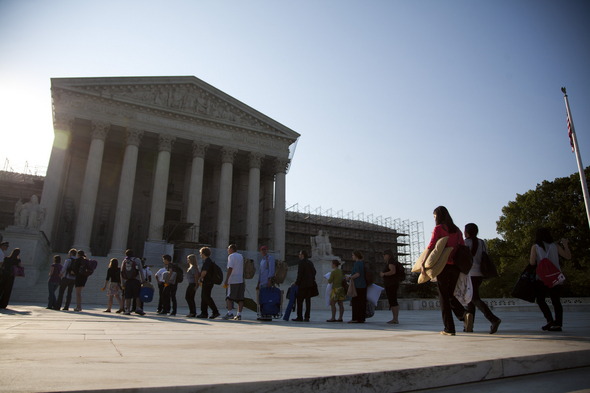 Evan Vucci | The Associated Press
Though many anxiously await Thursday morning's expected ruling by the
U.S. Supreme Court
on the Constitutionality of the
Affordable Care Act
, numerous structural changes already made by health providers and some insurance companies to accommodate health care reform are here to stay regardless of the judgment.
The court could strike the entire law down, eliminate the individual mandate portion of the act that would require nearly every person to have health insurance after 2014, eliminate the mandate and some provisions, or dismiss the case.
Proponents of the Affordable Care Act, an initiative by President Barack Obama that first began rolling out a series of changes in 2010 that will continue through 2014, state the law will extend health care coverage to millions of people.
"The health care reform bill is about insurance reform as well as delivery reform. It's about who we insure and how we insure people," said Dr. David Spahlinger, the senior associate dean for clinical affairs at the University of Michigan Medical School and the executive director of the Faculty Group Practice at U-M Health system.
Hospitals have had to ready themselves for a mass expansion in the number of people that will be seeking medical care in the future, given the expanded insurance coverage to individuals through wider benchmarks that will make more people eligible for Medicaid in 2014.
Currently, those that are uninsured don't seek care until they get sick enough that they need to see a doctor, Spahlinger said.
"The overall constant is that we'll have to deliver more care to individuals and do it more cost-effectively," he said.
To become more efficient, Spahlinger said the U-M Health System recently implemented an electronic health record system to streamline patient data.
"From my perspective, the individual mandate is a requirement in order to be able to deal with some of the other issues you want to deal with," Spahlinger said. "You have to guarantee issuance if you want insurance. Right now, (insurance companies) can price it so you can't afford a policy or be denied one for pre-existing conditions."
Some insurance companies have begun to adopt provisions of the Affordable Care Act into their policies - the most popular being allowing people until the age of 26 years old to remain on their parents' insurance plan.
"In the end, higher quality, lower cost care is something that's beneficially for everyone," Spahlinger said.
Should the law be deemed unconstitutional, Spahlinger said the tragedy would rest at the individual level, not with the health system, hospitals or insurers.
"I'll better be able to care for patients - it's sometimes difficult to care for patients who don't have adequate resources because they can't afford it or don't have access to the system," Spahlinger said, noting his perspective is "…based from the stories and faces of patients I've seen and who I've wished they'd had insurance."
Rob Casalou, president and CEO of St. Joseph Mercy Ann Arbor, Livingston and Saline, said the healthcare system is making changes independent of the Affordable Care Act because of past mistakes when conforming to previous reforms.
"Everything we're doing is independent of the health care reform act," Casalou said.
The Trinity Health System has been investing in expanding its network of physicians and adding providers by merging with IHA, Casalou said.
Building capacity on the primary care side would help accommodate for the anticipated increased volume of patients that would start seeking care earlier than an emergency room visit, Casalou said.
IHA has about 300 providers right now - a number Casalou said will probably double in the next three to four years.
The ingredient to the "secret sauce" that will make hospitals successful in the future is integrated information technology systems to connect the records of all levels of care, Casalou said.
The Trinity Health System has spend hundreds of millions of dollars switching to electronic records, as has the U-M Health System.
"It's all about quality and efficiency. People move from doctor to doctor, system to system," Casalou said, noting all of the movement results in repeated tests and added costs without electronic health records.
Those that are working in the Washtenaw Health Plan to connect the nearly 30,000 uninsured, low-income Washtenaw County residents with health care said they'd like to see the law upheld.
Small business organizations recently clashed with the release of a new poll on small business owners' opinions of the Affordable Care Act.
The Supreme Court is expected to hand down its decision at 10 a.m. Thursday on the Affordable Care Act. This story will be updated.
Amy Biolchini covers Washtenaw County, health and environmental issues for AnnArbor.com. Reach her at (734) 623-2552, amybiolchini@annarbor.com or on Twitter.