Posted on
Fri, Nov 5, 2010 : 6:02 a.m.
AFSCME threatens legal action over proposal to outsource city of Ann Arbor compost operations
By Ryan J. Stanton
Several members of the AFSCME Local 369 labor union showed up at Thursday night's Ann Arbor City Council meeting, protesting what they consider to be violations of their contract and threatening to take legal action against the city.
"Your AFSCME workers are the major hub of what makes this city work," said AFSCME President Nicholas Nightwine, addressing the council. "Unfortunately, the morale of these employees is low and is sinking lower day by day. We are watching our jobs and positions disappear one by one to temporary workers and contractors."
AFSCME is the city's largest labor group. As full-time union employees have retired in recent times, Nightwine said, their positions have been filled with temporary workers.
"The contract between the union and the city states that jobs vacated due to attrition cannot be filled with a temporary worker," Nightwine said. "Our contract is being violated, and your city managers don't seem to care."
Nightwine said the city also has farmed out work that should be done by AFSCME employees. He said the Housing Commission recently awarded a contract to Beal Construction to perform work that has been done by city maintenance workers for years.
Nightwine said city maintenance workers now are being asked to deliver materials and equipment to the contractor doing their work, which he called "a slap in the face."
"Two years ago there, were six maintenance workers in housing and now there are only four," he said. "If the city were to fill these positions, there would be no need to contract this work out."
City Administrator Roger Fraser declined to comment on the allegations afterward.
"I'm not going to touch it," he said.
Nightwine said he fears the city is going to deliver another slap in the face to the union later this month by contracting out compost center operations to a New York-based company. He said the compost center always has been operated by city union employees, and it should continue that way. He said AFSCME is considering taking legal action over the matter.
"From what I understand, the contracting out of the compost center may bring in $500,000 in extra revenue a year," he said. "Is $500,000 really enough money to give up control of a compost center that has won awards for the quality of product it makes and has been managed very well by the employees that work there?"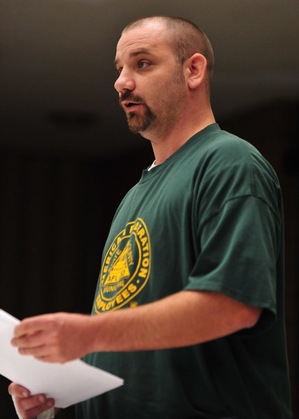 Ryan J. Stanton | AnnArbor.com
The City Council has a working session planned for Monday where city officials will lay out details of a proposed public-private partnership with New York-based WeCare Organics. The city received three bids in August in response to a request for proposals, and WeCare was selected as a finalist based on selection committee reviews and an interview.
Under a proposed five-year contract, WeCare would operate the city's compost site, including use and maintenance of the compost equipment storage building. The city would continue to operate a scalehouse, which handles compost, solid waste and recycled materials.
An analysis by city staff shows it would save the city more than $400,000 a year starting in 2011-12, with additional savings in future years. The 26-acre composting facility is located at the Wheeler Service Center at 4150 Platt Road.
The proposal will be on the City Council's agenda Nov. 15. If approved, city officials plan to move quickly to formalize a contract and reopen the compost site Jan. 3 under WeCare.
The city's compost operations brought in $247,000 in revenue in fiscal year 2009-10, while expenses totaled $930,000 — about a $683,000 overall loss. The year before, the city saw an overall loss of $568,000 from its compost operations.
City officials say the solid waste fund's challenges include loss of revenue generated by the solid waste millage, a drop in the value of recyclable materials, more expensive automated collection equipment and rising health care and pension costs.
In an interview Thursday night, Fraser was hesitant to talk about AFSCME's concerns about the compost center, but offered: "There is an RFP out, and the circumstances are such that there is some debate about what the meaning of the contract is. But the language generally says we may not contract out if it results in a layoff of city employees, and we've complied with that. They're continuing to express concern about that trend."
AFSCME union members are responsible for city streets, solid waste, parks, trees, the water system, wastewater system, permit and inspection services, street and signal lighting, board meeting minutes, housing services, customer service, purchasing, accounting, payroll, airport maintenance, planning, engineering, fleet services, community standards and CTN television.
"AFSCME has a reputation of working with this employer to solve problems, and recently the union is not even been invited to meetings to discuss these issues," Nightwine said, calling on the City Council take action to protect the union. "The union basically gets the attitude that 'This is what we are going to do, and if you don't like it, you can fight it.'"
Ryan J. Stanton covers government and politics for AnnArbor.com. Reach him at ryanstanton@annarbor.com or 734-623-2529.