Posted on
Thu, Jul 4, 2013 : 5:59 a.m.
After nearly 6 decades, lost graduation ring circles back to find original owner living in Ann Arbor
By Janet Miller
More than 2,300 miles and close to 60 years later, the graduation ring June E. Powers lost when she was a young nurse working in San Francisco will find its way back to her finger.
It's a story where serendipity, technology and tenacity intersect to create a happy ending.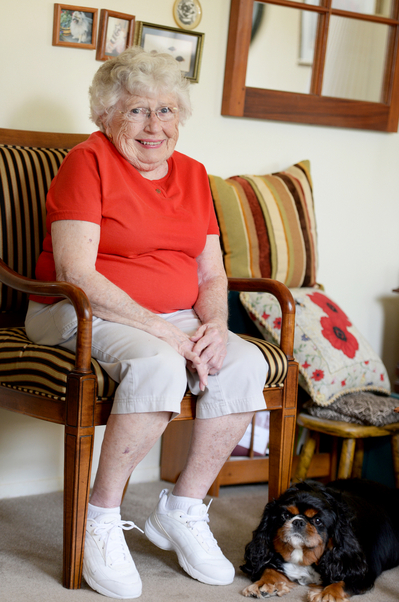 Melanie Maxwell | AnnArbor.com
Powers, an 81-year-old retired
University of Michigan
nurse and
Ann Arbor
resident, grew up in Coldwater, a small town near the Georgian Bay in Ontario, Canada, and attended nearby
Orillia Soldiers' Memorial Hospital
's three-year registered nursing program, where she graduated in 1954.
It was one of the few careers open to women at the time, Powers said, and she worked hard to become a nurse. After completing two years of the program, the 14 women in her class received their nursing pins. Upon graduation a year later, Powers was given a gold graduation ring, affixed with a Red Cross, the name of the training hospital, the graduation year and Powers' initials, scrolled in an ornate font. "We were all pretty proud of those rings," Powers said.
The world was at her doorstep: Powers and two of her friends flipped through professional magazines to decide where they wanted to work. "In those days, it was easy to get a job," Powers said. "You just had to show up with your papers and you'd get a job."
They considered Los Angles and San Francisco, and filed the needed forms for their Green Cards. San Francisco won out, and the small group of newly minted nurses took jobs at the Southern Pacific Railroad Hospital, a Classic Revival gem of a building located in the North of the Panhandle neighborhood near Golden Gate Park.
It was an exciting time for Powers and her friends that included numerous visits to Fleishhacker Pool, a mammoth saltwater pool close to the ocean that could hold 10,000 swimmers.
Melanie Maxwell | AnnArbor.com
Powers isn't sure exactly when she lost the ring. It's been nearly 60 years, she said. But she remembers ordering a replacement from Orillia Soldier Hospital after she realized it was lost, probably a couple of years after she arrived in San Francisco. "I wanted another one because I felt so bad about losing it," she said.
Eventually, Powers forgot about losing the first ring.
Apparently, the ring sat at the bottom on the pool near a drainpipe for close to 15 years before Anita and Clifford Kamaka, head lifeguard, found it. By 1971, the pool had fallen on hard times and there was no money for repairs. It was closed and the Kamakas found the ring in the cleanup.
While Clilfford Kamaka died in 1978, the ring stayed inside his dresser drawer for years. Last year, Anita Kamaka was cleaning out the drawer when she came upon the ring again.
She set out to return it to its original owner.
Using the Internet, she located Orillia Soldier Memorial Hospital, and gave it to a friend who traveled to Canada to mail it.
Two weeks ago, it landed on the desk of Terry Dyni, director of community relations at the hospital. "It came out of the blue," he said.
While there were only 14 women in the graduating class, it wasn't easy pinning down the owner: The carved initials were ornate and difficult to read, Dyni said.
The local newspaper ran a story about how the hospital, which no longer runs a nursing school, was looking for its owner. The daughter of one of the women Powers went to San Francisco with saw the article, Powers said, and recognized the ring and the initials: JEP. She put the hospital in contact with Powers' sister, who lives in Toronto, who connected them with Powers.
The ring is being shipped UPS and is expected to arrive July 5, ending its 57-year journey.
Janet Miller is a freelance reporter. Contact the AnnArbor.com news desk at news@annarbor.com.