After the flood: Former tenants of Ann Arbor apartment complex file lawsuit against McKinley Inc.
Posted on Mon, Sep 10, 2012 : 5:58 a.m.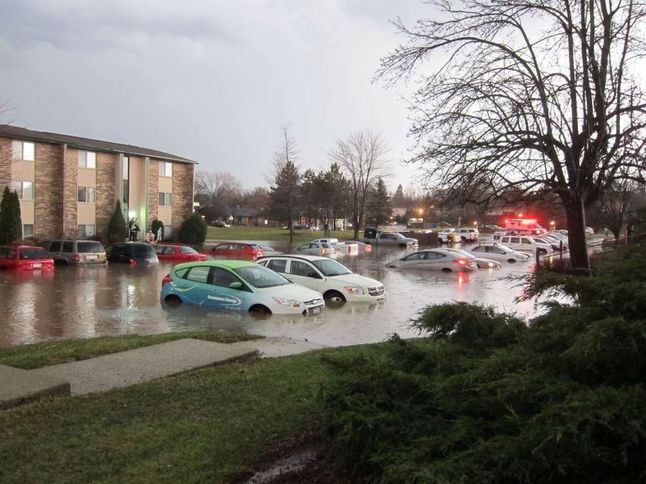 Photo courtesy of Ainsley Schlinghoff
Editor's note: This story has been corrected to reflect that Ryan Stock, one of the plaintiffs in the case, did not have renters insurance.
Three former tenants of the Park Place Apartments in Ann Arbor filed a lawsuit against owner McKinley Inc. for negligence in the aftermath of the flooding following the March 15 storm that destroyed property and took the life of a plaintiff's dog.
The suit claims McKinley didn't discuss the apartment's history of flooding with plaintiffs Ryan Stock, his fianceé Shilpa Jhobalia and their neighbor, Laura Johnson, before they moved in.
The storm that touched down as a tornado in Dexter also blew through Ann Arbor, dumping copious amounts of water in the area of Pauline and Stadium boulevards. The plaintiffs lived in two of the eight ground-floor apartments, where floodwater reached levels of four feet deep.
Stock remembers wading through the water, which was a mixture of mud and feces, trying to salvage the remains of his and his fianceé's belongings.
"Everything was ruined," Stock said. "It was the nastiest experience ever."
Furniture, textbooks, pots and pans were all destroyed, said Stock, a University of Michigan graduate student in environmental policy. Pictures, passports and birth certificates also were wrecked. He and Jhobalia were planning their wedding, and the flood claimed many of the items related to that, too.
Johnson and her boyfriend, Evan George, are still reeling from the loss of their Lab mix, Lola, who was stuck in a crate and drowned as flood waters rose in the apartment that day.
"This is an issue of safety," Johnson wrote AnnArbor.com in an email. "The amount of water that entered the apartment in less than 45 minutes was staggering. It was past Evan's waist when he entered the apartment to try to save Lola. The furniture was floating and obstructing windows and doors. The transformer behind the building began to float away and smolder."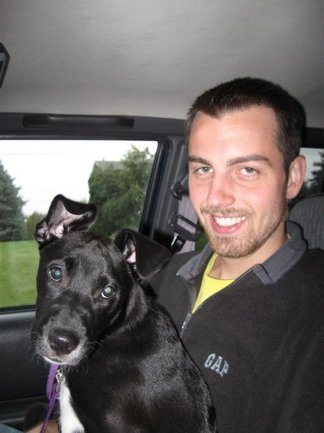 Photo courtesy of Laura Johnson
"Evan and I miss Lola every day," continued Johnson, a nursing student at U-M. "We are relatively young and don't have kids, so she wasn't just a pet to us, she was an integral part of our family. To lose her in such an untimely, horrific way is still an incredibly painful loss for us."
Stock said he did not have renters insurance, but that even if he did, it would not have covered the damages. After the flood, he contacted University of Michigan Student Legal Services. The trio are currently being represented by Gayle Rosen, a staff attorney there.
The lawsuit, filed in the Washtenaw County Trial Court on Aug. 10, claims the amount of damage was more than $25,000. It charges McKinley with one count each of negligence, gross negligence, a break of implied warranty of habitability, breach of lease agreement, a violation of the Michigan Consumers Protection Act and fraudulent failure to disclose.
The suit claims McKinley willingly rented out the eight apartments even though the company knew the units would flood with a major rainfall.
"(The defendant) knew, or in the exercise of reasonable care should have known, that the plaintiff's units would flood following a rain storm," the suit says.
McKinley Inc. did not want to comment on the lawsuit when contacted by AnnArbor.com.
Despite their respective losses, Stock and Johnson both said their priority in filing the lawsuit was to make sure no one is allowed to live in the apartments anymore. The plaintiffs are seeking unspecified damages and that the units be declared unfit for occupancy, plus cost and attorney fees, according to court records.
"I certainly never would have rented that apartment if I was aware of the sort of flooding other tenants have reported," Johnson wrote. "The sole reason I chose that place was for Lola. I wanted her to have easy access to be outside."
Johnson wanted to point out that the citywide discussion on flooding has centered on assisting private homeowners mostly on the west side of Ann Arbor in correcting sewage back-ups. The city of Ann Arbor has, in fact, recently launched a citywide analysis in response to some of the neighborhood flooding following that March storm.
Johnson, however, thinks renters are being "overlooked" and wants to make sure no one has a similar experience to hers.
"We want to guarantee this doesn't happen to anyone ever again," Stock said.
The suit was assigned to Judge David Swartz's courtroom. There are no hearings yet on the dockets in the case.