Posted on
Wed, Feb 1, 2012 : 12:12 p.m.
After train crash, Amtrak to offer passengers bus service to Chicago
By Cindy Heflin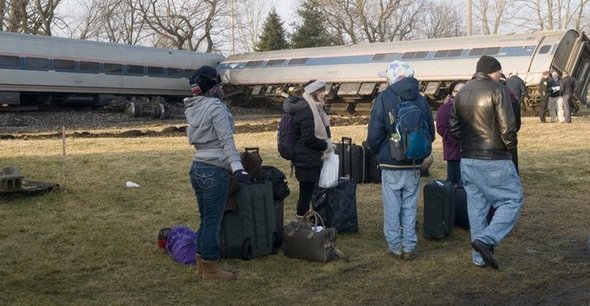 Jackson Citizen Patriot photo
Amtrak
will offer passengers bus service between Ann Arbor and Jackson until track damaged in the
crash of a train and semi tractor-trailer rig
in Jackson County can be repaired, a spokesman said.
Amtrak spokesman Marc Magliari said the company would offer bus service to passengers who have purchased tickets on trains scheduled to depart Ann Arbor at 12:29 p.m. and 7:17 p.m. today.
Norfolk Southern, which owns the tracks was working to repair them this afternoon and expected to have them reopened by Thursday morning, the Jackson Citizen Patriot reported.
Ten people were injured this morning when the train crashed into a semi tractor-trailer rig stuck on the tracks at about 8:15 a.m., the Jackson Citizen Patriot reported.
The driver of the semi-trailer and the conductor of the train, along with others, were taken to Allegiance Health in Jackson with non-life threatening injuries, Blackman-Leoni Township Public Safety Director Mike Jester told the Citizen Patriot.
Uninjured passengers have been placed on Jackson Transit Authority buses and are being taken to Jackson, the newspaper reported. From there, Amtrak was to make travel arrangements, said Jackson County Sheriff Steven Rand.
Magliari said 68 passengers and five crew members were on the train, which was traveling from Pontiac to Chicago. The train, known as the Wolverine, departs from Ann Arbor every day at 7:48 a.m., 12:29 p.m. and 7:17 p.m. The train traveling today consisted of two locomotives and six railcars, Amtrak said.
Amtrak said passengers who have paid for travel but wish to change plans can receive rail fare refunds or rebook for future travel without a fee or penalty. Passengers may call 800-USA-RAIL for information.