Agreement finalized between Bill Riney and ITC in Ypsilanti Township tree dispute
Posted on Mon, Feb 1, 2010 : 12:06 p.m.
The dispute between an Ypsilanti Township man and a power company over the right to cut down large trees on his property has been officailly resolved in court.
Bill Riney agreed to let officials with International Transmission Company use an easement that allows them to cut down large white pine trees lining the rear of his Edison Avenue property, according to a court order filed last week.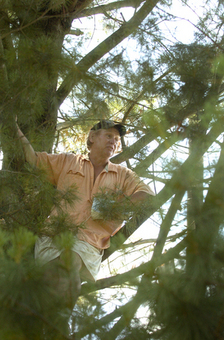 File photo
Riney will receive roughly $10,000, and garnered several conditions that prevent ITC from building structures on the land. The Novi-based company is also required to reseed the turf and repair damage to the grounds within a reasonable time period after using the easement.
ITC has full rights to trim all trees, bushes and brush, and can access the property at any time to repair, improve or maintain the high-voltage wires overhanging the property, according to the agreement.
Company officials said the trees interfere with the lines and pose a potential safety risk if they remain intact. Workers attempted to trim them in June but determined the trees were too mature to just cut without destroying them.
Riney, 56, climbed into a tree and spent about two days roughly 30 feet off the ground to protest. Company officials initially backed down, but returned with a financial offer in August. After Riney refused, the company took him to court.
Riney and his wife, Marcia Burton, argued during an evidentiary hearing that the trees added aesthetic beauty and value to their property. But Washtenaw Circuit Judge David Swartz granted the company access to 31 feet of Riney's property, largely due to safety concerns.
Crews began cutting the trees in the presence of Washtenaw County Sheriff's deputies in November.
Art Aisner is a freelance writer for AnnArbor.com. Reach the news desk at news@annarbor.com or 734-623-2530.