Posted on
Wed, Aug 3, 2011 : 6:27 a.m.
3 incumbents prevail in Ann Arbor City Council primary with low voter turnout
By Ryan J. Stanton
(This story has been updated multiple times and now includes final counts in all races. Also, the total number of ballots cast has been corrected to note nearly 4,000 people voted.)
Ann Arbor City Council members Stephen Kunselman and Mike Anglin had targets on their backs heading into Tuesday's primary election.
Known for going against the grain at times and taking positions that conflict with the mainstream opinion on council, opposing political forces — including allies of Mayor John Hieftje and other council majority supporters — wanted them out of office.
But efforts to oust Kunselman, D-3rd Ward, and Anglin, D-5th Ward, came up short.
Now it appears the makeup of the City Council will remain unchanged for the next year after all three incumbents, including Stephen Rapundalo, D-2nd Ward, came out on top on Tuesday.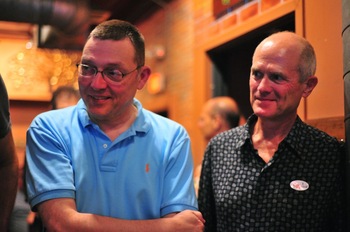 Ryan J. Stanton | AnnArbor.com
Anglin
beat Democratic challenger
Neal Elyakin
1,088 (66%) to 562 (34%). He goes on to compete against Republican
Stuart Berry
in November. However, Republicans rarely win council races in Ann Arbor, where all 11 council members right now are Democrats.
Kunselman beat two Democratic challengers — Ingrid Ault and Marwan Issa — with 637 votes (59%) compared to Ault's 389 (36%) and Issa's 55 (5%). He'll compete against Republican David Parker in November for a chance to serve another two-year term.
Rapundalo beat Democratic challenger Tim Hull 573 (57%) to 419 (42%). Rapundalo faces no opposition in November, though rumors are circulating that an independent candidate might run against him.
Council Members Sabra Briere, D-1st Ward, and Marcia Higgins, D-4th Ward, also are up for re-election this year. Both advanced unopposed on Tuesday and Briere currently faces no challengers in November. Higgins faces Republican Eric Scheie.
Of the nearly 4,000 ballots cast in Tuesday's primary, 205 were for Republicans; 100 people voted for Parker in the 3rd Ward, and 105 people voted for Berry in the 5th Ward.
In none of the wards did turnout top 10 percent. A total of 1,003 ballots were cast (6.4%) in the 2nd Ward where there are 15,611 registered voters; 1,188 ballots were cast (9.7%) in the 3rd Ward where there are 12,223 registered voters; and 1,766 ballots were cast (9.3%) in the 5th Ward where there are 18,963 registered voters.
Council majority supporters were backing Elyakin, Ault and Rapundalo in Tuesday's Democratic primary. All three held a joint post-election party at Arbor Brewing Co., where the mayor and several other political allies were in attendance.
That included Council Members Christopher Taylor, Tony Derezinski, Sandi Smith, Margie Teall and Higgins, as well as former Council Member Leigh Greden, who lost to Kunselman two years ago, and at least one Downtown Development Authority board member.
Kunselman celebrated victory across town at Dominick's, while Anglin was with Hull and others at the Wolverine Brewing Co. on West Stadium.
"The election turned out as I expected," Hieftje said. "I think if you try to look at the big picture and what's been going on with the economy and what's been going on with cities in this state, Ann Arbor has been doing reasonably well and people recognize that and they re-elected the incumbents."
Though his political allies — including some DDA board members — were backing Ault and Elyakin, Hieftje stressed he stayed neutral in the races.
Kunselman ran a campaign that was heavily critical of the DDA and its spending, a stance that has put him at odds with the mayor and other DDA board members.
His leading challenger, Ault, had political backing from a handful of DDA board members. Kunselman made it a point to criticize them for that after Tuesday's election.
"The DDA has been nothing more than a hotbed of political cronyism," he said, vowing to continue to hold the DDA accountable to taxpayers.
Kunselman said he thinks the DDA has been irresponsible with its spending on major capital projects. He specifically criticized the authority for showing more than $140 million in outstanding bond indebtedness in its last annual report while carrying no bond reserve.
"One of the first things I'll be proposing is an amendment to the DDA ordinance to require that the DDA carry the bond reserve for its debt," Kunselman said, adding he thinks the DDA should have a savings account funded at a level equal to 8 to 12 percent of its total debt.
Ault called Kunselman to congratulate him after the election results came in Tuesday night. Even though she lost, she said she enjoyed running.
Ryan J. Stanton | AnnArbor.com
"I'm really glad I had the opportunity to share my views," she said. "I always went into this with the understanding that I was running against an incumbent. And if I came out of it with a higher exposure for Think Local First, the nonprofit I am the executive director for, all the better."
Ault acknowledged her differences with Kunselman.
"I'm hopeful Steve will do what's best for the community and make smart choices," she said. "I personally thought I had some differing opinions that might have moved our community forward at a greater pace, but the voters spoke and who am I to question that."
Elyakin offered similar comments about Anglin.
"Mike's a nice guy. I like him. I just have disagreements with things about him," he said, adding he wants to be able to work with Anglin on issues going forward. "Mike, if he prevails in November, will continue on council as my representative. I'll want to be able to work with Mike and the rest of the council on the things that I believe are important to the city."
Elyakin and Ault expressed strong support throughout their campaigns for the Fuller Road Station project that the mayor and other members of the council majority are pushing. Anglin and Kunselman have expressed doubts about the project in recent months.
Ryan J. Stanton covers government and politics for AnnArbor.com. Reach him at ryanstanton@annarbor.com or 734-623-2529. You also can follow him on Twitter or subscribe to AnnArbor.com's e-mail newsletters.