Posted on
Thu, Dec 27, 2012 : 11:10 a.m.
Almost 7 inches of snow blankets Ann Arbor area following first big winter storm
By Kyle Feldscher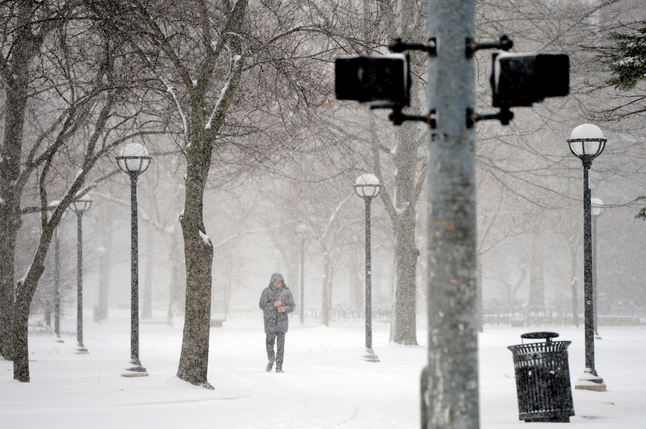 Melanie Maxwell | AnnArbor.com
Ann Arbor looked like a snow globe when all the flakes settle Thursday morning after almost seven inches of the powdery white stuff fell on the city during the first major snowstorm of winter.
Dennis Kahlbaum, meteorologist at the University of Michigan, said 6.9 inches of snow fell on the university's North Campus and exactly six inches fell in southeast Ann Arbor.
The sounds of shovels and snow blowers blasting away at the thick white blanket on sidewalks and driveways echoed around the city for the first time in months on Thursday morning.
As idyllic as the city looked during and after the storm, the situation on Washtenaw County's roads was far less ideal. Washtenaw County Sheriff's Office Sgt. Geoffrey Fox said more than 160 crashes took place from 1 p.m. Wednesday, when the storm started, to 9:30 a.m. Thursday.
"This is probably at least four to five times more than a normal day with normal roads and normal weather," Fox said.
Many of the crashes were minor and didn't involve injuries, Fox said. It wasn't unusual to see cars perpendicular to the road on the sides of area freeways.
Fox said the problem in many of the crashes on county roads Wednesday and Thursday was drivers following other cars too closely. Speed wasn't a problem in most crashes, he said.
"They're cognizant of how fast they're going, but they're not cognizant of giving themselves enough time to stop," Fox said.
Joyce Williams, spokeswoman for Huron Valley Ambulance, said ambulances were sent on 97 calls for service in Washtenaw County from 1 p.m. Wednesday to 9 a.m. Thursday. Just four people had to be transported to local hospitals, Williams said.
Ann Arbor might not be totally out of the woods yet. According to forecasts from Weather Underground, the city could receive up to one inch of snow Friday as well.
While drivers had a tough time coping with the snow on the roads during the storm, the Washtenaw County Road Commission cleared most of the major roads and was getting to the secondary roads as of 10:30 a.m. Thursday.
Jim Harmon, director of operations for the road commission, said the day shift reported at 4 a.m. Thursday, allowing the major roads in the county to be cleared for the morning rush hour. He said crews are working on the secondary roads and subdivisions now.
"Some district crews are getting to the secondary roads and into subdivisions and into the unpaved road system," he said. "That work continues."
Road commission crews have been working around the clock since Wednesday to try and clear the roads. Harmon said Wednesday the night shift started at 8 p.m. Wednesday and went until 4 a.m. Thursday, when the day shift took over.
While the major roads are mostly at bare pavement this morning, Harmon said the plan is to have crews return to them before the evening rush hour.
"We may have to return to major roads to clear slush that comes onto the roads," he said.
Kyle Feldscher covers cops and courts for AnnArbor.com. He can be reached at kylefeldscher@annarbor.com or you can follow him on Twitter.