Cancer, chemo and doubt don't keep Amanda Mercer from taking part in record-breaking English Channel swim
Posted on Mon, Sep 10, 2012 : 5:57 a.m.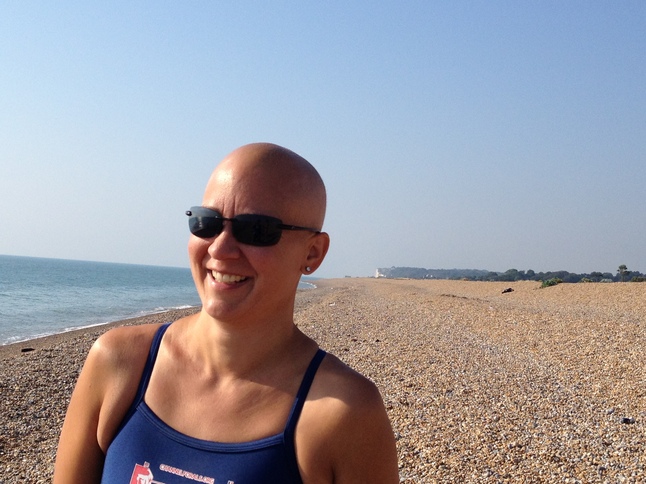 Susan Butcher

No one would have faulted Amanda Mercer for dropping out of a six-woman relay team trying to break a world record for a 42-mile double-crossing of the English Channel this summer.

Just four months before the big swim, organized to raise funds and awareness for ALS, commonly known as Lou Gehrig's Disease, Mercer was diagnosed with breast cancer.

The 44-year-old Ann Arbor attorney and mother of two underwent a lumpectomy and began undergoing a regimen of four progressively torturous courses of chemotherapy that confined her to bed for days. The third course was so horrible that she made the difficult decision to skip the fourth before starting four courses of a different regimen. "I'm sure it would have killed me," she said.

In July, just 10 days out of chemotherapy, Mercer boarded a plane for England and was determined to swim, even though her doctors had told her they thought it would be impossible.

Six days later, Mercer fought fatigue, nausea and self-doubt to help her team break a world record. "It was something bigger than cancer," she said.

Mercer, a former captain of the Michigan State University swim team, began organizing the English Channel crossing almost two years ago to raise funds for Ann Arbor Active Against ALS, a grassroots organization formed when friend and neighbor Bob Schoeni was diagnosed with ALS four years ago.

"One of the very first thoughts after the diagnosis was how could this happen now, when we are so close and I'm swimming so fast?" Mercer said. Still, she was confident it wouldn't stop her. She was in top physical shape and she was strong-willed. "I thought I could power through it," she said. "I thought it would be mind over matter. I didn't truly understand it."

Nine days after the first treatment, Mercer was back in the pool. While she only clocked 1,000 meters that day, she quickly grew stronger. "By the 12th day, I felt pretty normal," she said.

Two days later, she was given the second round of chemotherapy, and the side effects took a greater toll.

The third round was even worse. "It was unbearable," Mercer said. Doctors told her she had an unusually bad reaction to the drugs. And while the next four rounds of a different regimen didn't carry the same side effects, she was still fatigued and her bones ached.

There were dark days. But instead of wallowing, Mercer decided that the timing of her illness actually worked to her advantage: Because of the Channel preparation, she was in top shape. She had the strong support of her teammates. And she had a purpose to take her mind off of the cancer. "You have to embrace what you got and not fight against it," she said. "I couldn't control that I had cancer, but I could control how I reacted to it."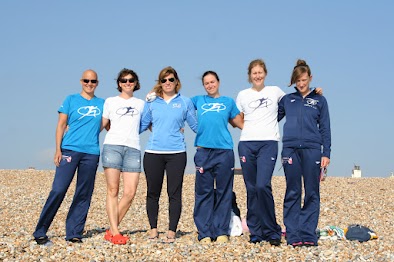 Chriz Hiltz
In the early morning hours of July 27, the team started the swim. Now the slowest swimmer, Mercer would swim sixth. Each team member would swim a one-hour leg, always keeping the same order. There were no wetsuits in the 60-degree water. Mercer wore a navy blue Speedo swimsuit.
When she returned to the boat after her second rotation, Mercer began to doubt whether she could swim her third and final time. But without her, the team would have to forfeit.
At 10:30 p.m., with the dark choppy waters waiting for her and a glow stick tethered to the back of her suit, Mercer teetered on the boat's platform for what felt like a lifetime. She was hyperventilating. She was exhausted, nauseous and unsure. Some of her teammates told her it would be OK if she quit. "But Emily (Kreger), who is a doctor, gave me some tough love. She told me it would be horrible, but then it would be done," Mercer said.
She was right. Despite the cold, Mercer jumped into the dark water, following the guiding light on the boat. She could also see teammate Susan Butcher, LED lights on her fingers, swirling and dancing on the boat. As Mercer's hour came to a close, she saw Kreger putting on her swim cap for the final leg. She knew she'd made it.
While the Ann Arbor team broke the world record for a women's relay team swimming a double-crossing of the English Channel by swimming it in 18 hours, 55 minutes, their record did not stand for long. A Dutch team broke their record 16 days later.
"They caught the tides," Mercer said. "And, on average, they were 13 years younger than us. I wonder if I had been healthy and strong, if it would have been different. Still, I wouldn't have changed anything that we did."
The relay team has a goal of raising $120,000 for A2A3. So far, more than $90,000 has been raised. A final fundraiser has been tentatively scheduled for Oct. 16 at the Michigan Theater, where the swimmers plan to speak and show a documentary of the swim.
Mercer also kept a journal and is working on a book.