Posted on
Wed, Aug 21, 2013 : 3:50 p.m.
Lawsuit dropped after Ann Arbor revokes fees for 7th-hour classes
By Chelsea Hoedl
The American Civil Liberties Union of Michigan has dropped a lawsuit against the Ann Arbor Public School District it filed over a proposal to charge students at Pioneer, Huron and Community high schools for seventh-hour classes.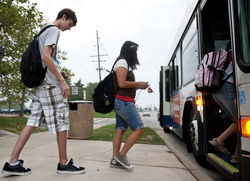 The ACLU of Michigan filed a lawsuit in early August on behalf of two Pioneer High students, demanding the implementation of a new 'tuition-based' program, which would charge students $100 per semester in order to take a seventh-hour class, be stopped.
The suit claimed the fee was illegal because the Michigan Constitution states that public education should be free and equal for all students.
On Aug. 14, the Board of Education unanimously voted to revoke the fee for a seventh-hour class period, which would have been implemented at Huron, Pioneer and Community high schools. The next day, the ACLU said it was considering dropping the suit. It filed its notice of voluntary dismissal on Aug. 16.
The fee was originally approved by the Board of Education as a means to save the district approximately $100,000. The school board had to cut $8.7 million from its operations for the 2013-14 school year.
"By rescinding the policy we believe the issue is resolved; however, we are going to keep our eye on it to make sure this tuition-based model does not creep back up in Ann Arbor or any other school district," ACLU of Michigan Communications Director Rana Elmir said.
Chelsea Hoedl is an intern reporter for AnnArbor.com. She can be reached at choedl@mlive.com.