Posted on
Mon, Apr 25, 2011 : 5:54 a.m.
After devastating fire, American Legion post finds new home in Ypsilanti
By Tom Perkins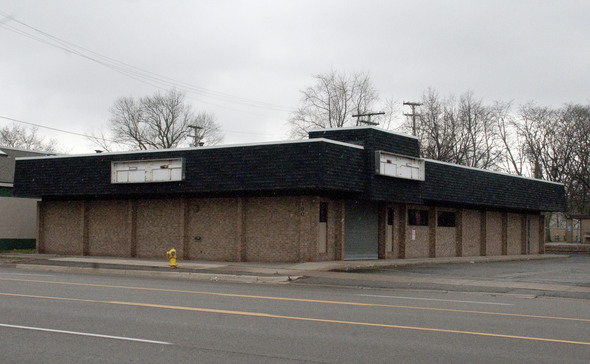 Tom Perkins | For AnnArbor.com
Leaders of the former Ypsilanti American Legion post that burned in February 2008 are moving forward with plans to open a new post in the city.
Last week, the Ypsilanti City Council unanimously approved rezoning several parcels along Ecorse Road where the Legion bought a building. The rezoning will allow the group to open a private club and meeting hall where it previously wasn't permitted.
The post will move into the former Bailes Pharmacy at 100 Ecorse Road between Towner and Ford streets. The council also voted to rezone the other two parcels on the 100 block. The area is currently zoned B1, neighborhood business, but the city's master plan calls for the land on the 100 through 300 blocks of Ecorse Road, as well as several adjacent residences, to be rezoned to B2, community business.
Assistant City Planner Bonnie Wessler said the city will soon ask the council to rezone the parcels along the 200 and 300 blocks. Roughly half the businesses along the stretch are vacant, but a Taco Bell, Pea Pod Chinese restaurant and several small retail shops are among those still open.
Michael Daughenbaugh, commander of the American Legion Post 282, said the group has been looking for a new home since the last building at 117 South Huron Street near downtown Ypsilanti burned. He said they bought land on Michigan Avenue in Ypsilanti Township, but didn't have enough money to build a new building.
The group found the 4,400-square-foot former pharmacy while recently looking for a building to suit the organization's needs, Daughenbaugh said. He thanked the council for rezoning the half-acre parcel.
"We need to have a home for our veterans and we don't have one in Ypsilanti," Daughenbaugh said. "It has been a long time and we have a lot of members here who are looking for a home."
The post will not be put on the city's tax rolls because American Legions are exempt per Internal Revenue Service code.
Gilbert Residence assisted living home, adjacent to the post's old property, bought the parcel in January. No site plan for expansion has been submitted to the city planning department.
Daughenbaugh said there are plans to move place a cannon from the old post outside the new building, along with several flagpoles and a memorial. No timeline on when the new post will open was given.
Tom Perkins is a freelance reporter for AnnArbor.com. Reach the news desk at news@annarbor.com or 734-623-2530.