Posted on
Fri, Feb 17, 2012 : 11:50 a.m.
Rabid skunks on Ann Arbor's west side: 'Small spikes' in reports expected to taper off
By Danny Shaw
The frequency of rabies-infected skunk reports in west Ann Arbor is not unusual and will likely "burn out," a Washtenaw County Public Health Department official said today.
Public information officer Susan Ringler-Cerniglia said the health department followed up with animal disease experts from the Michigan Department of Community Health after the fourth rabid skunk in six months was found last week near the Miller Nature Area.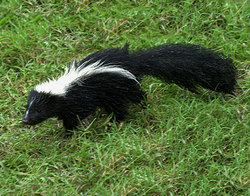 From the Grand Rapids Press
She said rabies is always a serious issue, but the number of reports isn't something to be alarmed about.
"Having a temporary cluster of rabies like this in a skunk population is not unusual," Ringler-Cerniglia said. "The zoonotic disease epidemiologist told us cases like these tend to burn itself out. We might have small spikes in reports because of more skunk activity earlier because of the mild winter."
She said they will continue to monitor rabies-related cases in the area, but said it's not prompting additional investigation into the animal population.
In the most recent instance, Courage, a red-gold English Mastiff owned by Catherine Shaffer, had a skirmish last week with a pair of skunks, one of which he killed. Shaffer learned Monday that the skunk tested positive for rabies. She wasn't concerned that Courage would get rabies because he's up-to-date on his vaccines, and received a booster shot.
Ringler-Cerniglia said earlier this week the skunk is the first animal in Washtenaw County to test positive for rabies in 2012.
Ringler-Cerniglia said one possible method of rabies control is the use of consumable rabies-vaccine baits, but said it doesn't tend to work well in attracting skunks.
"The take-home message here is to keep your pets up-to-date with their vaccinations," she said. "If a pet is not up-to-date and it get exposed, there's not a lot anyone can do."
Ringler-Cerniglia said the primary concern for the health department is human contact with rabies. If there is an animal-related concern with rabies, she recommended contacting local animal control, and they will investigate the situation.
Fewer than 10 human rabies fatalities occur in the United States per year, according to national data. However, as many as 40,000 Americans receive the vaccine each year after contact with animals suspected of being rabid.
The viral disease affects the central nervous system and is nearly always fatal.
In 2011, six animals were confirmed to have rabies in the county. That's the 2nd-highest total since 2004, with the highest coming in 2007. In that year, 11 cases of rabies were identified - and all of those involved bats.
Contact reporter Danny Shaw at 734-623-2544 or dannyshaw@annarbor.com.