Posted on
Wed, Oct 17, 2012 : 2:59 p.m.
Amtrak ridership in Ann Arbor and along Detroit-Chicago corridor picking back up
By Ryan J. Stanton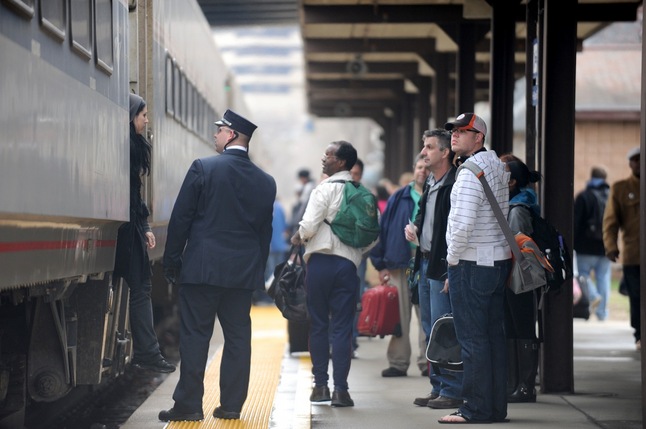 Angela J. Cesere | AnnArbor.com
After a drop in train ridership along the Detroit-Chicago corridor this past year, including fewer people boarding and de-boarding in Ann Arbor, Amtrak officials say things are looking up.
"The disruptions we had earlier this year with the speed restrictions that slowed the trains affected ridership in the early part of the year," said Marc Magliari, a Chicago-based Amtrak spokesman. "We are recovering from that now and we saw high ridership gains in September."
Despite setbacks on the Wolverine line that passes through Ann Arbor, Amtrak just reported its ninth year of record-breaking ridership nationwide. For the fiscal year that ended Sept. 30, Amtrak carried 31.2 million passengers on more than 300 daily trains between 46 states.
Ridership was up 3.5 percent from the previous fiscal year, ticket revenue jumped 6.8 percent to a best-ever $2.02 billion, and Amtrak's on-time performance increased to 83 percent.
But the story was different locally.
After seeing ridership along the Detroit-Chicago corridor — including in Ann Arbor — tick up by almost 40 percent between 2004 and 2011, it dropped off this past year.
Boardings and de-boardings in Ann Arbor went down by 2.7 percent, while total ridership along the Detroit-Chicago corridor went down by 3.9 percent.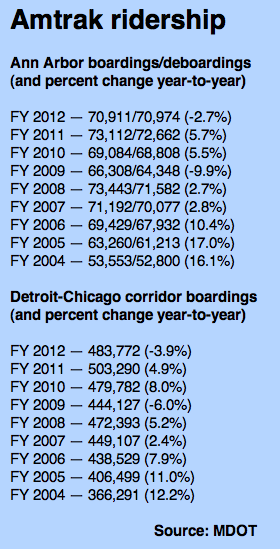 A total of 483,772 passengers boarded trains along the Detroit-Chicago corridor. Boardings at the Ann Arbor station totaled 70,911, and another 70,974 people de-boarded in Ann Arbor.
The month-to-month statistics show station activity was down in seven of the 12 months compared with the previous year, but the numbers are ticking up again.
Boardings and de-boardings in Ann Arbor this August were up 15.7 percent from the previous year, and in September they were up 23.9 percent. At this rate, Amtrak officials are confident the numbers for calendar year 2012 — though not fiscal year — will beat calendar year 2011.
Across the entire Detroit-Chicago corridor, ridership was up 5.3 percent in August and 19.7 percent in September compared with the previous year
Anticipating continued increases in demand for passenger rail, the Ann Arbor City Council this week voted to go forward with the next phase of work on a new Amtrak station in the city. The upcoming work will determine the location, but city officials have preferred a site on Fuller Road.
Eli Cooper, Ann Arbor's transportation program manager, agreed with Magliari that the drop in ridership along the Detroit-Chicago corridor was because of service disruptions. He considers it a short-term hiccup and not indicative of a trend going forward.
Amtrak was forced to alter its schedules earlier this year for some trains, including one traveling through Ann Arbor, and made temporary route adjustments to deal with lower speed limits imposed because of poor track conditions. The slowdown order, announced March 15, required trains to slow to 25 to 30 mph, far below the 70-plus mph at which the trains normally can operate.
Trains were regularly running 45 to 90 minutes late in the affected areas after Norfolk Southern ordered the slowdown between Kalamazoo and Ann Arbor.
"There were a number of maintenance-related slow orders and our service deteriorated substantially over this last period," Cooper said. "Trains were delayed for hours."
Cooper said he understands negotiations are continuing for the state of Michigan to purchase the tracks from Norfolk Southern and some of what happened might have been posturing.
"The railroad that's trying to sell might be trying to encourage the buyer by making the conditions not to the liking of the buyer," Cooper said.
Cooper said he remains confident that many more people will be riding the rails as continued improvements are made to the tracks and speeds eventually increase to 110 mph.
"The long-term picture is for an enhanced, accelerated, more reliable and more-amenity service," he said. "If you put a stronger product in the marketplace, ridership will be stronger."
Cooper said that reinforces the need to make sure Ann Arbor replaces the current Amtrak station on Depot Street with a new station that can meet the higher passenger volumes of the future.
Magliari said it's clear in the case of Ann Arbor that passenger volumes have exceeded the size of the current station and its parking, particularly the difficulty passengers face when using the parking lot on the opposite side of the tracks from the station.
"The logistical problem with the parking on the other side of the tracks is very difficult, and there certainly is not enough parking on the station side," he said.
In anticipation of its busiest travel week of the year, Amtrak announced this week it is adding more trains between Chicago, Kalamazoo and Ann Arbor around Thanksgiving. Amtrak is encouraging passengers to plan ahead and book their tickets now for best availability and pricing.
More than 724,000 passengers traveled on Amtrak trains for the Thanksgiving holiday in 2011, the most ever for the holiday.
According to Amtrak, the busiest travel days that are likely to sell out around Thanksgiving are the Tuesday and Wednesday before and the Saturday and Sunday following the holiday. Amtrak recommends passengers consider traveling on less-busy days such as the Monday before or the Friday and Monday following the Thanksgiving holiday.
Amtrak will offer two additional eastbound and one additional westbound Wolverine service trains between Chicago, Kalamazoo and Ann Arbor on Thanksgiving Eve, Nov. 21. Amtrak also will operate two additional Wolverine service roundtrips daily between Chicago, Kalamazoo and Ann Arbor on Friday, Nov. 23, on Saturday, Nov. 24, and on Sunday, Nov. 25.
Amtrak ordinarily offers three daily roundtrips through Ann Arbor and four daily roundtrips through Kalamazoo. The trains operate at top speeds of 110 mph through parts of Indiana and western Michigan, and the long-term goal is to have the same speeds passing through Ann Arbor.
Ryan J. Stanton covers government and politics for AnnArbor.com. Reach him at ryanstanton@annarbor.com or 734-623-2529. You also can follow him on Twitter or subscribe to AnnArbor.com's email newsletters.