Posted on
Fri, Jul 13, 2012 : 5:17 p.m.
Board recommends rejecting Andrew Shirvell's appeal to overturn decision upholding dismissal
By Kyle Feldscher
Editor's note: This article and headline have been edited to clarify that the ruling here is advisory and can be approved or rejected by the full commission.
Andrew Shirvell, the former Michigan assistant attorney general who was fired for harassing former University of Michigan student body president Chris Armstrong, lost a round Thursday in his attempt to have a March decision upholding his firing overturned.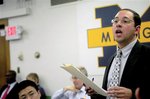 Shirvell was fired as a result of his campaign against Armstrong during 2010. Armstrong, who is openly gay, drew Shirvell's ire to the point where Shirvell created a blog solely dedicated to criticizing Armstrong, including putting a swastika over a picture of Armstrong.
Three members of the state of Michigan Civil Service Commission's Employment Relations Board disagreed with Shirvell's argument that his criticisms were an exercise in free speech. The board's recommendation to reject the appeal will be reviewed by the full Civil Service Commission, which can approve, reject or modify the board's recommendation.
Even though Shirvell attempted to paint his dismissal as a political move, the ruling handed down by the board stated he put himself in that position.
"Appellant (Shirvell) has stated that he was thrown under the bus by Appellee (Department of the Attorney General) in the interests of political expediency at the altar of political correctness," the ruling stated.
"Appellee countered — accurately — that after Appellee had warned Appellant repeatedly that a bus was coming, he chose to walk out in the middle of the road, lie down and wait for the bus to roll over him."
It's another legal defeat for Shirvell in 2012. His original claim against the attorney general's office was denied in March and a lawsuit he had filed against Armstrong was dismissed in April. Armstrong's lawsuit against Shirvell, meanwhile, continues.
Armstrong was the first openly gay student body president at U-M and Shirvell had accused of him of pursuing a "radical homosexual agenda." Shirvell showed up at parties outside of Armstrong's residence, a bar crawl he believed Armstrong would attend, student body meetings and university activities, protesting the then-student.
He made appearances on "Anderson Cooper 360" and "The Daily Show," causing the original hearing officer to say Shirvell "made a media spectacle of himself."
The 19-page decision details how intent Shirvell was on bringing down Armstrong and his behaviors. All of those actions could have been seen as fireable offenses, according to the ruling.
"Appellee could reasonably determine that Appellant's entire course of inappropriate behavior during his last six months of employment was conduct unbecoming of a state employee," the ruling read, adding some of his criticisms could have been legitimate but "his stalking, confronting and outing of Armstrong and his friends, disregard of supervisors' counsel" qualify as unbecoming conduct.
The ruling added one parting shot to Shirvell's case, showing the embarrassment the attorney general's office felt at his actions.
"It is difficult to recall another classified state employee in recent history who has brought as much negative publicity to his department," the ruling stated.
Kyle Feldscher covers cops and courts for AnnArbor.com. He can be reached at kylefeldscher@annarbor.com or you can follow him on Twitter.