Posted on
Tue, Aug 2, 2011 : 9:05 p.m.
Anglin beats Elyakin in 5th Ward Democratic primary race for Ann Arbor City Council
By Ryan J. Stanton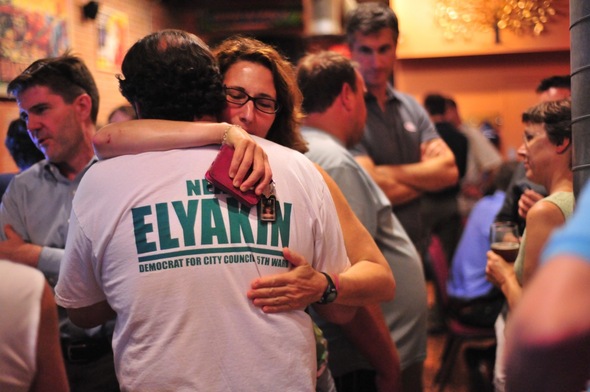 Ryan J. Stanton | AnnArbor.com
Ann Arbor
City Council Member
Mike Anglin
, D-5th Ward, expressed confidence before Tuesday's Democratic primary. He said he's popular in his ward and he knows it.
And so perhaps it wasn't surprising to Anglin when the final results came back Tuesday night and it turned out he beat Democratic challenger Neal Elyakin 1,088 to 562.
Anglin, a resident of Ann Arbor for nearly two decades and a council member since 2007, now goes on to compete against Republican Stuart Berry in November for a chance to stay in office two more years. However, Republicans rarely win council races in Ann Arbor.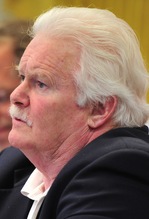 "I'm really pleased with the outcome and I'm glad I got the support I got," Anglin said, though he expressed some disappointment in Tuesday's light voter turnout.
Anglin said he's going to continue to ask the tough questions on council in regard to the Fuller Road Station project, which is proposed for construction on a portion of Fuller Park.
"We're working very deeply on Fuller Park and a number of people are working very hard trying to figure out what that project is about," he said.
Anglin said he also wants to use his next term to champion the idea of a community commons on the Library Lot, the site along Fifth Avenue where an underground parking garage is being built by the Downtown Development Authority.
Anglin thinks instead of major development — such as the recent conference center proposal that was defeated — it should be a space for the public to enjoy.
"We really need a center for our town," he said. "People have to know this is where the town gets together, this is where the town meets. We could even have high school graduations on this spot. We could make this something."
Anglin, who celebrated his victory at Wolverine Brewing, also said he'll use his next term on council to try to protect funding for the police and fire departments.
A retired school teacher and electrician, Anglin runs a bed and breakfast called the First Street Garden Inn in Ann Arbor with his wife, Kathy.
Elyakin is special education supervisor for the Washtenaw Intermediate School District and a member of the city's Human Rights Commission.
In his quest to unseat Anglin, Elyakin had political backing from known allies of the council majority that Anglin is sometimes at odds with. Anglin has earned a reputation for being a minority voice on council and has been perhaps the most vocal critic of the Fuller Road Station project, which Mayor John Hieftje and other members of the council majority support.
Elyakin said he was expecting to win until he lost.
"I think I ran a really good campaign," he said. "I have a lot of people around me who had great ideas. I met a lot of people, I had great conversations with neighbors, with friends. I was able to get out my message so that people heard it. I think I did very well."
Read all Ann Arbor election coverage here.
Ryan J. Stanton covers government and politics for AnnArbor.com. Reach him at ryanstanton@annarbor.com or 734-623-2529. You also can follow him on Twitter or subscribe to AnnArbor.com's e-mail newsletters.