Posted on
Sat, Nov 26, 2011 : 5:57 a.m.
Animal Medical Services provides free ambulance care for 4-legged set
By Laura Blodgett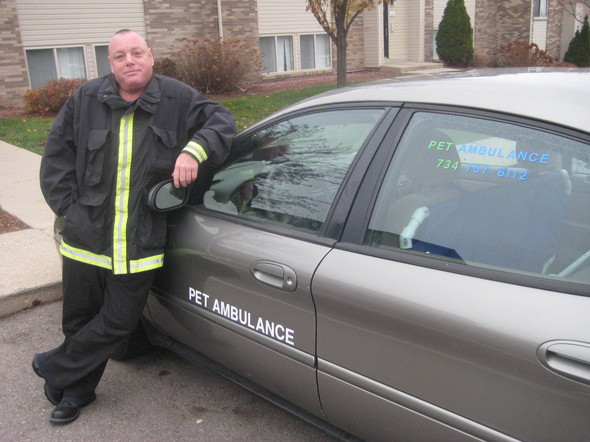 Laura Blodgett | For AnnArbor.com
Allen Thompson
was serving as a field combat medical specialist in the 101st Airborne Division in Pennsylvania when his White Shepherd got sick. With his pickup broken down, he struggled to find a way to get the dog to the vet.
Around the same time, a controversial incident happened in his county in which an officer shot and killed an injured dog. Even though the animal had a tag, the county office was not open at the time to determine who owned the dog.
Thompson, who had taken veterinary technician training through the military, decided to start an animal transport service that could help in these kinds of situations, as well as help the disabled and others who couldn't get their pets to the vet. "I would wait for them during the visit and then take them home," explained Thompson. "I was so happy to do that for people."
Now retired from the military after 20 years, Thompson moved to Ann Arbor and started the service here six weeks ago. Called Animal Medical Services, he provides 24-hour emergency service throughout Washtenaw County, as well as transport for regular vet appointments for the disabled or those without a vehicle. The service is free.
"Cabs are great for people that need to get to the store but to wait to take a pet that has a cardiac arrest situation or is hyperglycemic?" said Thompson. "You call us, and we are out the door right away and get you down there."
So far, he has had two wild raccoon calls, and a neighbor whose puppy was attacked by pit bulls that is doing well now.
Using his own Ford Taurus, Thompson can provide treatments such as First Aid and CPR, and has IVs, oxygen and other equipment on board to stabilize the animal.
"Everybody thinks there's a catch because it's free, but there's no catch," said Thompson. "Sometimes people offer money to cover fuel and we accept it. But we don't ask for it."
He said that everything he uses gets replenished by the vet when he gets there except oxygen, so the only thing he is spending money on is fuel and insurance.
He is in the process of trying to obtain a 501(3)(c) exemption in order to eventually apply for grants, accept donations and hold fundraising drives to get more equipment.
"My five-year goal is to have more ambulances to cover the county, and then spreading out throughout the state," said Thompson.
Although it seems too good be true, Thompson says this kind of work is business as usual for him.
"When I lived in Pennsylvania, I was on a volunteer fire dept and volunteer ambulance squad. I did 20 years military. I'm used to going into a grocery and having my pager go off, or getting up in the middle of the night to help somebody. Now Instead of people, I'm helping the animals."
His home-based business is on the west side of Ann Arbor. People can reach him at 734-757-6112. More information is available at www.amsannarbor.org.