Posted on
Tue, Aug 20, 2013 : 5:57 a.m.
Guidelines in the works for future police video surveillance in Ann Arbor
By Ryan J. Stanton
Following the recent defeat of a video privacy ordinance, Ann Arbor officials are instead working on establishing administrative guidelines for any future police surveillance of citizens.
Sumi Kailasapathy, who serves as the City Council's liaison on the city's Human Rights Commission, said the issue could come to council soon.
"The Human Rights Commission really wanted the video privacy ordinance," she said. "Since it didn't pass, they want us to move fast and not just let it sit, because they feel it's a serious issue."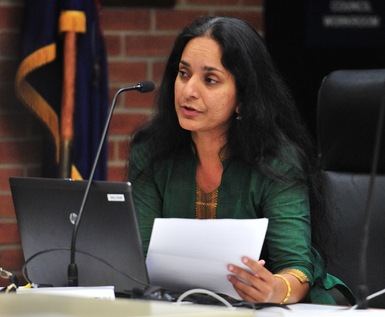 Ryan J. Stanton | AnnArbor.com
Kailasapathy, D-1st Ward, said she's supportive of having the city adopt policy guidelines to protect citizens from unwanted police surveillance.
She voted against last month's proposal from Council Members Mike Anglin and Chuck Warpehoski to codify video surveillance policies in city ordinance.
"When it was voted down last month, people like Stephen Kunselman and Jane Lumm basically said they would be more comfortable giving the city administrator and (Police Chief John Seto) guidelines, rather than put it as an ordinance ... because that would be restrictive," she said.
She said it makes sense to give the city administrator some clear-cut guidelines for when a camera can be installed, how long it can be there, and who gives the approval. She said the Human Rights Commission is doing "a lot of good work" and plans on bringing a resolution to council.
The push for video surveillance guidelines is mostly a preemptive measure, as Ann Arbor officials assure they have no plans to conduct video surveillance of citizens anytime soon.
Warpehoski, D-5th Ward, said he's hopeful the administrative guidelines can address some of the same concerns he hoped to address through ordinance.
"At this point, the needle we're trying to thread is the balance between having something that's strong enough that meets my standards in terms of protecting privacy, but doesn't end up becoming 'here's the path to install cameras' — trying to find that balance," he said. "Looking at the administrative language, there's been some things we can do, but it's still up in the air."
Warpehoski wants to see some clarification on the approval process before police could begin to purchase and deploy surveillance cameras.
"The second thing I'd want to make sure of is that neighbors, if they're getting a long-term camera in their neighborhood, that they're notified," he said. "The third thing is, if there's a majority of neighbors who don't want a camera in their neighborhood, they've got an ability to say no to that."
As a separate matter, Kailasapathy reported Monday night the Human Rights Commission also is working with the city attorney's office on an update to the city's non-discrimination ordinance. She said the plan is to have a special council work session to discuss it and get feedback.
The ordinance, found in Chapter 112 of the city code, states no person shall be discriminated against because of actual or perceived race, color, religion, national origin, sex, age, height, weight, condition of pregnancy, marital status, physical or mental limitation, source of income, family responsibilities, educational association, sexual orientation, gender identity or HIV status.
Ryan J. Stanton covers government and politics for AnnArbor.com. Reach him at ryanstanton@annarbor.com or 734-623-2529. You also can follow him on Twitter or subscribe to AnnArbor.com's email newsletters.