Posted on
Thu, Feb 16, 2012 : 5:55 a.m.
Ann Arbor school board receptive to district-wide all-day kindergarten with $1.5M pricetag
By Danielle Arndt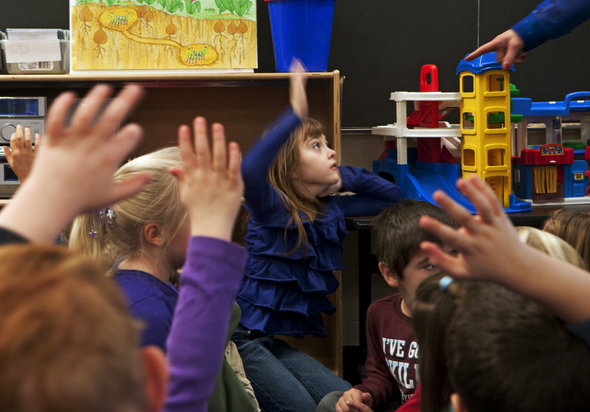 MLive file photo
Superintendent
Patricia Green
presented her recommendation to the
Ann Arbor
school board Wednesday to move forward with all-day kindergarten.
Recent capacity data compiled by the district revealed schools had the room for all-day K.
A show of hands by board members revealed none of the trustees opposed the switch. A formal vote will be conducted in March during the Board of Education's regular meeting.
All-day kindergarten is expected to cost Ann Arbor Public Schools about $1.5 million. This would include hiring the equivalent of 19.5 full-time teachers for classroom instruction and five full-time teachers for music, art and physical education.
Teacher salaries and benefits would total about $2.08 million.
The district also would need to open and outfit 11 additional classrooms throughout its elementary schools. Furniture and supplies is estimated at $110,000.
The $1.5 million has a contingency of $100,000 built into the estimate. A savings of about $289,000 and projected revenues of $451,000 from attracting additional kindergarteners would offset the cost of hiring more staff.
Administrators said not pursuing all-day kindergarten would cost about $3.5 million due to a new state requirement calling for all half-day kindergarteners to be funded at half of the district's per-pupil foundation allowance.
And although the district would eliminate its tuition-based extended-day option in favor of the all-day option for kindergarten, AAPS would not lose any revenue. Deputy Superintendent for Operations Robert Allen said the extended-day program was self-sufficient and the money generated through the tuition went back into the community education department.
Because kindergarten roundup already is under way at Ann Arbor's elementary schools, specific steps will be enacted to communicate with prospective families.
The elementaries should be collecting sign-in sheets and contact information from families at the roundups, administrators said. From these forms, each school will create a database that will be shared with the district's communication office.
Upon approval of all-day kindergarten, families will be formally notified of the switch by phone and email.
The report prepared by Ann Arbor cabinet members outlined procedures for district announcements, website postings, flyers as well as radio, newspaper and online media advertisements.
"The goal is to not only communicate the all-day everyday kindergarten program via the conventional methods, but to develop a chain of communication among families to help promote the new program," the report said.
Ann Arbor currently has all-day programs at Allen, Bryant, Carpenter, Mitchell, Northside and Pittsfield elementaries. No changes will occur at these schools.
One teacher would be added at Abbot, Logan and Thurston to accommodate the full-day program, while the equivalent of 1.5 teachers would be necessary at the remaining elementaries, according to district projections.
The board discussed the possibility of offering an optional half-day program at some schools for just this year, the transitional year. However, Green and several other board members were opposed to it.
Green said all-day kindergarten is a chance to align all of Ann Arbor's elementary buildings.
"We like inconsistencies in this district. And we do it real well," she said part jokingly. "This would give us an opportunity to be consistent."
Trustee Christine Stead agreed. She said not having the half-day option would make it less confusing for the district when families move into the area and have to sign up for kindergarten in late July or August.
Staff reporter Danielle Arndt covers K-12 education for AnnArbor.com. Follow her on Twitter @DanielleArndt or email her at daniellearndt@annarbor.com.