Posted on
Tue, Oct 16, 2012 : 5:59 a.m.
Ann Arbor agrees to spend $550K for next phase of work on new Amtrak train station
By Ryan J. Stanton
As the federal government makes hundreds of millions of dollars in high-speed rail improvements along the Detroit-to-Chicago corridor, Ann Arbor is putting its own money on the table.
The Ann Arbor City Council decided Monday night to spend another $550,000 from its general fund cash reserves to study options for a new Amtrak station somewhere in the city. That comes on top of $307,781 the city already had included in its current fiscal year budget for the project.
"Yes, we need a new train station," said Council Member Sabra Briere, D-1st Ward. "The one we have is inadequate. I have felt that way for a long time."
The vote was 8-2 with opposition from Jane Lumm and Mike Anglin, who remain skeptical about the need for a new train station. Council Member Stephen Kunselman was absent.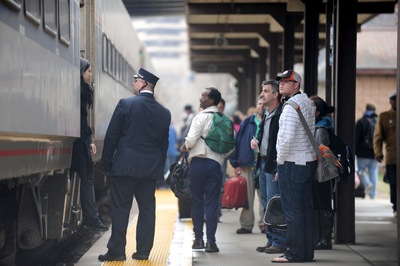 AnnArbor.com file photo
The approved resolution stipulates that once the project moves along and more work is done, it eventually will go to a
vote of the people before construction occurs.
"We need a new train station," said Mayor John Hieftje, pointing to the growing number of people coming to work in Ann Arbor. "Ann Arbor is growing jobs. We may be in a situation where we're growing 1,000 to 2,000 jobs a year. What other city of our size would not welcome that scenario?"
He said the alternative to a train station is more parking structures, more pollution and more congestion on the city's roads.
Eli Cooper, the city's transportation program manager, presented council members with the latest cost estimates for what's being dubbed Ann Arbor Station, showing about $31.7 million in short-term construction costs, plus another $11.1 million for a new south rail platform and crossover in a future phase, which Cooper described as "post-2020" when rail volume picks up more.
Overall, including contingencies and escalation, the report Cooper provided shows $66.3 million in total long-term construction costs.
City officials are hoping to find other partners to help share $300,000 of the $550,000 the council budgeted Monday night for the next phase of work. The $550,000 is a local match for a $2.8 million federal high-speed rail grant the city was awarded by the Federal Railroad Administration.
The city previously thought expenditures already made going back to fiscal year 2009-10 would cover the local match, but FRA determined that wouldn't be allowed.
The Michigan Department of Transportation has indicated a willingness to review possible avenues of matching assistance, the city's staff indicated in a memo to council.
The next phase of the project, including conceptual planning, environmental documentation and preliminary engineering, could take 18 to 24 months, according to the latest estimates. The completion of those tasks will allow for future final design and construction of an improved intercity passenger rail station replacing the current Amtrak station on Depot Street.
The city's preferred site is along Fuller Road on the footprint of a surface parking lot in front of the University of Michigan Hospital. The land is considered part of Fuller Park.
Representatives of a grass-roots group called ProtectA2Parks showed up to Monday night's meeting to lobby council. They released a white paper on Friday that outlines arguments against building a new train station on Fuller Road and instead retaining the site on Depot Street.
Lumm and Anglin thanked the residents for coming out. Lumm said she read the group's report and found it tremendously informative.
"It's interesting, Council Member Lumm, because I had the exact opposite take on that," Hieftje responded. "I felt there was a great deal of misinformation in that document."
Running the numbers
Lumm argued that with the resolution approved Monday night, the city will have invested more than $2.7 million in the Ann Arbor Station project, including $1.4 million in sewer and water improvements on the Fuller Road site, which city staff has said would have been done with or without the project.
"I don't know what the hurry is," she said. "At some point, one concludes it's time to stop throwing good money after bad, or at least hit pause until there's a plan."
Lumm recalled that when the City Council voted to accept the $2.8 million federal grant this past summer, the rationale was that no additional city money was required.
"That was the primary argument my colleagues used in voting for accepting the grant. 'It's a freebie,' they said. 'No new city money, and how can you not vote for that?' " she said. "Well, guess what? The past costs don't qualify and we need to put up another $550,000 of your tax dollars."
Lumm said that's a huge amount of money on a project where the basic need hasn't been established, the preferred site is pre-determined but isn't necessarily the optimal choice, and there has been no real indication that federal funding for construction will be forthcoming. A majority of council members argued against her on all of those points.
With three of Hieftje's allies on council — Carsten Hohnke, Sandi Smith and Tony Derezinski —stepping down next month, it's unlikely the Ann Arbor Station project would have had the eight votes needed to proceed if the decision was left to the new council. Incoming council members Sally Hart Petersen and Sumi Kailasapathy have been opposed to spending money on the project.
Hohnke said he thinks the consensus in the community is that moving forward with investments in high-speed rail is the right thing to do.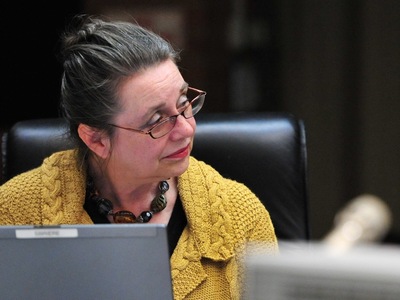 Ryan J. Stanton | AnnArbor.com
"MDOT has noted that there has been a 115 percent increase in traffic on 1-94 between Detroit and Chicago since 1991 and sees significant increases in that traffic going forward," Hohnke said. "And so they are significantly supportive of these high-speed rail investments."
Hieftje noted there has been a significant increase in Amtrak ridership in recent years and Ann Arbor remains the busiest stop between Detroit and Chicago. He said this might be a once-in-a-lifetime opportunity to take advantage of federal funding for a new train station.
"We are looking at a method to move the Midwest into a new era as we see fuel prices continue to go up, as we see more and more people coming into places like Ann Arbor to go to work," Hieftje said. "We're going to have brand-new trains running at much higher speed through Ann Arbor from Detroit on the way to Chicago with stops in between."
While some of the future ridership projections are dated at this point, Cooper said the FRA is funding a Detroit-Chicago corridor study that will take another look at ridership forecasting.
He said right now there are six roundtrip trains on the corridor and that's expected to go up to 10 within a few years, and that's not counting MDOT's plans for Ann Arbor-to-Detroit commuter rail service. He said within 25 years there could be as many as 50 trains a day coming to Ann Arbor.
"The current Ann Arbor station is overcrowded," he said. "I invite folks to come out on a Sunday or a Monday early in the morning. The cars are parked hither and yon on the lawns. Clearly there are parking issues. Anyone who has been in and around the station when a train arrives, there's not nearly enough seating in the current station for the current passenger load."
Hieftje said one problem with the current site is there's really no way enough buses can get in and out in the morning or the afternoon because traffic is backed up on Depot Street. Hieftje asked Cooper about the possibility of building on the other side of the tracks at the current site.
"The other side has challenges, the first of which is property ownership … so there's an acquisition issue," Cooper said. "And then beyond that, those lands are, in fact, contaminated."
Cooper acknowledged some of the adjoining lands owned by DTE Energy are being cleaned up, but he said that's not the area where a potential station or parking use might be.
"Beyond that, that is the floodway. Not the floodplain, but it's actually an area that's under water many times a year due to flooding events," he said. "I for one wouldn't want to park my car on a level where if it rains while I'm gone, I'm going to come back and have a submarine."
Briere lives relatively close to the Amtrak station on Depot Street and said the area floods all the time and parking is a hassle. She said one thing is certain: the current station is inadequate.
"The particular building we have now is amazingly unimaginative and unattractive, but it's functional. The question is, is it functional in the future?" she said, going on to describe its shortcomings.
"Taking your luggage across the Broadway bridge at 10 o'clock at night in January is extraordinarily difficult," she said. "You must do that in order to get to your car after you've come back from that wonderful trip to Chicago."
She said a new Amtrak station in Dearborn is being built with federal dollars because city officials there had a plan in hand when the stimulus package became available.
"If you don't have a plan in hand, you're not prepared when opportunity strikes," she said just before Monday's vote. "This helps us create a plan in hand."
Connector funding approved
The City Council also voted Monday to approve a $30,000 contribution toward another transit project: the Ann Arbor Connector study. The city has been partnering with the Ann Arbor Transportation Authority, Downtown Development Authority and University of Michigan since 2009 to look at options for an advanced transit system — including bus rapid transit, light rail or an elevated automated guideway system — from northeast Ann Arbor through downtown and down to Briarwood Mall.
The vote came toward the end of a five-hour meeting and at first didn't pass. It fell short of the eight votes required when Marcia Higgins joined Anglin and Lumm in voting no.
Shortly after midnight, Higgins changed her mind and called for a reconsideration of the vote, and Anglin then changed his vote, too. The AATA is the lead agency on the project and is using a $1.2 million federal grant to complete an upcoming $1.5 million study.
The AATA is putting up $90,000 in local matching dollars, U-M has committed $150,000, and the city was asked to pay $60,000, but the City Council previously rejected paying that much. The DDA stepped up this month and agreed to pay half the city's share.
Ryan J. Stanton covers government and politics for AnnArbor.com. Reach him at ryanstanton@annarbor.com or 734-623-2529. You also can follow him on Twitter or subscribe to AnnArbor.com's email newsletters.