Posted on
Fri, Oct 21, 2011 : 5:59 a.m.
Permeable pavement: Burns Park alley reconstruction gets environmental upgrade
By Juliana Keeping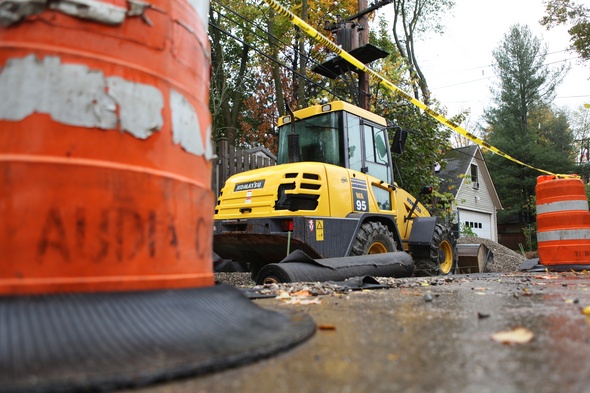 Jeff Sainlar | AnnArbor.com
An alley in the
Burns Park
neighborhood is undergoing an environmentaly friendly makeover in
Ann Arbor
- and more projects like it could be on the way.
It's the city's first permeable pavement project in an alley and the first to use permeable concrete, said Nick Hutchinson, a senior project engineer for Ann Arbor.
The 800-foot, unnamed alley runs between two rows of residences between Wells Street and Scott Court, parallel to Martin Place and Lincoln Avenue, Hutchinson said. Crews are replacing the pockmarked gravel and crumbling concrete surface in the alley with permeable concrete that will filter precipitation underground, where it will be held and released by a bed of porous stones.
The $213,000 project - which began Wednesday - is the third street reconstruction project to involve porous materials in recent years, he said.
The permeable concrete material resembles a "gray Rice Crispies Treat," Hutchinson said.
Porous paving materials help slow the rush of water during a storm that can erode soil and dump sediments into the Huron. The systems are designed to filter pollutants that would otherwise wash into the river.
Residents in the area began to inquire about resurfacing the alley after streets in the neighborhood were rebuilt in recent years, Hutchinson said. The project is expected to be completed on Nov. 2.
While the city has no designated funds to improve alleyways, it went after a $215,000 low-interest state loan for storm water improvements from the Michigan Department of Environmental Quality for the alley.
Hutchinson estimated that the project would cost $155,000 if the project were done with traditional concrete.
As construction begins on the Burns Park alley, the water committee of the Ann Arbor environmental commission is gearing up to form a "green streets policy" for city streets. If adopted by City Council, that could mean more projects like this one, said Jen Lawson, water quality manager for Ann Arbor.
Other permeable pavement projects around town in recent years have included Easy Street's resurfacing between Packard Road and Towner Boulevard, completed in 2007, was part of a larger project that included a sidewalk, new water main and features to slow traffic near Buhr Park in southeast Ann Arbor.
Workers installed permeable pavers on the sides of the road to help address standing water that gathered after storms, speeding up the deterioration of the road, said Cresson Slotten, manager of the systems planning unit for Ann Arbor.
Sylvan Avenue between White and Packard streets in central Ann Arbor was completed in 2010, resurfaced with permeable asphalt, Hutchinson said. The project cost about $480,000, which included water main work and the replacement of sidewalks as well.
The Ann Arbor Downtown Development Authority oversaw the installation of permeable pavement in the surface parking lot at Fifth Avenue and William Street in 2008, where the former YMCA stood.
Next up for the city of Ann Arbor is a possible stormwater management project for Willard Street on the University of Michigan campus, Hutchinson said.
"It might be permeable pavement," he said. "It remains to be seen."
Lawson said a green policy would encompass more than porous streets, which don't make sense for traffic-heavy roadways. The city has been keeping an eye on its projects to see how they hold up to Michigan climate.
Additional vegetation along roadways and tactics like decreasing road width are ways other cities with green streets policies have helped limit hard surfaces that pour water directly into drains and into the Huron River, she said.
The water committee has been studying green streets policies in other municipalities and next meets Nov. 10, Lawson said.
Juliana Keeping covers general assignment and health and the environment for AnnArbor.com. Follow special project Viking's War on Facebook and Twitter
Reach her at
julianakeeping@annarbor.com
or 734-623-2528.
Follow Juliana Keeping on Twitter