Ann Arbor among 394 cities competing in Bloomberg's Mayors Challenge for grand prize of $5M
Posted on Fri, Aug 3, 2012 : 12:53 p.m.
Ann Arbor is one of 394 cities across the Unites States taking part in a competition to inspire other cities to generate innovative ideas that solve major challenges and improve city life.
The Bloomberg Philanthropies' Mayors Challenge will award one $5 million grand prize and four $1 million prizes to the cities that come up with the boldest and most replicable ideas.
The participating cities encompass 47 states and more than 71 million Americans. Cities both large and small are taking part, including 77 of the nation's 100 largest cities.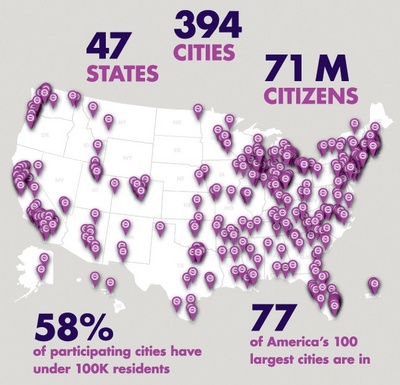 Courtesy of Bloomberg Philanthropies
In addition to Ann Arbor, more than a dozen other Michigan cities are participating, including Detroit, Eastpointe, Flint, Grand Rapids, Holland, Lansing, Lincoln Park, Midland, Pontiac, Saginaw, Southfield, Southgate, Taylor, Warren and Westland.
"There's been a tremendous response to the Mayors Challenge," philanthropist Michael Bloomberg, mayor of New York City, said in a statement. "As cities face increasingly complex problems with fewer and fewer resources, the need for public sector innovation is greater than ever."
Participating mayors must submit their ideas by Sept. 14 for a chance to win either the grand prize of $5 million or one of four $1 million prizes. The idea must solve a major social or economic issue, improve the customer service experience for citizens or businesses, enhance accountability, transparency and public engagement, and/or increase government efficiency.
Later this fall, 20 finalists will be announced. Teams from each of those cities will attend Bloomberg Ideas Camp, a two-day gathering in New York where they will work collaboratively to improve each other's ideas.
Coming out of camp, finalists will receive individualized coaching to prepare their ideas for final submission. Winners will be announced in spring 2013.