Posted on
Thu, Jun 20, 2013 : 2:31 p.m.
Ann Arbor and Washtenaw County voice opposition to I-75 and I-94 expansion plans
By Ryan J. Stanton
Ann Arbor and Washtenaw County officials have come out in opposition to two major highway expansion projects in Southeast Michigan — the reconstruction and widening of Interstate 94 in Detroit and Interstate 75 in Oakland County.
Both projects — which are expected to cost more than $4 billion — are slated to begin in 2014 and 2015, respectively.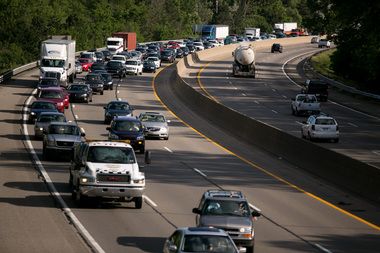 MLive file photo
The
Ann Arbor City Council
and
Washtenaw County Board of Commissioners
both passed resolutions objecting to inclusion of the projects in the region's official transportation plans.
The two projects are part of $50 billion in projects in the Southeast Michigan Council of Government's 2040 Regional Transportation Plan and its 2014-17 Transportation Improvement Plan.
SEMCOG's general assembly is expected to vote at 4:30 p.m. today, June 20, to approve the two plans at a public meeting in Detroit.
SEMCOG's executive committee voted to approve the plans at its May 16 meeting, but the vote wasn't unanimous, The Detroit News reported.
Executive committee member Yousef Rabhi, chairman of the Washtenaw County Board of Commissioners, voted against them, saying the state can't maintain the infrastructure it already has, so it shouldn't be spending money on expanding highways. Rabhi said he will vote against the plans again but he still expects them to pass, The News reported.
SEMCOG Executive Director Paul Tait told The News his agency's vote is important because the action taken by SEMCOG will make the projects eligible for state and federal funding.
Ann Arbor Mayor John Hieftje and fellow City Council members unanimously passed a resolution this week opposing inclusion of the highway expansion projects in the 2040 long-range plan.
They argue SEMCOG's proposed plan has many good elements — including support for nonmotorized transportation, public transit, pavement maintenance and repair, and sustainability enhancements — but too much money is going to the expansion of I-94 and I-75.
Communities across Southeast Michigan face a shortage of funds to maintain and repair existing roads, bridges and other transportation infrastructure, the resolution states, adding there are more than $82 million worth of unfunded high-priority projects in Washtenaw County.
Ann Arbor officials are asking that the money programmed for the two highway expansion projects be redirected to preventive maintenance and rehabilitation of existing roads and bridges.
MLive reported widening I-94 from Conner Street to I-96 in Detroit would take the stretch from six lanes to eight and cost about $2.7 billion, while adding a lane to I-75 between 8 Mile Road and M-59 in Oakland County would cost about $1.3 billion.
Transportation for America, a coalition working on transportation reform, released a report this week indicating Michigan has more than 1,300 bridges rated "structurally deficient" — bridges that could become dangerous or closed without repair, including 17 percent of Washtenaw County bridges. About 12.3 percent of bridges statewide are rated "structurally deficient," according to government standards, slightly above the 11 percent national average, according to the report.
The report is based on a national database of bridge inspections maintained by the Federal Highway Administration. While the Michigan Department of Transportation and local officials have been working to make improvements, moving nearly 100 bridges off the structurally deficient list in the past two years, the group argues progress is hindered by lack of funding.
"Bridge projects are continuously delayed and deferred because there are simply not enough resources to meet our needs," said Ryan Buck, director of the Washtenaw Area Transportation Study, the agency responsible for overseeing transportation funding in Washtenaw County.
Buck noted that more than 20 percent of bridges under the jurisdiction of the Washtenaw County Road Commission have posted weight restrictions, in addition to two bridges that are closed.
Ryan J. Stanton covers government and politics for AnnArbor.com. Reach him at ryanstanton@annarbor.com or 734-623-2529. You also can follow him on Twitter or subscribe to AnnArbor.com's email newsletters.