Ann Arbor City Council approves $120M bond issuance for wastewater plant renovations
Posted on Tue, Mar 6, 2012 : 5:55 p.m.
Major renovations to the city of Ann Arbor's Wastewater Treatment Plant are about to get under way and city officials are lining up financing for the project.
The City Council voted unanimously at first reading Monday night to authorize the issuance and sale of up to $120 million in revenue bonds.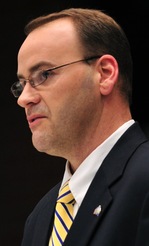 City Treasurer
Matt Horning
said the bonds are to be sold directly to the Michigan Finance Authority as part of the state's Water Pollution Control Revolving Fund Program.
The bonds are to be issued in two series, Horning said, with the first series scheduled to be issued April 10 in the principal amount of $37 million to finance the first phase.
The second series is scheduled to be issued in the first half of calendar year 2013.
Horning said the bonds will bear interest at rates substantially lower than market rates (2.5 percent for the first series) and will mature in annual principal installments from 2017 through 2037.
The bonds will be secured by and payable solely from the net revenues of the sewage disposal system, Horning said.
The city's bond counsel, Dykema Gossett PLLC, prepared the documents the council signed off on Monday night.