Posted on
Mon, Mar 25, 2013 : 6:23 p.m.
Ann Arbor approves new contract with city's largest labor union 3 days before right-to-work starts
By Ryan J. Stanton
Three days before Michigan's controversial right-to-work law is set to take effect, the city of Ann Arbor has struck a deal on a new contract with its largest labor union.
The Ann Arbor City Council voted unanimously Monday night to approve a new collective bargaining agreement with AFSCME Local 369 and its roughly 270 members.
The contract is effective as of Monday and runs through Dec. 31, 2017.
Because the contract starts before the new state law takes effect, the city's AFSCME union won't face the consequences of right-to-work for more than four and a half years.
The vote on the new contract was 9-0 with Council Members Christopher Taylor and Mike Anglin absent.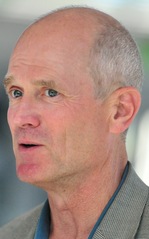 The right-to-work law, which goes into effect Thursday, makes it illegal to require financial support of a union as a condition of employment, which is expected to weaken unions as some members opt to no longer pay dues. But until existing contracts expire, like AFSCME's will at the end of 2017, union employees must continue to pay dues.
The city's human resources department recommended approval of the new AFSCME contract, which was renegotiated early and supersedes a contract set to expire on Dec. 31, 2013.
The new contract includes wage increases of 1 percent in January 2014, 0.5 percent in July 2014, 1.5 percent in January 2015, 1 percent in January 2016 and 1 percent in January 2017.
It also includes a revised wage table with lower step increases for new hires effective Jan. 1, 2015.
The union also has agreed to have its newly hired employees participate in any alternate retirement plan the City Council might approve. That's targeted for July 2014, according to the city's human resources director.
AFSCME new hires would move to the alternate pension plan at the same time that nonunion new hires move to such a plan. That could be a defined contribution plan or a hybrid plan.
"I think this is an important step forward," said Council Member Jane Lumm, who said she's particularly pleased about the promise of pension plan changes. "That is significant."
Lumm said it's a fundamental responsibility of the city to provide services effectively and efficiently and moving away from a defined benefit plan to a defined contribution plan is more sustainable.
"It is nice to see there's an option to do that in this contract," agreed Mayor John Hieftje, who said that's something the city has been looking at for years.
Council Member Sumi Kailasapathy, D-1st Ward, asked if the city could be penalized by the state for doing an end run around right-to-work. Hieftje said the city's not crossing any lines.
Last week, the Washtenaw County Board of Commissioners also took steps to beat right-to-work, approving 10-year contracts with five of the county's unions.
The city's new contract with AFSCME includes a decrease in personal time for employees on alternate shifts, full participation in the city's wellness incentive program, certain cost contributions related to arbitrations and grievances, as well as other operational changes.
The negotiated agreement also includes AFSCME's acceptance of a change in the city's pension board composition, which was approved by city voters in November 2011.
The new pension board makeup includes five appointed citizen trustees, one trustee elected by fire members, one trustee elected by police members, one trustee elected by general city members and the city's chief financial officer. The city administrator was removed.
Under the new agreement, AFSCME will have 30 days to provide candidates and input to the mayor before a citizen trustee is nominated to serve on the pension board.
Ryan J. Stanton covers government and politics for AnnArbor.com. Reach him at ryanstanton@annarbor.com or 734-623-2529. You also can follow him on Twitter or subscribe to AnnArbor.com's email newsletters.