Posted on
Sun, Aug 26, 2012 : 5:57 a.m.
Towing the line: Ann Arbor man upset with city for towing 'abandoned' vehicle while on vacation
By Ryan J. Stanton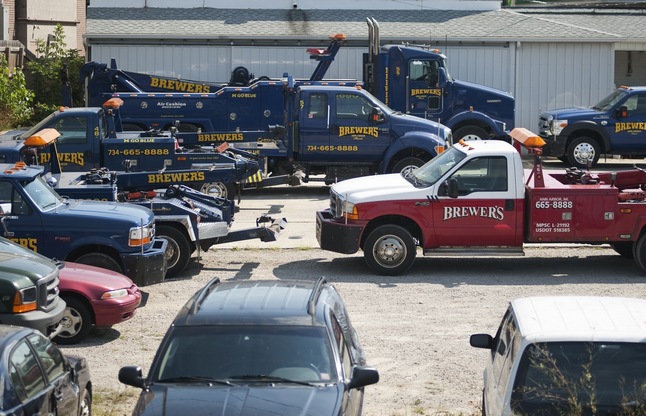 Daniel Brenner I AnnArbor.com
Seven weeks after moving to Ann Arbor from nearby Saline,
Mahendra Ramsinghani
and his wife still are learning the ins and outs of life in a new city.
But they're not likely to forget a rule they learned the hard way last weekend: Vehicles left parked on the street in the same spot for more than 48 hours can be deemed abandoned and towed.
Ramsinghani said both of their cars, which he described as "newer looking" and "very clean," were left parked on the street near their house while they went out of town on vacation. But they were nowhere to be found when Ramsinghani returned home about 10 days later.
After a brief scare and a bit of a hassle, he ended up paying $825 to get the two cars back. That included $120 per car for the tow, $20 per car per day in storage fees, plus other charges.
Ramsinghani said he and his wife live on a quiet cul-de-sac where people park cars all the time. He said it's not a busy street, and parking there causes no inconvenience.
But according to city ordinance, leaving the cars behind was a violation worthy of triggering the city to tag the vehicles as abandoned and having Brewer's Towing come haul them away.
"Welcome to Ann Arbor, indeed," Ramsinghani said.
Giving motorists a break
Under a new towing contract between the city of Ann Arbor and Washtenaw County, things are about to get better for people who make the mistake of parking where they shouldn't.
The Ann Arbor City Council last Monday approved a five-year agreement that transfers administrative responsibilities to the county, lowers costs and gives motorists a few breaks. Council Members Christopher Taylor and Stephen Kunselman sponsored the resolution.
"This contract is another example of Ann Arbor's effort to provide efficient service to our residents through intergovernmental cooperation," Taylor said.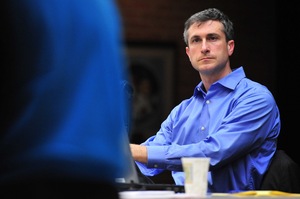 Ryan J. Stanton | AnnArbor.com
"Ordinary taxpayers will benefit from lower governmental costs. Folks whose cars have been towed will benefit from an eight-hour storage fee grace period."
Starting Jan. 1, when the contract takes effect, if someone retrieves a vehicle from impoundment within eight hours after it's towed, there no longer will be a storage fee. Other charges still apply.
The way it currently works, a $20-a-day storage fee is assessed immediately when the vehicle hits the lot. If a vehicle stays, for example, from 11 p.m. to 1 a.m., past midnight, the owner currently pays for two days.
Mayor John Hieftje said he was glad to see the towing changes come before council. He believes it will lessen the hassle and costs for residents whose vehicles are towed.
"One of the things I think is particularly frustrating for people is that they show up to get their car, and it's only been there for an hour, and they find they've been charged for a day's storage," Hieftje said. "So it's really excellent to see some changes in here that are going to help that."
Over the past two years, the city has been looking for ways to improve customer service and reduce costs related to public tows. Working with the sheriff's office, the city was able to find opportunities for improvement via modified internal policies and procedures, as well as new contract provisions.
There is no cost to the city. The city is simply transferring administrative responsibilities to the county and, in exchange, the county will collect an administrative fee on each tow.
The county anticipates collecting $45 per tow and then sharing $15 with the city to cover the costs of administrative responsibilities the city will continue to perform. The revised process allows the city to transition away from a heavily paper-based system to a virtually paperless electronic system.
The new process also allows people to go directly to the tow yard where the vehicle is stored and pay all fees there. Currently, people who have a vehicle towed must visit the police front desk and pay an administrative fee, then go to the tow company to pay for the tow and retrieve the vehicle.
"Getting rid of some of the procedure, I think, is going to be very beneficial," Hieftje said. "It's bad enough to have your car towed, and I understand people get their car towed for a reason, but they shouldn't be put through the wringer any more than absolutely necessary."
Ann Arbor officials estimate hundreds of cars are towed each year in the city for legal violations, court orders, evidence collection or other circumstances, including parking where they shouldn't.
'People are frustrated'
Ramsinghani, whose car was deemed abandoned and towed, said he's glad the city is making efforts to improve the towing experience, but he's still not satisfied with the outcome of his case.
He met this past week with Bob Canell, one of the city's parking referees. He said it was a pleasant conversation and Canell seemed genuinely sympathetic, but he found his options are limited.
"He told me that I can contest the towing in court," Ramsinghani said. "To start the process, I have to pay $130 as a court fee and the outcomes are unpredictable."
Ramsinghani said he doesn't want to risk losing another $130 if the judge decides to throw out the case, so he's cutting his losses and giving up fighting what he called an "Orwellian nightmare."
Canell said he felt bad for Ramsinghani. As to how the towing came about, he said, there's no indication one way or another whether there was a complaint from a neighbor.
Canell said his job is to look at the merits of each case that comes across his desk and the reason why the car was towed. He said it's infrequent that a ticket is overturned.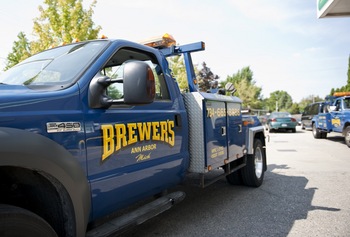 Daniel Brenner I AnnArbor.com
"I understand that people are frustrated," he said, pointing out most people don't knowingly park illegally. "They go back to where they parked and all of a sudden their car is gone. It's a scary thing. My first thought would be that my car was stolen. And then you find out it's been towed and it's an expensive thing."
The ordinance the city argues Ramsinghani violated states if a vehicle has remained standing or parked on public or private property "for a period of time so that it appears to be abandoned," the city can affix a notice to the vehicle requiring its removal. If a vehicle is not removed within 48 hours after the notice is affixed, the vehicle is deemed abandoned and the city can have it towed.
Within 24 hours after his towing experience, Ramsinghani, who owns a Lexus, said he witnessed another high-end vehicle — a relatively new Nissan Infiniti — being towed from his neighborhood.
"All of this makes you a little suspicious," he said, questioning how vehicles like those with current license plates could appear abandoned.
City officials said it doesn't matter whether it's a nice new Lexus or a rusty old Chevy — a vehicle left behind for 48 hours is considered an abandoned vehicle.
Ramsinghani said he questions whether the city is more interested in helping private towing companies stay in business than looking out for its own residents.
"The simple question here is, why can't citizens decide if the cars in their neighborhood are abandoned?" he said. "If we see something that looks fishy, we can call for help. Why do we have zealous officials 'protecting us from our own clean cars' while Brewer's makes money?"
City officials maintain there's no type of crackdown happening, but Ramsinghani said he's noticed trucks from Brewer's Towing circling his neighborhood multiple times recently.
"Just this morning, I saw a Brewer's Towing truck wandering around the neighborhood looking for more victims, so I'm pretty sure there's something going on," he said on Wednesday afternoon. "The truck was just wandering around like a hawk circling for some prey."
A representative of Brewer's Towing could not be reached.
City officials said private tow companies don't have authority to proactively patrol neighborhoods and tow vehicles on behalf of the city without specific orders.
Jessie Rogers, the city's supervisor of community standards, said tows are usually complaint-driven and the city tries to be lenient with residents.
"We don't go right back after 48 hours," she said. "I usually don't send the officers back until three days after the vehicle is tagged as a courtesy."
City officials didn't have statistics available for how many cars are towed each year in Ann Arbor, but they said it definitely numbers in the hundreds.
"It gets up into the hundreds because for football season a lot of people get towed, because there are some streets around the stadium where you can't park on football Saturdays," Rogers said.
With it being student move-in season, Rogers said, the city is understanding of the fact that many people are coming into town who might not be familiar with the city's parking rules.
"We try to be lenient," she said. "We honestly do try to help people. We'd rather have compliance if we can get compliance. I mean, you want to put yourself in somebody else's shoes."
As he was planning his next trip this past week, Ramsinghani said he wasn't worrying about his airline tickets or any of the normal aspects of travel. He was worrying about where to store his car.
Because he and his wife are temporarily subletting a place right now, he said, they don't have easy access to a garage, and now they've found they can't park in the street.
"This is killing me," Ramsinghani said.
Ryan J. Stanton covers government and politics for AnnArbor.com. Reach him at ryanstanton@annarbor.com or 734-623-2529. You also can follow him on Twitter or subscribe to AnnArbor.com's email newsletters.